I just posted the buttery Ooey Gooey Butter Cake a couple days ago.  The recipe was so fascinating to me that I immediately had to make it in chocolate!
While I really enjoyed this chocolatey richness of this dessert, I think "taste wise" the same results can be achieved by simply making brownies or a rich chocolate cake.  However, I will happily taste-test my theory a few more times.
One thing I do absolutely love about this dessert is the texture.  The thin top layer of delicate chocolate flakiness resting precariously over the ooey gooey molten cocoa flavored lava lusciousness is pretty darn amazing. They battle it out in your mouth, the sweet rich velvet like cake and the crispy top layer of crust.  Just to be clear, there are no losers in that battle.
This recipe is just barely adapted from Food Network.
chocolate ooey gooey cake
Ingredients
8 tablespoons (1 stick) butter, melted, plus 8 more tablespoons (1 stick) butter, melted, plus additional butter, for greasing pan
1 (18.25-ounce) package chocolate cake mix
1 egg, plus 2 eggs
1 (8-ounce) package cream cheese, softened
3 to 4 tablespoons cocoa powder
1 (16-ounce) box powdered sugar
1 teaspoon vanilla extract
Instructions
Heat oven to 350 degrees (325 convection) and prepare and 9-inch round cake pan.
Combine the cake mix, 1 egg, and 1 stick melted butter, and stir until well blended. Pat the mixture into prepared cake pan and set aside.
In a stand mixer on medium speed, beat the cream cheese until smooth. Add the remaining 2 eggs, and the cocoa powder.
Lower the speed of the mixer and add the powdered sugar. Mix until everything is well combined. Slowly add the remaining 1 stick of melted butter and vanilla and continue to beat the mixture until smooth.
Pour filling over cake mixture in pan. Bake for 40 to 50 minutes. Be careful not to overcook the cake; the center should still be a little gooey when finished baking. Let cake partially cool on a wire rack before cutting into pieces.
http://iambaker.net/chocolate-ooey-gooey-cake/
http://iambaker.net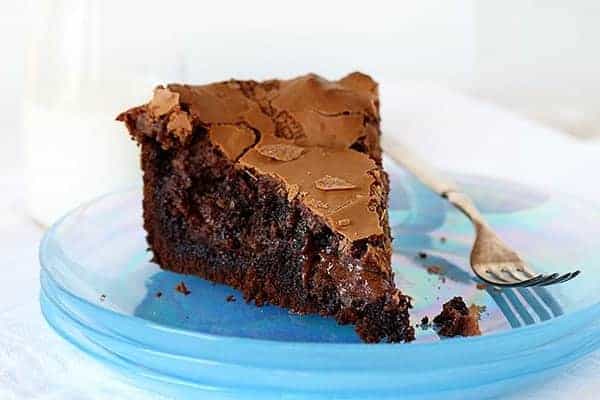 Many wise readers informed me on the Ooey Gooey Butter cake that there are many, many different flavors you can try.
I just want you to know, I am willing to sacrifice time and resources to sample every single one of them.  I do it all for you.