Did you know I bake lots of cakes?  Like, lots and lots of lots of cakes?  I had a homemade white cake recipe that I love, but have been on the search for a good yellow cake recipe.
There are a couple reasons that I finally ended up in this recipe.
#1 Its a one-bowl recipe.
#2 It uses whole eggs, not 8 egg yolks.
Oh, and one more.
Its yummy.
homemade yellow cake mix
Ingredients
2 1/4 cups all-purpose flour
1 1/2 cups granulated sugar
3 1/2 tsp baking powder
1 tsp salt
1 1/4 cups milk
1/8 cup vegetable oil
1 stick butter, softened
1 tbsp vanilla extract
3 large eggs
Instructions
Measure flour into quart size mason jar.
Add sugar on top, then baking powder, then salt. Place lid on jar. (My ingredients JUST fit)

When ready to prepare cake batter:

Place softened butter into stand mixer and mix on medium for 1-2 minutes.
Place dry ingredients into stand mixer and combine with butter for 30 seconds.
Add milk, oil, vanilla and eggs and mix on medium-high for one minute.
Pour batter into prepare pans. Bake at 350. For 9-inch pans its 20-25 minutes. For cupcakes start checking around 15 minutes. Cool before frosting.
http://iambaker.net/homemade-yellow-cake-mix/
http://iambaker.net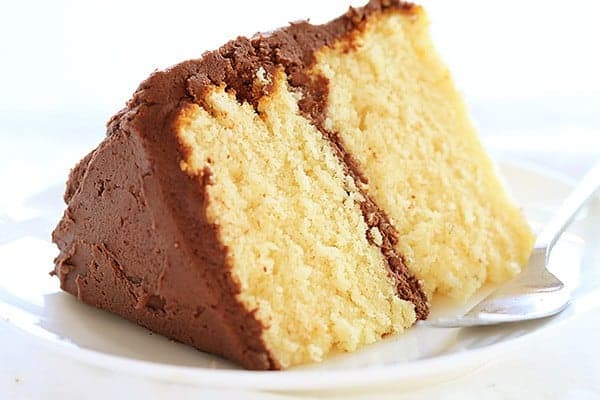 Making a homemade cake mix is so cheap and easy and the best of all worlds when it happens to be super delicious.
I couldn't help but pair it with a rich chocolate buttercream, as that is my favorite combination.  (What is your favorite frosting with yellow cake?)
If you want to give this for a gift (I would LOVE this as a gift!) simply print out the 'wet' ingredients and the directions and attach to the jar.  Be sure to add some instructions though.  Something like, "After cake is cooled call me and I will be right over."
Or something like that.
Here is the Homemade White Cake Mix we love!