Kinda.  I mean, in all honesty this cake was inspired from some ice cream I saw at the grocery store.  But when I saw it the first thing I thought was… Neapolitan Cake.  I need to make this "spumoni" into my Neapolitan Cake!
So I did.  I mean, kinda.  I got the colors right… but I think that's about it.  The ice cream container says that it is chocolate, pistachio and amaretto ice cream with mixed fruit.
I made a chocolate, pistachio and cherry almond cake.  So it's basically the same thing, right?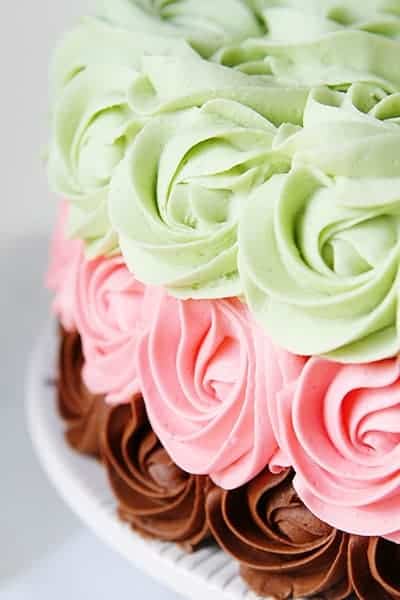 My saving grace of this dessert is the flavor.  Everything works so amazingly well together.
To make this cake I baked two separate cakes, one is the "white" cake and I will share the recipe below.  The other is the Best Chocolate Cake.  I prepared the chocolate cake as directed and had 2 layers in 8-inch round cake pans.  One layer is used in the spumoni cake, the other layer I snacked on for 2 days.  But you should freeze yours for a later date.
I then made up a small batch of cherry buttercream, of chocolate buttercream, and of pistachio buttercream.  I recommend printing off each of those recipes if you want to make this cake.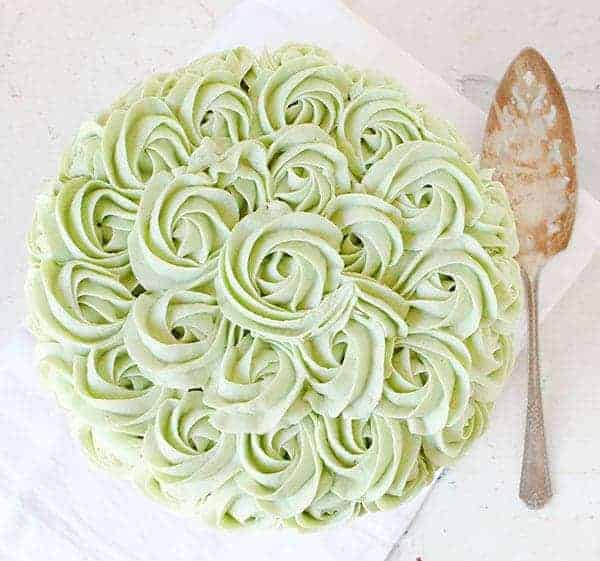 I have a post on how to make the rosettes here, and a video showing how to make the Rose Cake here.
Ok!  Now for recipes.
As I mentioned, click here for the chocolate cake.  You will use one layer for this Spumoni cake.
spumoni cake
Ingredients
2 3/4 cups all purpose flour
1 3/4 cups white sugar
2 teaspoon baking powder
3/4 tsp salt
3/4 cup unsalted butter, room temperature
5 egg whites, room temperature
1 cup whole milk

Cherry Cake

1/2 cup finely chopped maraschino cherries
2 tablespoons maraschino cherry juice
1 tsp almond extract

Pistachio Cake

1 package pistachio pudding (3.4 ounces)
1 teaspoon vanilla
Instructions
Sift together flour, sugar, baking powder and salt and set aside.
In a stand mixer cream butter.
Add in egg whites, one at a time, until fully incorporated.
Add 1/3 cup milk at a time, alternating with dry ingredients.
Remove bowl from mixer and halve the batter. It is approximately 4 cups of batter, so remove about 2 cups and place in a bowl.

Cherry Almond Cake

To the batter left in the stand mixer add finely chopped cherries, cherry juice and almond extract. Mix by hand until fully incorporated. Pour into prepared 8-inch round cake pan and bake at 350 for 20-24 minutes.

Pistachio Cake

For the 2 cups of batter in the separate bowl, add in pistachio pudding mix and vanilla. Stir by hand until fully incorporated. Pour into a prepared 8-inch round cake pan and bake for 22-26 minutes.
My pistachio cake needed to bake for a bit longer than the cherry cake, but you can certainly bake them at the same time and just remove the cherry one first.
Prepare chocolate cake. (recipe linked to above) Bake as directed when the other cakes are done.
Allow all cakes to cool for about 5 minutes then invert onto a cooling rack.
Prepare chocolate, cherry and pistachio buttercream. (recipes linked to above) Place buttercreams each into a pastry bag fitted with an open star tip.
Once chocolate cake is cooled, level the chocolate cake, the cherry cake and the pistachio cake to the same height.
To assemble cake, place chocolate cake on cake stand and cover in about 1/2 cup of chocolate buttercream. Place cherry cake on top of chocolate and cover in cherry buttercream. Place pistachio cake on top of cherry. (I did not do a crumb coat.)
Starting at the bottom and with chocolate buttercream, cover bottom layer with rosettes. (video and picture tutorial linked to above). Next do a row of cherry buttercream rosettes. Next a row of pistachio buttercream rosettes. The entire sides of the cake should be covered.
Finish covering the top with pistachio rosettes and chill until ready to serve.
http://iambaker.net/spumoni-cake/
http://iambaker.net
There are definitely a lot of steps in this cake.  I have made it both from scratch and with cake mix, and while the cake mix is faster, it was not as flavorful.  However, it will definitely work in a pinch!
This cake is absolutely perfect for anyone looking for something a little different.  The flavors are unique and (as I mentioned already, I just can't stop) work so well together.
It was worth all the work!
And it's kind pretty if I don't say so myself.  I know there were a lot of recipe's and steps and directions in there, but if you have any questions please do feel free to ask!  I am happy to walk you through it.
Like this cake?  You should check out my new book Surprise-Inside Cakes!