(This story is long.. I am writing it down maybe more for me then anything… it has played through my head a million times since it happened, and I am just blown away by how powerfully it has impacted us… so thank you for indulging me!)
Last Thursday was a busy day for me… I had lots of errands to run and hubby had been gone all week and I thought he was coming home that night.  I had wanted to get the house all cleaned and finish up all my chores that I had not completed throughout the week.  
I had lots of plans, and not much time to do them in!
I needed to stop by and mail the business section of the Star Tribune to sweet Migdalia, one of the neatest ladies I have ever met!  She and I and a bunch of other wonderful bloggers were just in an article the ST ran.  (Migdalia lives in New York though, so didnt have access to a physical copy.)
I was chatting with Lee, that runs our little post office, and my neighbor Lindsey walked in.  We chatted for a second and then I apologized, but I had to run.  Busy day!  
Walking out I glanced to a white car in the parking lot that was running and had people in it, then turned my head to the left.  What I saw made my heart stop.
There, lying on the ground, was an elderly woman.  It appeared she had fallen.  I ran over to her and reached for her arm and was going to try to help her up when I saw blood everywhere.  She had fallen and hit her nose (we later learned it was broken) and was bleeding from a gash on top of her nose as well as from within.
(I also learned later that she was on medication that thins your blood, so this contributed to the 'gush')
She was so calm… just saying over and over, "I'm fine…really, I am fine."  
I, however, was not.  The other car in the tiny parking lot started to back out and I shot the passengers a frantic look.  
They kept driving.
I turned and banged on the window and tried to get my neighbors attention… luckily she saw me and rushed to the womans aid as well.
I knew that we needed to get her out of the bitter cold and get her head back.  Lindsey mentioned that we might need to call an ambulance.  
I picked her up and helped her to her car as quickly as could when Lindsey appeared with a first aid kit and was able to get some proper bandages on the wounds.
After Shirley (the elderly womans name) was reclined in her car and the blood stopped for a bit we could see how bad it was.  Her nose was completely pushed to the right and her lips were black and blue and swollen, and she was missing some teeth.  
Shirley lives with her disabled husband in our small town.  Lindsey and Lee and I stood in the cold and tried to figure out how we were going to get her to the hospital 25 minutes away.
Finally, it was decided that (the most wonderful neighbor and kindest person in the world) Lindsey would drive her and I would follow.  That way if Lindsey needed to go inside with Shirley I could watch her four kids. (I had my three kiddos in my car and she had her four in hers!)
We got Shirley to the hospital where the nurses met us outside with a wheelchair and helped get her inside.  When we went to leave they were a little perplexed, "Dont you want to stay with her?  This is your mother right? Or grandma?"
Lindsey and I just looked at each other… "No, no… we just found her outside our post office.  We were just worried about her."
They seemed a bit surprised but rushed to get Shirley inside and taken care of.
The next day Lindsey called and let me know she had been in contact with Shirley.  Yes, her nose was broken.  She had lost some teeth but was going to get into her dentist that day to get them repaired.  She was unable to eat due to the pain, but was hoping to get a shake that afternoon.  
The kids and I had talked a lot about what happened.  When they saw Shirley and the blood and the blood all over me, they had been understandably shaken and confused.  Why was she alone mom?  Why was she bleeding?  Will they take care of her at the hospital?  
They were very concerned!  
We all agreed that we were going to adopt Shirley and her husband Don, and do everything we could to make their lives a little easier.
We made lasagna and cupcakes and brought them over to Shirleys house.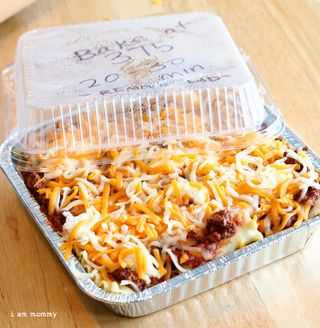 The moment she had opened that door I started getting all teary and reached over and just hugged her.  This sweet woman, who less then 24 hours ago had been a complete stranger, had captured my heart.
When Colton (seriously the bravest kid ever) saw Shirley, he was visibly shaken.  She has two huge black and blue eyes and a swollen mouth and her nose was quite swollen and bandaged. In spite of her physical state, she was hopeful and gracious… sure she would be making a full recovery very soon!  
We gave her the food and told her we would like to stop back and check up on her if it was ok.  She smiled and said, "That would be the most wonderful gift ever."
I agree… but I think we are blessed ones!
I tell you, I was so touched by Shirley.  She was brave and kind.  
I was also just blown away by my neighbor!  Lindsey dropped everything she was doing to just reach out and help a total stranger.  She was considerate and caring and patient and loving with Shirley.  Such an inspiration!
Shirley and Don are definitely enduring a difficult trial with this whole experience… and right before the Holidays.  I cant even imagine the toll it has taken on them already.  Prayers that she heals so quickly please! 
I am just so grateful for how God revealed Himself through this experience.
He put everyone in place that needed to be there that day to help her.  
He also really put it on my heart that I need to give back more and get out of this selfish routine I am in.  
And that if I wanted to teach my kids compassion and care that they needed to see it in me.  They needed to see mommy making unselfish choices and reaching out to people in need.  
Sadly, I'm not sure they had seen that before.
I think we are going to be getting to know a lot more about Shirley in the near future.  
I just know she is a  blessing from God!  
If you dont mind just offering up a prayer for her that she may heal quickly and be able to help with her disabled husband, that would so be appreciated!