This decadent cookie is based on the 1,000 Layer Chocolate Chip Cookie made famous by Martha Stewart. A few little tweaks and it becomes a skillet cookie to top all skillet cookies!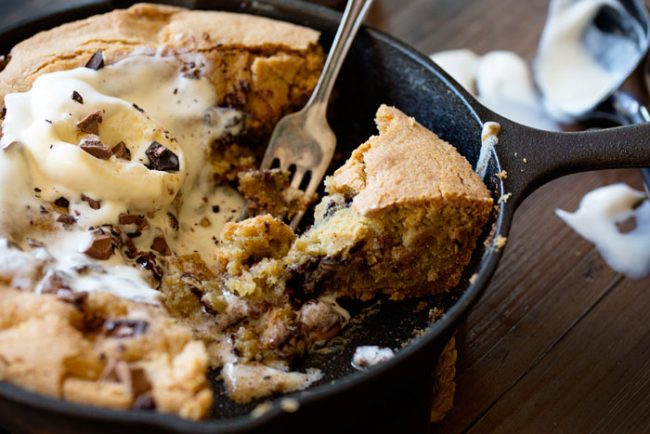 To make this Skillet Chocolate Chip Cookie you will need:
Chocolate Chip Cookie recipe (below)
7-inch skillet
sharp chef's knife
cutting board
plastic wrap
rolling pin
ice cream (optional)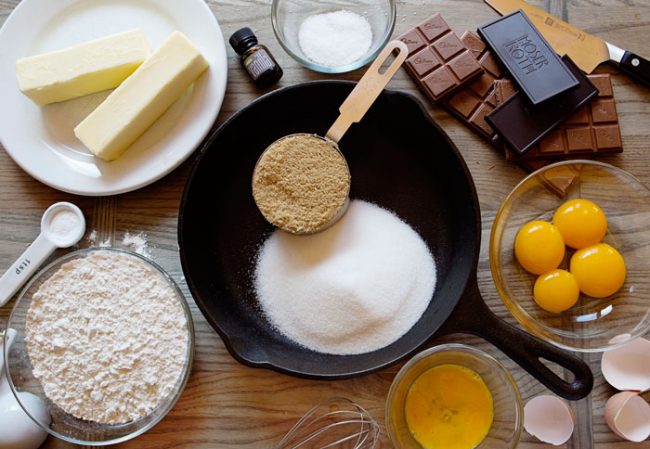 Being by preparing the cookie recipe as directed. Do not skip on the cooling time! Cooling the cookie dough is essential in creating the intense depth of flavor. The recipe recommends 30 minutes, but you can chill as long as 3 days.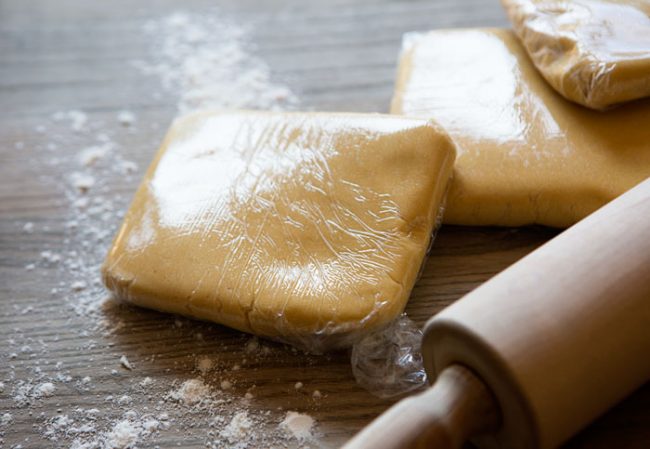 When the dough is ready, place it on a solid surface dusted with flour. Remove plastic wrap and roll out the first layer to approximately 1/2 inch thickness. Roll out next section of dough and set aside. (I like to separate my layers with parchment paper.) You may need to add more flour to your surface. Roll out the last layer of cookie dough.
Cover one cookie dough layer with 1/2 of your chopped chocolate. Place the next layer of cookie dough directly on top of it and press down. Cover with most of your remaining chopped chocolate. (Reserve a small portion for sprinkling.) Place the final layer of cookie dough on top and roll flat with rolling pin.
Using your hands, form the layers of cookie dough into a shape that will fit into your skillet. My skillet was 7-inches, but you can use an 8-inch, 9-inch, or even a 12-inch skillet.
Using a small pizza peel or a large cake server, gently move the cookie dough to your prepared skillet. Bake as directed.
Here is a video on how I prepared this Skillet Cookie: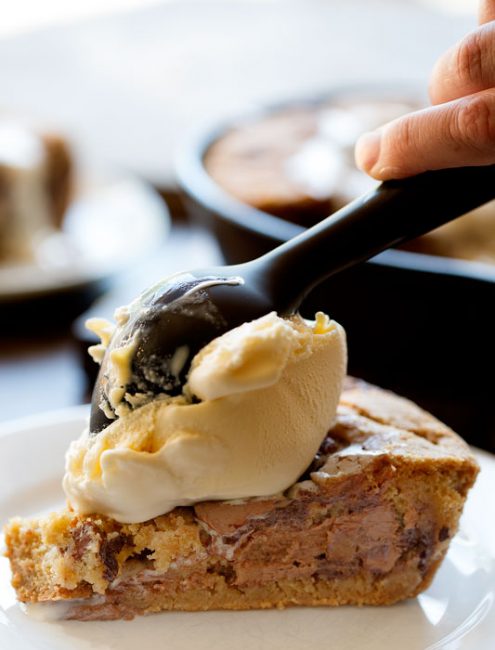 When the cookie is done baking, remove from oven and let it rest for a couple minutes.  Cover with vanilla ice cream and sprinkle with remaining chocolate bits.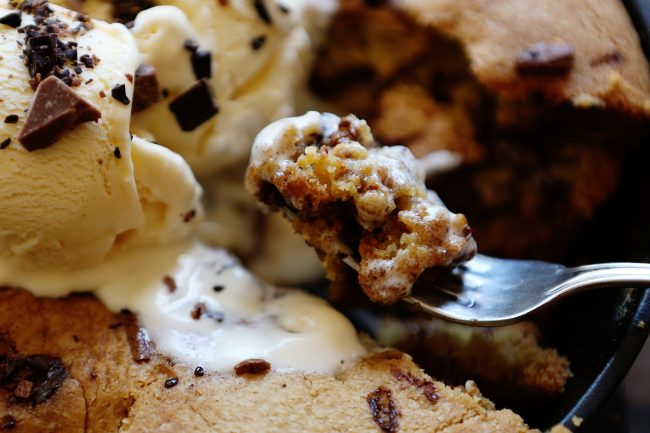 The absolute best possible way to consume this cookie skillet is to grab a fork and dig in! In addition to this being the best tasting chocolate chip cookie you will ever have, you will be creating a lifetime of memories with your loved ones!