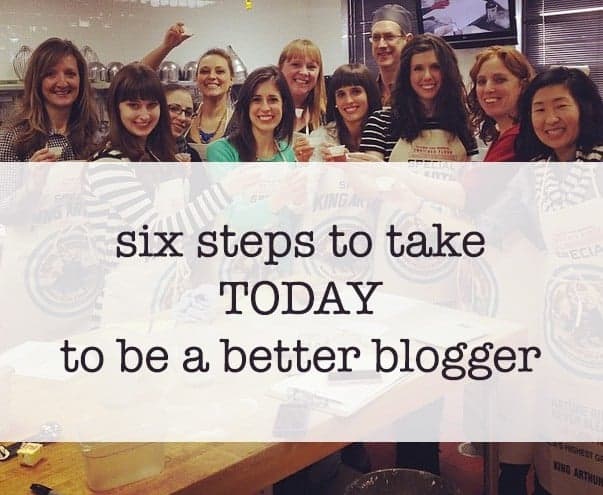 I have been blogging close to 10 years now.  While I am still a small fish in a big pond, I have learned a few tricks that help me to stay sane, keep perspective, and enjoy what I am doing!
I thought I would share a few of them with you!

MY LATEST VIDEOS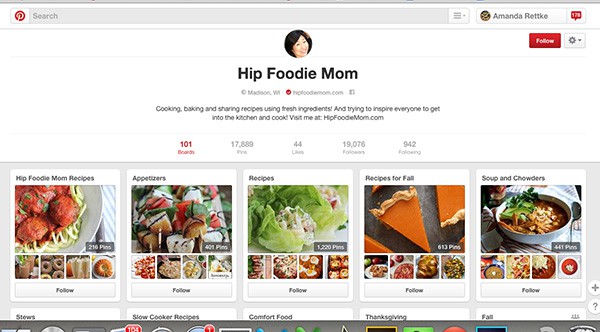 Create a Pinterest board of pins only from your blog
Make it the FIRST board on your Pinterest page.
This is a great for a number of reasons:
1. It is a great reference for you.
2. Send this board to a brand!  Let them see your photography style and what types of foods you create and share.
3. Share this board with your readers across all avenues of social media.  Let them know that your blog is a great resource!
4. Other bloggers are often looking for content to share, make it easy for them to see your content!
Better yet?  Create a Board with YOUR BLOG NAME: Sweet, YOUR BLOG NAME: Savory, YOUR BLOG NAME: Christmas, etc.
Already have one?  Pin 10 items from your blog today, even if they have been pinned there already.  Since Pinterest changed it's algorithm, you are no longer slamming your feed with personal pins and won't be potentially annoying your followers.
Extra tip: If you love a specific brand and want to work with them, create a board of content pinned from their site.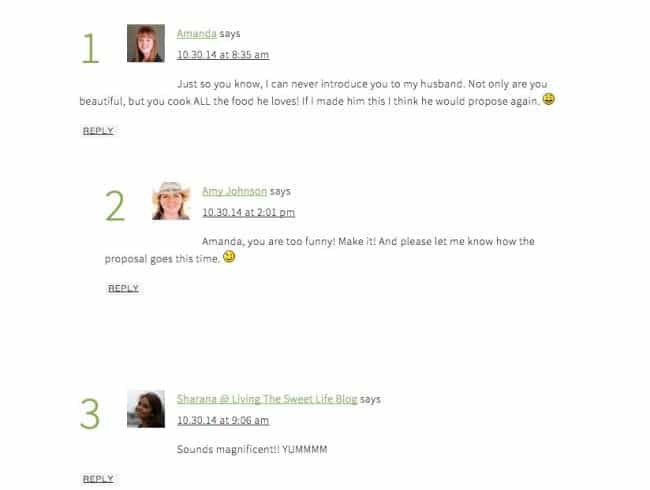 Like, pin, tweet, or comment from 10 blogs today
Pick 10 people you admire.  Tomorrow pick 10 people whose blogs you have never commented on before*.  The next day pick the first 10 bloggers who show up in your twitter feed. Click the heart on 10 pins.  Comment on 10 pins (when they are pinned directly from the bloggers site), retweet 10 tweets from people you respect.  Go and look at 10 twitter accounts and find something to reply to.
Interact with your peers. Let others know you appreciate their talents and creativity.  Venture outside your blog theme (may it be food blogging, fashion blogging, etc.) and explore other worlds of blogs.
Supporting others makes you feel good about yourself, and when you feel good about yourself your joy is reflected in your writing and creativity.  Its a vicious cycle of joy. 😉
A great option is to also reply to every single comment on your blog this week, even if to just say thank you.
*A great way to find new people is to look in the comment section of blogs you like.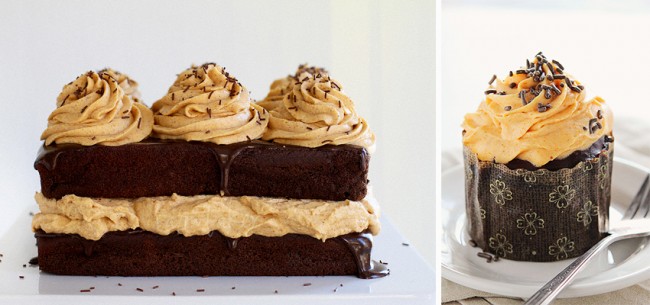 Chocolate Pumpkin Cake & Chocolate Pumpkin Cupcakes
Pick a popular post and update it/reshoot it
1. Write a new post with more details and insight into your life. (Your readers want that!)  Make a note at the end of your post stating, "Updated from the original 2008 post (link to post)"
2. Remake it with a twist. (i.e. If it's cake make it into cupcakes.  If it's salad, add avocado and sesame seeds.  Small changes!)
3. Make it and re-shoot the images.
I find that when I am in need of a little inspiration the best place to go is my own blog.
Do photography different
Set up your shot as your normally would and shoot the images you need for your blog post. (so you are technically done 'working')
NOW START HAVING FUN!  Add a fun prop to your image, add a glass of wine or a really fun polka dot towel, change your lighting entirely (dark and moody anyone?), bust out the macro lens and go CLOSE, take a bite of the food, have a child holding it, or even add some fun filters in the editing process.
The above shot was a total after-thought.  I was actually sitting on the floor looking up and it and just snapped a picture!
Join a blogging community  
Ask around.  If you can't find one, make one.  Having the support of others who do what you  do is essential. Facebook is fantastic for this.
Blog for YOU
Don't feel like you have to blog for the season or the temperature or an age group.  Share what is true to you, to your voice.  If you are making Christmas cookies in July, post it!  The beauty of the internet is that everything is always in season.
Set personal goals: It is important to know why you are blogging.  If it is for money, for fame, to share recipes with long-distance relatives or to finally put to use that culinary degree, just be honest with why you are where you are.  Once you know your motivation (the combination of desire, values, and beliefs that drives you to take action), it is easier to set goals.
And here is a bonus tip: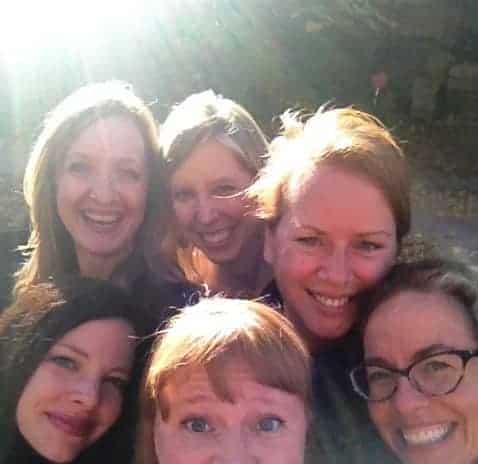 HAVE FUN!
Find a way to enjoy what you are doing. If it means inviting a local blogging friend over and having a cooking afternoon or setting up a coffee date with a blogger you admire to talk shop. Think of your favorite meal and blog it. Buy yourself a new prop. Use an ingredient that inspires you. Remember why you started blogging in the first place; you had (have) a passion (and talent!) for what you do.
To Recap:
1. Dominate Pinterest
2. Rock out Social Media
3. Redo Something
4. Photography: Change your brain around
5. Them
6. You
and FUN!