A sweet blogging friend is about to have her first baby.  The beautiful and talented Jen from My Kitchen Addiction!
She will soon be experiencing her baby's first coo, her first glance, her first smile.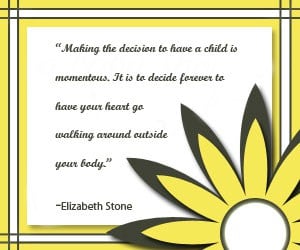 (Original design credit to Amber Bracegirdle)
She is about to know what the old saying feels like, "Making the decision to have a child is momentous. It is to decide forever to have your heart go walking around outside your body." –Elizabeth Stone
And while I cant be there to help her with laundry or make her meals, but I can offer her some unsolicited advice.
Eat.  Dont forget to eat.  After my first child was born I cant tell you how many meals I prepared that I never ate.  Sandwiches on the counter.  Food in the microwave.  Pasta on the stove.  I would hear my sweet babies newborn cries and drop everything to sooth him.  But rest assured, he will wait thirty seconds while you finish that smoothie.  Nourish thyself, and you will be more able to take excellent care of her!
Share.  It was months before anyone got to hold my baby.  I want to say maybe even a year.  And even then it was only because they had to physically pry him away from me.  I was so completely in hopeless love with him that I had to have him near me at all time.  I knew what was best for him, and only me! (Ok, looking back I might have been a tad over dramatic.)  But it will be ok.  If your mom or your neighbor or your Fed Ex delivery guys wants to hold the baby, its ok.  They will give her back, promise.  And it will do you good to have a moment to see your angel loving cared for while you do nothing but look on and relax!
Write it Down. This is one of those, "Do as I say and not as I do".  I didnt write things down because I was sure I would remember.  Well, I forgot.  Get a cheap notebook or a magnetic notepad for your fridge.  Write the date and whatever moment captured your attention.  It will take thirty seconds at most and will be priceless to you in the years to come!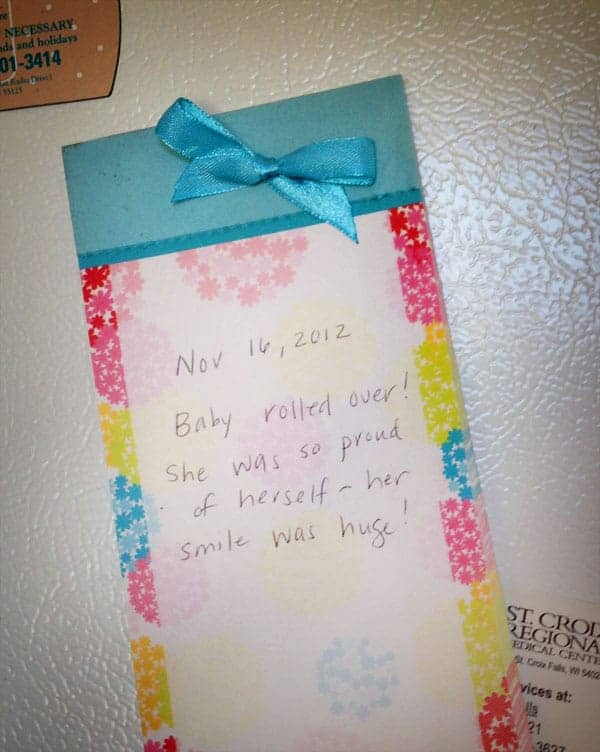 If you are really, really motivated, grab your phone and snap a picture of your baby every day.  You can upload a "Photo 365" journey app like this one.  All the hard work is done for you!
Reflect.  Take the time to stare into her eyes and be thankful for that moment.  Be thankful for her birth, for your amazing birth story, for every moment that led to her now being a part of your lives.
Enjoy how sacred and precious and wonderful this time is!
A few friends got together to celebrate  Virtual Baby Shower for Jen.  Be sure to stop by and see all the amazing dishes!
Bluebonnets & Brownies | Raspberry Lemon Fruit Dip
Sugarcrafter | Sweet Potato Cake with Honey Buttercream
My Baking Addiction | Mini Pumpkin Pies
Simple Bites | English Eccles Cakes
Stetted | Roasted Red Pepper and Caramelized Onion Dip
Food for my Family | Homemade Pear Italian Sodas with Cardamom Cream
eat. live. travel. write. | Goat Cheese and Tomato Tartlettes
Gimme Some Oven | Creamy Caramel Apple Dippers
Dessert For Two | Caramel Apple Cookie Cups
Bake at 350 | Soft Sugar Cookies for a Baby Shower
A Thought For Food | Fingerling Potato Salad
TidyMom | Apple Pomegranate Spritzers
Healthy Green Kitchen | Guacamole with Pistachios
Tracey's Culinary Adventures | Caramelized Onion, Gruyere and Bacon Spread
What Megan's Making | Apple Spice Muffins
Cookin' Canuck | Gorgonzola Cheese Cups with Pear & Hazelnut Salad
Bellalimento | Frozen Berry Shortcake
Shugary Sweets | Caramel Apple Truffles
GoodLife Eats | Coconut Lemon Banana Bread
We love you Jen and are so excited for you!