I have been getting caught up in the world lately.
When someone I thought was a friend lied publically about me, I obsessed about it for weeks.  I lost sleep.  Spent precious time methodically defending myself.  Lost time with my family because I just had to prove their lies wrong.
Who was the loser?  Me.  I failed to recognize that Jesus is in control of my reputation.
When I witnessed a great injustice that affected many of my blogging friends, I jumped in and did everything I could to correct that injustice.  Time was spent writing and researching and planning the best ways to Make TRUTH Known!
Hundreds of times since then my integrity has been questioned and I have been threatened with law suits and malicious threats meant to scare and deter.  Bitterness has crept in with every angry ignorant comment made about the issue.  Soon, seeing people as God's children and loving them as He calls me too became a distant memory.  I couldn't even see their perspective in it I was so wrapped up in fighting the fight.
God was an afterthought.
Then the world.  You know, because its my job to make the world a better place.  There is so much evil and lies in the world.  Seeing people whom I thought were Christians perpetuating and encouraging and falling for Satan's lies has been a Great Discourager.  I am getting so caught up in what other people are thinking and saying and doing, and again, allowing the bitterness and the evil creep in and eat away at the Joy I know through Him.  That saying "carrying the weight of the world on your shoulders" seems to apply now more than ever.
Sad truth alert:
Focusing on the sins of others is a fantastic way to forget the sins in my own life.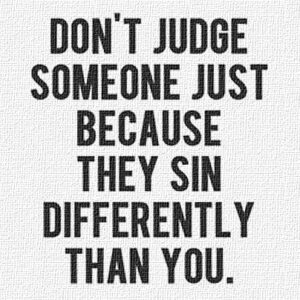 image from christianfunnypictures.com
What I am coming to realize is that my faith has be fruitful.  Others need to SEE my actions and know whom I serve.
The reality is, my actions are not fruitful, they are self serving.
And I want to say I am sorry.
But dwelling in a pit of shame and bitterness is certainly not helping me nor anyone else.  So here is how I am choosing to handle this from now on out.
These trials should be turning me towards the Savior.
No temptation has overtaken you that is not common to man. God is faithful, and he will not let you be tempted beyond your ability, but with the temptation he will also provide the way of escape, that you may be able to endure it.
1 Corinthians 10:13 (ESV)
Count it all joy, my brothers, when you meet trials of various kinds, 3 for you know that the testing of your faith produces steadfastness. 4 And let steadfastness have its full effect, that you may be perfect and complete, lacking in nothing.
James 1:2–4 (ESV)
 Who shall separate us from the love of Christ? Shall tribulation, or distress, or persecution, or famine, or nakedness, or danger, or sword? 36 As it is written,
"For your sake we are being killed all the day long;we are regarded as sheep to be slaughtered."
37 No, in all these things we are more than conquerors through him who loved us. 38 For I am sure that neither death nor life, nor angels nor rulers, nor things present nor things to come, nor powers, 39 nor height nor depth, nor anything else in all creation, will be able to separate us from the love of God in Christ Jesus our Lord.
Romans 8:35–39 (ESV)
We are meant to be more than conquerors!  God knows we will face trials and stumble and fall.  What is important is what you do after you fall.
Will I stay down?  Or will I look up?
Today, I choose to look up.  To stand up.  Even if I am standing alone! 🙂