YAY! YAY! YAY!
Its time for winners!  I am so proud of everyone nominated… you are all so talented and appreciated!
Now…
AWESOMEST INSPIRATIONAL BLOG
AWSOMEST PARENTING BLOG
AWESOMEST FOOD BLOG
AWESOMEST PHOTOGRAPHY BLOG
AWESOMEST OVERALL BLOG
TidyMom
Be sure to stop by and offer up some congrats to the big winners… they all have fantastic blogs!
Winners: Please email me (manda2177@aol.com) and let me know where I can send your FIFTY DOLLARS CASH and also let me know if you would like the "Awesomest Blog" button for your blog.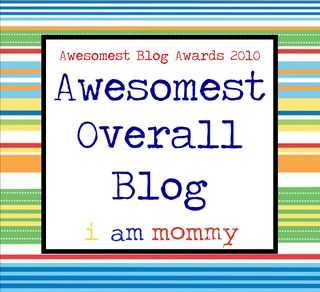 Congrats!!!
Remember Londa?  She made them.  She is like… awesome. 
Are we all sick of the word awesome yet?  Cause I totally am.  Until tomorrow.