This post is not about how to grow traffic or expand your readership.  Its about how we as bloggers define each other.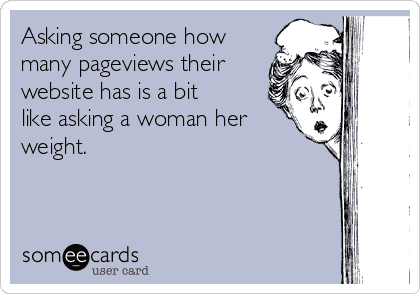 There has been something I have wanted to address for some time now.
Pageviews are how most of us bloggers define each other.

MY LATEST VIDEOS
I am going to be hugely unpopular for saying this, but I think we are doing it wrong.  We have this inherent desire to determine another blogs value based on the amount of traffic it gets.
I am not saying this is our fault, as I believe we were taught to do this.  But I am saying that we (I) need to stop.
A blogs value is not directly proportional to the amount of people that visit it anymore than my value is based on the number of people I know.
What does determine the value of a blog?  For me its personal.  Does it move me?  Are the images inspiring?  Do the words and ideas linger on my heart?  Does the author make me want to be better?  Has the content helped me?  Is my soul better once I have been there?
One of my favorite blogs is Notes at Naptime… with Shara.  When I read about Shara's trials with motherhood and homeschooling and faith I am changed.  She moves me and challenges me and motivates me and makes me laugh and cry and ponder life.
Her readership may be small by comparison, but the impact she is making on me is big.  The impact she is making in the world is even bigger.
She is so much more than her pageviews.
And you are more than yours.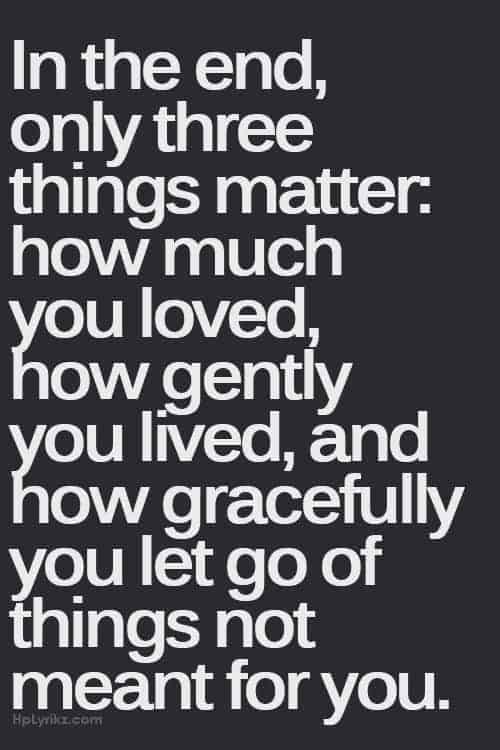 I dont want to make this negative in any way, but I do want to be honest.  Not every blogger is meant to be "big".  You can follow every formula and helpful suggestion and social media trick but in the end, your blog may not grow.
It's ok.
Truly, it's ok.  That doesnt make you any less of an amazing friend, teacher, mom, spouse, daughter, contributor to the world.
Why do I feel bold enough telling you this? Because I am right there with you.
My blog is never going to be huge.  I am never going to have Food Network banging on my door to make a TV show based on my recipes.  Oprah is not calling asking me for my parenting advice.  My readership is never going to compete with the blogs that have millions and millions of readers.
I remind myself to not let go of the desire to reach my dreams, but do let go of the guilt and shame I may feel by comparing myself to others.  Feeling "less-than" is just not meant for me. Or you.
And in the interest of full transparency…here is a screen shot of my stats, taken today.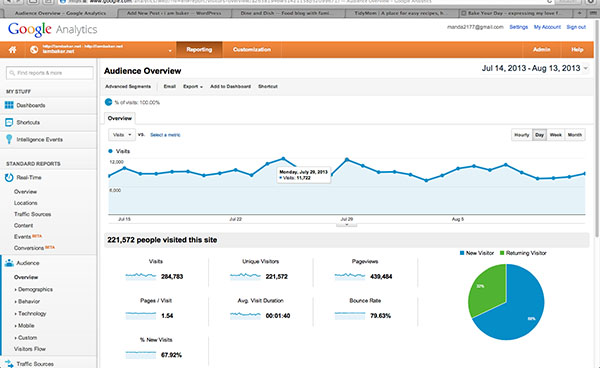 Visits in the last month: 284, 783
Unique visits in the last month: 225, 572
Pageviews in the last month: 439,484
When you read those… do you think less of me?  Does my "value" decrease?
Truth be told, my stats have never been lower.  Traffic is down, pageviews are down, interaction is down.  I have never invested less time into blogging as I have these last six months.
And its ok.  I have been busy and life has taken precedence over blogging.  As it should.
Its my job, and as long as I need a paycheck I will need to invest time and effort into it.  (Which is great because I enjoy it!)  But right now I am snuggling with my baby, starting to homeschool, figuring out how to homestead,  baking for fun, reading other peoples blogs and writing and dreaming and finding my passion again.
Not one single of those numbers above should affect that.
And here is the challenge for you: Dont compare your stats to mine.  You win.  Your thoughts and your experiences are unique and specific to you and your blog.  If I tried to come in and write your blog it would be no where near as fantastic.
At the risk of being redundant … just dont let those numbers define you! And I will try to not let mine define me. 🙂