I had quite a bit of time to ponder what I wanted to share from my blogherfood trip.
More on that soon.
A few main points:
I learned that I am completely socially awkward.
Even though I like to think I am somewhat level-headed, I got completely star stuck and dumbfounded.
I do not travel alone well.
I am a complete homebody.  I like to be home.  Near my home.  In my home.  Looking at my home.  In the vicinity of my home.  You get the idea.
The session that I was speaking on was the very first in the blogherfood weekend, which just happened to be wonderful.  I really enjoyed speaking with Marla, Carrie, and Natanya.  They are super smart and driven women who have very clear, tenacious, and capable voices.
(below: Marla and I)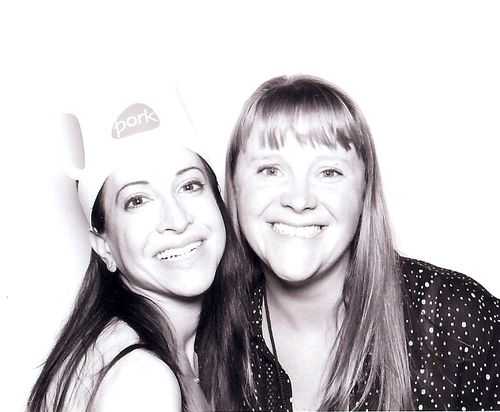 Me…not so much.  I believe in the midst of a panel discussion about how you can optimize your vision and succeed in creating a successful and well received blog in a condensed time period I uttered the words (into the microphone mind you) "Hi, my name is Amanda and I like to eat."
Riveting stuff I tell you.
After that enthralling and hypnotic insight from me I decided it might be wise to speak less and listen more.  And honestly, I really thought the audience (as well as those amazing fellow panelists) had some great questions and observations!  I know I left there having learned more then when I arrived.
The remainder of that day was spent eating and listening and eating some more. 
I was able to drift off to sleep with a smile because of the amazing invention that is Skype.  I got to talk with the kids and hubby!!  Seeing their faces and hearing their excitement and watching them interact with each other rejuvenated me, and I knew I could face tomorrow (Saturday) with a renewed sense of energy.
Um, yeah.
By noon Saturday I had hit a wall.  A really big,solid concrete, mile long wall. 
It just kinda struck me that I was alone (without family and close friends) in an unfamiliar place.  And by 4:00 pm, as I was standing in the lobby trying to check out, it was all weighing pretty heavy on me.
That's when sweet Alice walked by.
Bless her heart, she had no idea what she was talking into… but she looked at me, asked how I was, and I burst into tears. 
I couldnt stop crying.  The pain of feeling alone and having been dealing with morning sickness and fatigue and having cramping and discomfort had all culminated into me completely losing it.
Do you know what Alice did?
She dropped everything and hugged me.  In the middle of a gorgeous internationally acclaimed bustling lobby… she sensed a need and offered me her shoulder to cry on.
I did.
And then, as if compelled by the Voice that I had been desperate to hear, she prayed over me.
I cannot tell you the significance of that moment… of that prayer… of those words on my lonesome heart. 
I have never felt such an instant connection to someone as I did Alice. It was a heart connection. 
A couple hours later I had managed to gather myself together (completely supernatural strength I might add) and make it to the fabulous party hosted by Pioneer Woman, Steamy Kitchen, and Simply Recipes.
After two days of catching glimpses and fighting extreme shyness and dreading that stalker moment, I finally was able to talk to Ree and Jaden!
Seriously.  Jaden is stunning.  Gorgeous.  Funny.  Sweet.
And Ree?  Well, Ree is… (this is going to sound so stupid) kinda equivalent to your favorite pair of jeans. 
She was comfortable and made you look good and gave you a sense of inner confidence that you dont normally have.
Although, you would never have known that by my actions.  I mostly wheezed out, "Oh my… you're amazing… is this happening?… I am going to pass out…"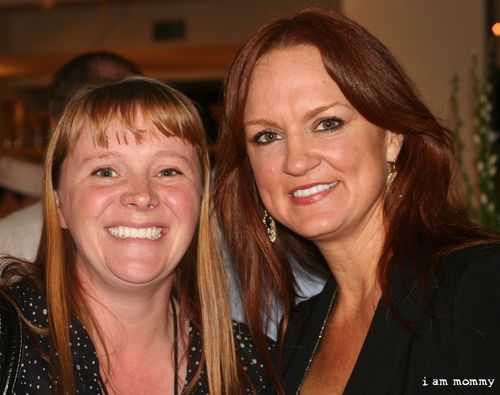 You can see it in my expression.  *freaky* I think my left eye was actually twitching.
I was two seconds away from throwing up on her inconceivably gorgeous shoes. 
Well, that and I had just tried bacon nicoise, which does not go well with a nauseous preggers girl.
But now I must stop reminiscing and go play with my children whom I missed more then they will ever know.  What a blessing to be home and get to hug and cuddle them whenever I want!
More on the rest of my trip soon.  I hope.  If I can get the courage to share with you the experiences of my last few hours in SF.  
They. Were. Interesting.