I have professed my love of Instagram many times before.  I pretty much adore every little nook and cranny of the Instagram world.
And the fact that I can share all sorts of baking treats… whether it be a disaster or success… is such a blessing to me.
Its a place where I feel a bit more free to express myself artistically.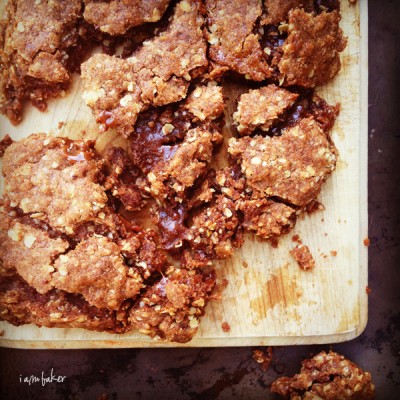 This is a batch of Oatmeal Milky Way Brownie Bars I made for a church function.  I did not let them cool enough (I should have popped them in the freezer since I was in a hurry!) and they fell apart when I moved them from the pan.  It almost looks as if that is raw batter, but in reality is it a layer of ooey gooey Milky Way caramel deliciousness.  I was not sad at all that these didn't make it to the church!
The second version of my Double Decker Yellow Rose Covered Cheesecake.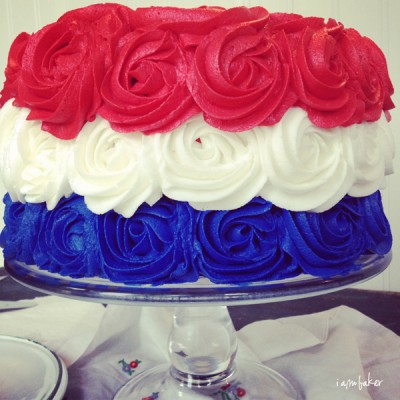 The red, white, and blue Rose Cake.  Which you know I am going to force you to make for your Fourth of July celebration.  Seriously.  You can do it.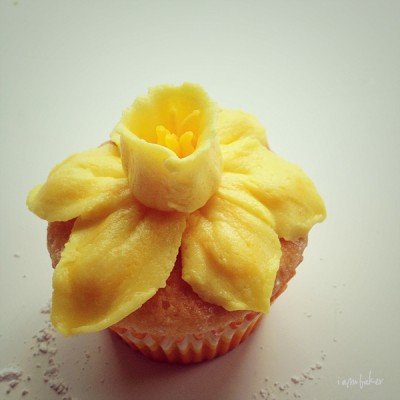 The sweet little Daffodil Cupcake.  I made a cake and then a tutorial on a cupcake.  My caption on the Instagram photo was: "Daffodil Cupcakes Done.  Tutorial Done. Summoning up the will to resist eating one, failed miserably."
To which Bridget replied the bestest reply ever. "Being a baking blogger REQUIRES you to eat it. 😉 it's in the contract."
Why yes, yes it is.  I love the way you think Bridget!
Fantastic Chocolate Cupcakes via the amazing Amy Atlas.  I added homemade sprinkles.
And when I was making those sprinkles, had a happy little accident.
But did you know that I sometimes share things there that never make it to my blog?  There are a lot of occasions in my life that I am baking for, but that dont manifest themselves into a blog post.
Like Memorial Day.
Or playing around with the extra frosting I just could not let go to waste.
Or when I started a pile for all the tips I lost to my disposal.
A moment of silence please.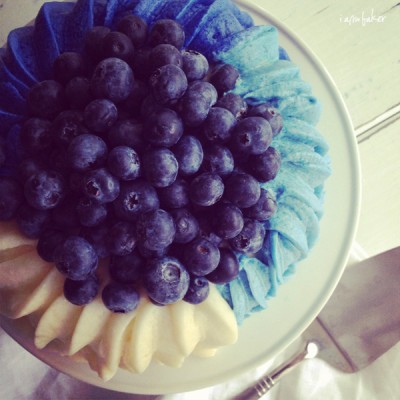 Or a special visit from some beloved Grandparents. (This is a Brownie Cake made with the BEST frosting Ree has ever had covered in blueberries.)
Or the first night if T-Ball.  I am coaching my kids' team this year and had to bake away some of my nerves before the first practice!  These are gluten free because I didnt know if any of the kids had food allergies.
Or a "Because its Wednesday" slice of cake.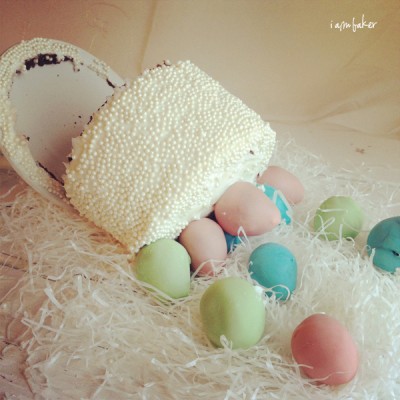 Or that one time I spent hours making egg shaped cake balls and decorating a cake in iridescent white non perils for the perfect Easter Cake only to have it tip over on the make shift cake stand I so carelessly assembled.
I cried.  Unabashedly I cried.
Or the beginning stages of the Neapolitan Rose Cake.  Naked Neapolitan as I like to call it.
Or a 1st Birthday Cake for a friends sweet boy.  After I dropped off the cake I never heard from her again so I am  pretty much convinced that it tasted like feet and she is avoiding me so she doesnt have to break my heart by telling me.
Did I mention I am overly-dramatic?
Or a Tuesday morning.  When I made the kids whole grain flax seed pancakes with bananas and organic maple syrup.  Then proceeded to dump peanut butter and chocolate chips on mine.
But I have to tell you something.  As much as I love sharing the sweet (and sometimes bitter!) happenings in our lives, I love love love following you and learning more about you all!
Thank you to all the amazingly talented and creative and funny people who graciously allow me to follow them on Instagram.  You are such a bright spot in my day!
All of these pictures were edited in Instagram with the exception of the Double Decker Cheesecake.  That was "roughed up" in Picfx first, then edited in Instagram.