Today's guest post is brought to you by Gina Horkey.   Gina is a freelance writer, with a background in finance. She's passionate about Jesus and designing a flexible lifestyle suited to meet the needs of her young family…while honoring God of course! She hopes to inspire others to do the same and shares her story via her blog. Next year at this time she hopes to be writing and traveling around the U.S. in an R.V. Please stop by her Facebook page and say hello!
"For I have learned how to be content with whatever I have." ~Philippians 4:11
Do you struggle with an anxious spirit? If you're nodding your head yes, you're not alone. It's easy to feel like you're the only one in the whole wide world that can't get out of your own head or that can't shut off your brain, but it's not true. Tons of people struggle with anxiety, me included.
This weekend's church sermon was one that I felt was spoken directly to me. I've felt this way before, but never quite so directly. Our church is ending a message series on being "More Than Happy." The context is that like Paul in the book of Philippians, we as Christ-followers should find joy in all circumstances, rather than being focused on finding temporary happiness.
The final message was for those of us specifically battling anxiety. Personally, I been having my most intense battle this past year with this very thing. My ears perked up and I found a pen to take some notes. I wanted to share in case there were others like me that could benefit from hearing this message.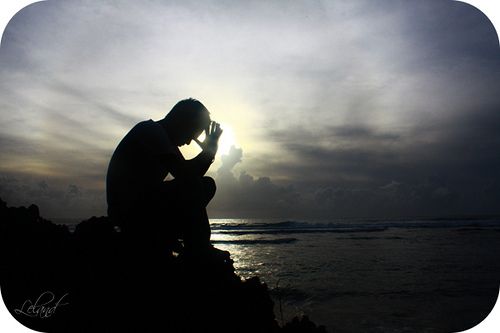 "Prayer is the Language" by Leland Francisco
"I want you to know that what's happened to me has really served to advance the gospel." ~Philippians 1:12
The teaching pastor offered us three ways to overcome anxiety:
1.Don't bury it! The worst thing you can do is to keep your feelings of anxiety and worry all to yourself. That's what the devil would prefer of course, but that's not what God wants for you. God wants for you to share your burden with others and especially with Him. The pastor went on to say that we as a church sometimes project perfection, but the truth is that we are all broken. "It's okay to not be okay." Ask someone to fight alongside you. Tell others. Be vulnerable with God and with your Christian friends who will lift you up.
"Don't worry about anything; instead pray about everything. Tell God what you need, and thank him for all that He has done." Philippians 4:6
2. Work on it! It's best to do this BEFORE anxiety inducing events arise, as the last thing you want to do when in these situations is oftentimes what will help you the most. Pray without ceasing. Get in the habit of praying more often. Pray when things go right, as well as when things don't. Pray when things are status quo. It's easy to see what we're lacking; instead let's work on seeing what we've been blessed with and thank God for it instead.
"Therefore I tell you, do not worry about your life, what you will eat or drink; or about your body, what you will wear. Is not life more than food, and the body more than clothes?" Matthew 6:25
3. Defeat it! With God's power you can defeat anxiety, instead of letting anxiety defeat you. You can't change anything by worrying about it, but if you give it over to Him, God can! You are not helpless; you are powerful and in control not due to your own actions, but because of Jesus. He has employed the ultimate strategy of defeat on our behalf already. Accept it and own it!
"For to me, to live is Christ and to die is gain." ~Philippians 1:21
I'm sure that for me anxiety could easily be a lifelong battle if I let it. As a young woman dealing with the stresses of raising kids and figuring out what I want to be when I grow up, there's no shortage of things to worry about. Showing up and letting others see me warts and all, is the real challenge. Maybe by me sharing a little of my story I might be able to help someone else.
Have you dealt with anxiety? How has it affected your faith?