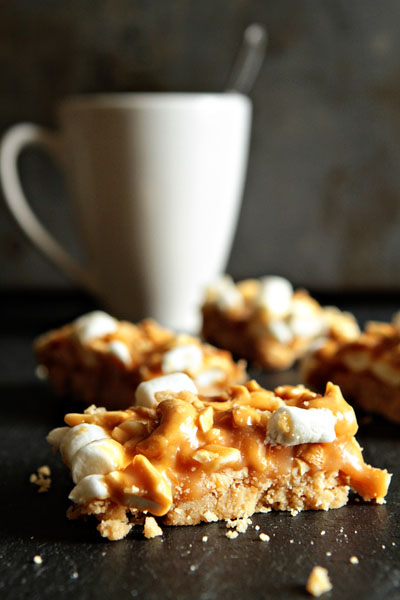 Hello! I'm Jamie from My Baking Addiction, filling in today for the lovely and talented Amanda. I've forever been a lover of all things I Am Baker, so I couldn't resist Amanda's invitation to guest post. From a brand new cookbook deal to a charming site redesign – Amanda's on top of her game and I couldn't be more honored to fill in for her today!
In case ya haven't figured it out by now, Amanda makes cakes. And not just any cakes – gorgeous, creative, delicious cakes that leave people in awe of her talent. Yup – I'm kinda obsessed with her creations! With that being said, there was no way that I was making a cake to share with you. If you can believe it, that thought actually crossed my mind until I got a grip on reality! Instead, I'm sharing a recipe for Caramel-Cashew Bars.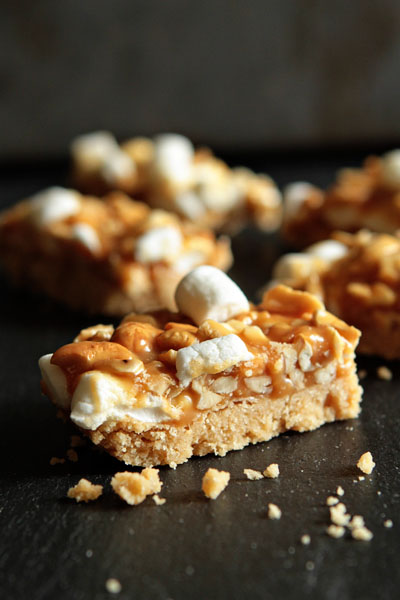 I'm kind of a sucker for those holiday baking displays in the middle of the grocery store. Come on, I can't be the only one sucked in by the canned pumpkin pyramids! On my most recent trip, I ended up with 3 bags of cashews, 2 bags of mini marshmallows, and too many cans of pumpkin to count. Some may call it a bit of an obsession, I like to refer to it as preparedness – ya know, stocking up for Winter – kinda like a squirrel, except this nut is obsessed with cans of pumpkins!
With all these sweet holiday confections overflowing my pantry, I knew I had to find a recipe to put everything to good use. These Caramel-Cashew Bars start with a buttery foundation of crushed shortbread cookies, then topped with a sprinkling of miniature marshmallows and a layer of sweet, gooey caramel.
I'm pretty sure these guys will be a superstar on any holiday dessert table you decide to offer them up on. Different enough to be memorable among the pumpkin pies and Christmas log cakes, but familiar enough to be comforting and perfect with a generous cup of hot cocoa. I hope you love them as much as I love Amanda for letting me hang out here today.
Notes
-Bars can be stored arranged in a single layer in an airtight container for up to 3 days or frozen for up to 3 months.
-Recipe slightly adapted from Better Homes and Gardens
About Jamie
Jamie Lothridge is hopelessly addicted to sugar, sprinkles, and Top Chef. She started her blog as a way to justify having copious amounts of each in her life.
When she's not in front of her stand mixer, or behind her camera, she can be found teaching middle school, hanging with her fiance, or watching the Food Network.
You can follow Jamie on Facebook, Twitter, and Pinterest for her recipes, random thoughts and latest addictions.