This was the most fun post to do. I get to make something delicious and talk about one of my favorite people!
I dont know if you heard, but today Amy Atlas's book Sweet Designs,  is available to purchase!!  Its fabulous.
She has so many tips and tricks, I think she can turn anyone into a professional stylist!  Its easy to read, the pictures are stunning, and the ideas are SO creative!
I wanted to make her Chipper Chocolate Cupcakes. (They are in her 'Perfectly Preppy' chapter… my favorite!!)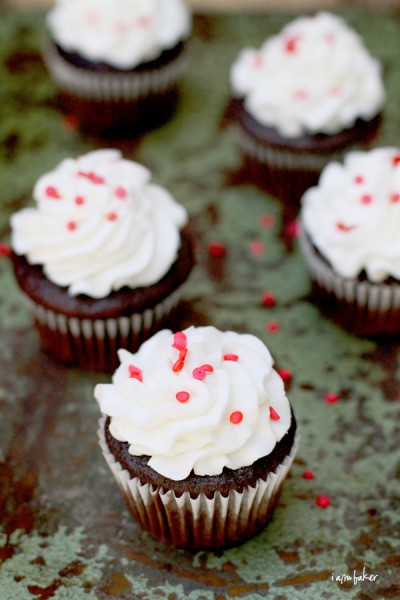 And I am so glad I did!  Amy offers up a unique version of chocolate cake that is delectable.  (You have got to get the book just for that recipe… I have made LOTS of chocolate cake in my day, but never one like this!)
The cupcakes in her book are covered with and surrounded by the funnest pretty pink sprinkles.
I totally did not have pretty pink sprinkles on hand.
So I just made some!
Paired with Amy's delicious buttercream and it was a win-win.
Actually, its win-win-win.  Know why?  Because YOU have a chance to win too!  One lucky reader is going to win a copy of Amy's book!
Its easy!  Just tell me, What is your favorite cake flavor?
If its chocolate you gotta get her book and try these cupcakes!
For an additional entry you can tweet:
I want to win a copy of @amyatlas 's amazing new book  #SweetDesigns  from @iambakertweets! http://bit.ly/JBRxee 
You can also earn an addition entry by sharing this post on facebook! (You can just click the share button under my facebook post)
Please leave a separate comment for each.
I have even better news.  A few other amazingly talented bloggers got together to help spread the word about Sweet Designs!
You have GOT to go and see what they made!!!
Tidymom  Honey Panna Cotta
Sweetapolita  Pink Eclairs
My Baking Addiction  Banana Whoopie Pies
Two Peas and Their Pod  Banana Cupcakes with Cream Cheese Frosting
Bake at 350  Hazelnut Truffles
Sweetopia  Chocolate Beehive Cupcakes
Bakingdom  Mini Strawberry Trifles
The Sweet Adventures of Sugarbelle Amy Atlas Cookbook Giveaway
Not only did they make something sweet from the book, they are also giving away one copy!  So you have NINE chances to win!!
This giveaway is open from April 24th through midnight on April 30th.  You must be 18 years old to enter and live in the United States.
Please see official rules HERE.
*****
The winning comment was #368
Amy who likes "lemon cake with lemon icing"
I am sending you an email Amy!  Congrats!