Last night I was awoken by our dog, Raina, barking.  It was that different sort of bark where you know its not a squirrel or random critter.  I got up to tell her to hush and was blinded by a sea of red flashing lights.
Apparently, right in our backyard, a man (who I am guessing was severely intoxicated) had run from the police after being hit in the head with a baseball bat.
I feel funny even writing that.  He was not a nice man, and hurled profanity and insults at the emergency team that had assembled to help him.
This was 3:15am.  After the ambulance arrived and it was determined that all "Dwayne" knew was that he was very mad and that someone had hit him in the head with a baseball bat and he was now laying in the tall weeds, I figured I should head back to bed.
But as I was turning to go inside I heard this: (profanity not included)
"I am gonna get a lawyer and sue you!  Yeah, a lawyer and tell him you lied!  And he is gonna talk to you.  You are going to be talked to!  And he is a lawyer!  He is going to talk to you.  You better watch out police man.  You are gonna get talked to."
He then hurled the most terrifying threat of them all.
"And then I am gonna tell my wife on you!!!"
The men all shook in their boots a little at that one. 😉
So anyway, that is not my story.
This morning I let the dogs out and decided to investigate the scene (I have seen Law and Order, I am clearly a trained investigator) and see what damage had been done.
Not much.  It was pretty boring.
Until I happened upon this.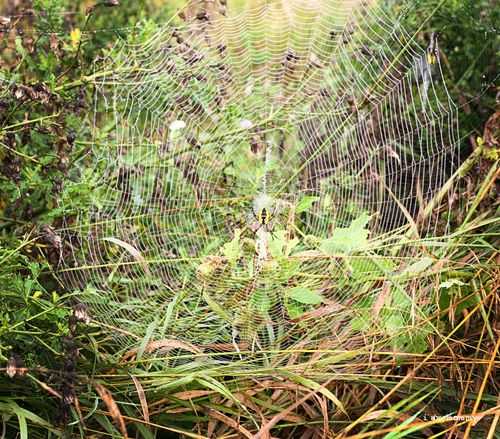 Can ya see it?
Here, let me help.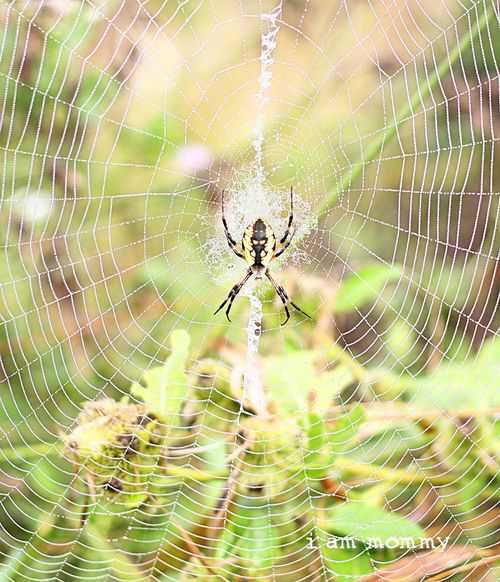 *insert violent shudder here*
This is a Black and Yellow Argiope.
This is a female, and she was surrounded by FIVE more Black and Yellow Argiopes.  
They are orb spiders, meaning that they have circular webs.  
They eat their web every single night and then make a new one every single day.
Their predators are birds, some wasps, and shrews and lizards.  
I had to go and look this up because I am TERRIFIED of spiders.  Sometimes having a little knowledge about them helps me sleep at night.  
Sometimes not.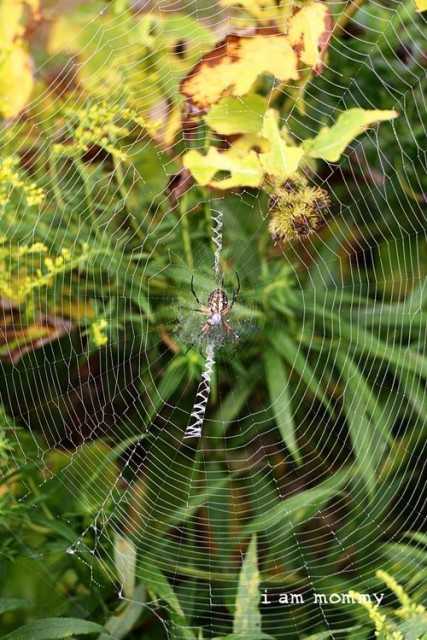 Thats the back of one.  I had six to choose from.  Did I mention there are SIX of these in the back yard?  That I could see anyway.  There are probably lots, lots more.
*still violently shuddering*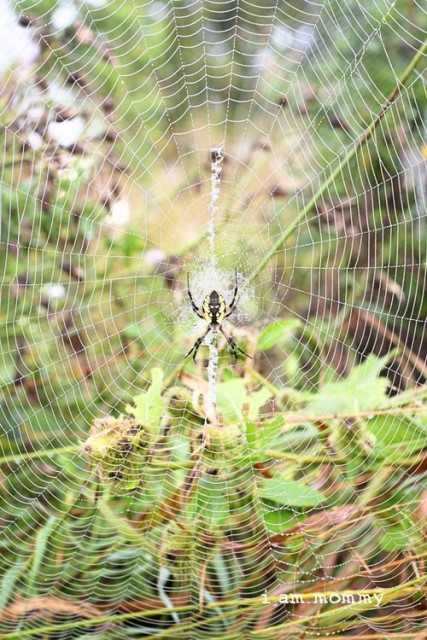 I think I would rather have "Dwayne" hanging around.