With only four weeks left of my James: Mercy Triumphs study by Beth Moore, I am feeling quite bittersweet.
I love that I have learned so much about James and myself, but I just dont want it to end.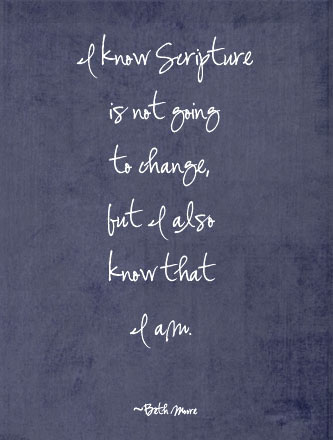 Beth said this quote at the very beginning of study and she could not have been more spot on!
As I am learning more and more about James and about the words that he shared in the Bible, I am indeed changing.
In session four Beth touched on the subject of social media.
She suggests reading James 2:3 (NASB)
"and you pay special attention to the one who is wearing the fine clothes, and say, "You sit here in a good place," and you say to the poor man, "You stand over there, or sit down by my footstool,"
She talked about "followers".  As in twitter.  Or Pinterest.  Or Instagram.  She asked that we examine the literal translation of the verse in Greek:
"while you say to the poor man: 'Stand there,' or 'Sit here under my footstool."
This next part is sketchy for me because it was just on the video so I didnt catch every detail. (so if there is any historical inaccuracy, it is mine)  She talked about ancient times where people would go before Kings to be granted favor.  Often times the people would lay before the King with their face on the ground.  The King might place his foot on their head until he was ready to hear from them.  When he would literally lift up his foot, that is when he was ready to listen.
That example really got me to thinking about followers.  About how twitter works.  When I get the notification that someone is following me and I do not follow them back, is that similar to me metaphorically holding them down under my foot?
Am I selectively granting permission to people just to hear what I have to say?
Ok, so I now that is hard to follow.  I am hoping and praying that Beth would do a whole study on the Bible and social media because obviously I am not good explaining it.
But.  She made me realize something about myself.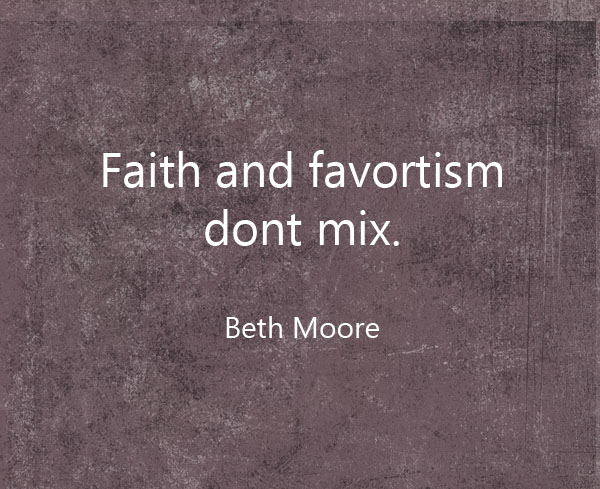 I do show favorites in social media.
I have been thinking a LOT about how I interact with people.  Its been weighing very heavy on me and I am making changes.
I want to talk a lot more about how much studying James has affected how I use social media.  I want to share how its changing how I view people, and hopefully, how they view me.
But first I think I need to study James a bit more!
In the meantime I have a question.
Have you ever considered social media in a Biblical perspective?  I would love to know how people view this… as I have been thinking about it daily!