I love Thanksgiving and Christmas.  Having hubby home, the spirit behind the seasons, the amazing food… its all enough to make me dream about these holidays for weeks before hand.
But there is another side to gatherings, one that can be sometimes stressful.
The truth is sometimes we just dont get along.
I've been thinking a lot about how I deal with family.  Sometimes I look for the negative and not the positive in the people I love.  Sometimes I react to them in defensiveness based on my own issues, not on what they have actually said.  Sadly, its been easier for me to be in a pattern of critical thinking during those long holiday gatherings.
I forget how impactful the words I say are, and how lasting their impression is.  Even if what I am saying is not a true reflection of my heart, but simply an indication of a sour emotions or a bad attitude.
I came across these verses and I believe they have a direct correlation to how I can choose to think about extended time with family.
1 Peter 3:10-11 NLT
For the Scriptures say,  "If you want to enjoy life and see many happy days, keep your tongue from speaking evil and your lips from telling lies.  Turn away from evil and do good.  Search for peace, and work to maintain it…"
I love that part, "search for peace".  What if I looked for good in others?  On purpose?
1 Corinthians 2:1-2 NLT
When I first came to you, dear brothers and sisters, I didn't use lofty words and impressive wisdom to tell you God's secret plan.  For I decided that while I was with you I would forget everything except Jesus Christ, the one who was crucified.
This is Paul talking to the Corinthians.  One interpretation I heard of this message was that he was saying to them, "I am not here to listen to the gossip or the quarrels.  I am not focusing on this things of this world, I only want to focus on Jesus."
I can only imagine the changes that others would see in me if my focus was truly on Him!  If I did not get caught up in strife, yet set my focus to the Lord.
Proverbs 19:11 ESV
Good sense makes one slow to anger, and it is his glory to overlook an offense.
One observation that I have noticed is that the deeper you love someone, the more vulnerable we are to feeling hurt.  I dont know about you, but I have heard words from family or close friends that cut like a knife.  Coming from a stranger would not have nearly the impact.
I know that those people love me,  and want the best for me, but I cant help but be torn up at how painful their sharp words are.  The above verse speaks to that so acutely for me.  I know I would want my family to forgive me when I say things I shouldnt, and here God is telling us that it is wise to do this right away!  Dont let things fester and turn into bitterness.  Forgive and let go.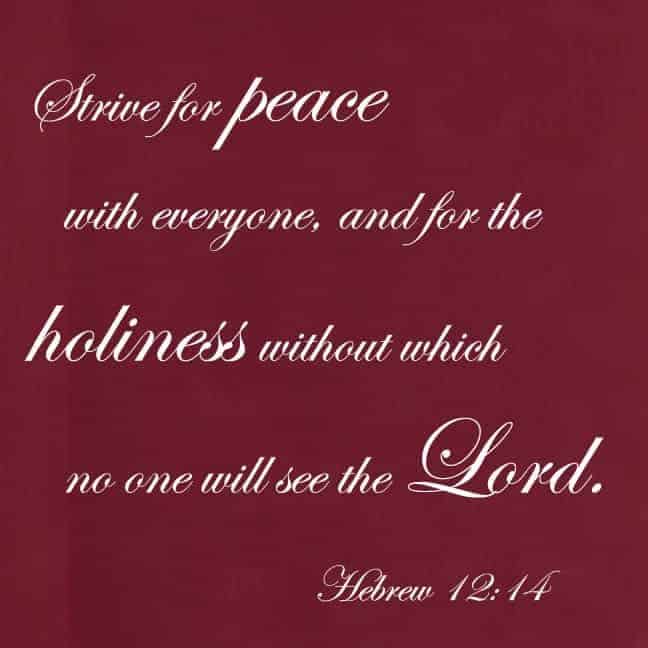 Here are a few more versus that can help a troubled heart:
1 John 4:19-21 ESV
We love because he first loved us. If anyone says, "I love God," and hates his brother, he is a liar; for he who does not love his brother whom he has seen cannot love God whom he has not seen. And this commandment we have from him: whoever loves God must also love his brother.
Romans 12:18 ESV
If possible, so far as it depends on you, live peaceably with all.
John 13:34 ESV
A new commandment I give to you, that you love one another: just as I have loved you, you also are to love one another.
Hebrews 12:14 ESV
Strive for peace with everyone, and for the holiness without which no one will see the Lord.
From the OpenBible.info.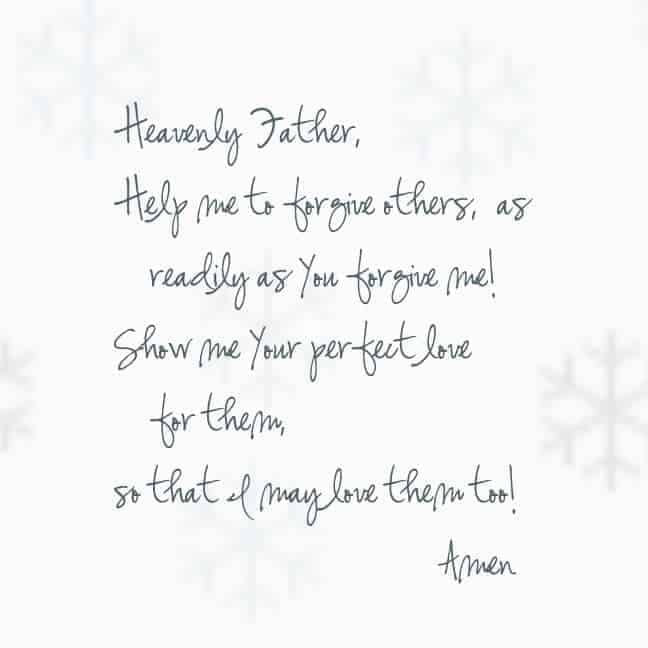 Heavenly Father,
I pray that your holy words will be permanently cemented into my heart.  That I will look for the good in others always.  That I will seek positive and loving words when speaking.  That I will honor you with my thoughts and actions.
Lord, please bless my family and our time together.  Help me to overlook things that may hurt, and to forgive as readily as You forgive me.  Help me to be an example of Your peace and love.  Help me to love others as You love them.
Thank you for this wonderful time we have together, where we can celebrate the birth and life of your Son.
In Your precious name I pray!
Amen.