Set Your Sails for Joy-Swindoll
Praise God! I heard such a wonderful message this morning.
And then I looked outside and saw that our plum trees are finally coming into bloom! Last year they didn't at all due to a weird cold snap, but this year, well this year I am praying for a FULL bloom and LOTS of fragrant flowers!!
I also got the boys a fun new pool today. Its really beautiful outside, but the wind just picked up a tad, so even though we got it all set up, we might not be able to use it for awhile! Oh well.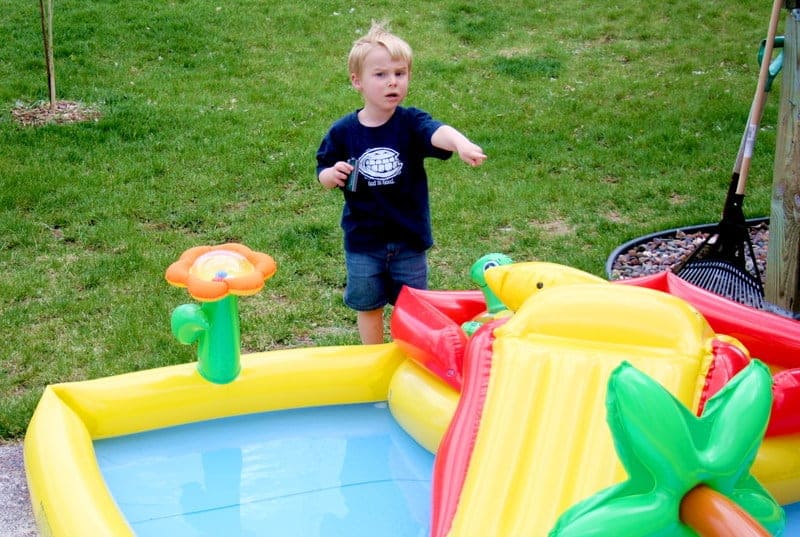 (Gift #1 sees a bug and is very concerned that I get it immediately!)
I was really down in the dumps last night about, well, just everything. Everything and nothing. Just feeling sorry for myself and for all my circumstances and for considering myself a good Christian but being persecuted for no reason… and why oh why and poor me.
And it dawned on me… I am suffering in the sin of Pride!!!! As soon as that thought came into my noggin, its like the cloudy skies cleared up and the Light of God just poured down on me! I have been so stuck in myself for the last 2 months, oh I am feeling sick, or oh I am feeling sad, or oh why doesn't anyone care about what I want, or why don't others consider my feelings and whats best for my family ever? Why is it all about them all the time????
Then its like God said, "Snap Out of It My Child!" (I love when He calls me His child)
And from that moment, my prayers were more focused and clear. And I was able to see how my misconception of life's events have clouded my Biblical judgment.
Now, of course I have to do damage control and ask for forgiveness in some circumstances. God just showed my where the ladder was to climb out of my pit… but He also let me know that I had to build each step out with faith, with knowledge in the Word, with humility, and with grace. But praise Him, seeing a way out is SO exciting!
So that led me to hearing, fist thing this morning, the wonderful message from Chuck Swindoll about choosing joy. And that has been my choice today.
I choose joy.
I pray that you do to.
Blessings-
Amanda