If you can agree to any of the statements below, just stop reading this and move on with your day.  Trust me.
1.  You passed high school Biology.  (The frog dissection part).
2.  You have basic knowledge of how frogs procreate and give birth.
3.  The idea of seeing frogs being intimate does not gross you out.  Likewise, watching frogs have babies is not gross.  Because really, I don't actually know what I have captured a picture of.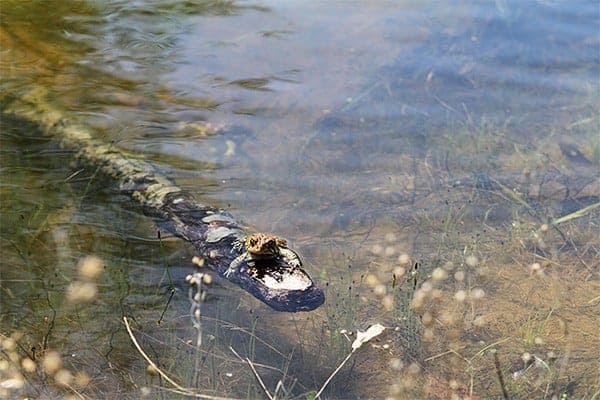 If you happened to have answered yes to the above statements but are still here, don't say I didn't warn you.  The sheer stupidity that I am about to admit has sent me lurching down a shame spiral.  To this day I still do not know what I saw.
It all started innocently enough.  I was working inside last Saturday and the kids came running in.
"Mom, mom!  The leeches are taking the frog down.  They are killing it!"
Well, that sounds lovely.  Why don't I head down to the pond with you and check things out.
So we all venture down to the shoreline, me with camera in tow.  In my mind I had conjured up an image of a poor sickly frog being slowly sucked to death by dozens of ravenous leeches.  I was prepared for gross.  Or, at least I thought I was.
There was one little froggy hanging out on a branch so I snapped his mugshot.  But as I looked into the water, things got weird.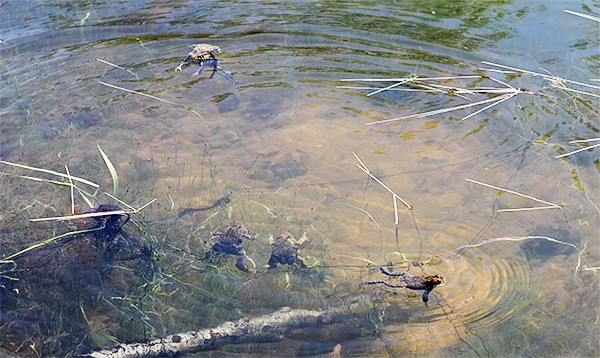 There were a lot of frogs.  I want to say at least a hundred just in one of our ponds. And they seemed to be mating.
I stared at them.  I mean, as a city girl I had never really seen a lot of frog mating and honestly I was a bit fascinated.  Grossed out, but fascinated.
The kids were asking questions and I was pretending I didn't know, because having a "birds and the bee's" discussion wasn't in the cards for that day.
I mean, there were frogs humping everywhere.  It was like amphibian smut.  Explicit frog art.  The "birds and the frogs".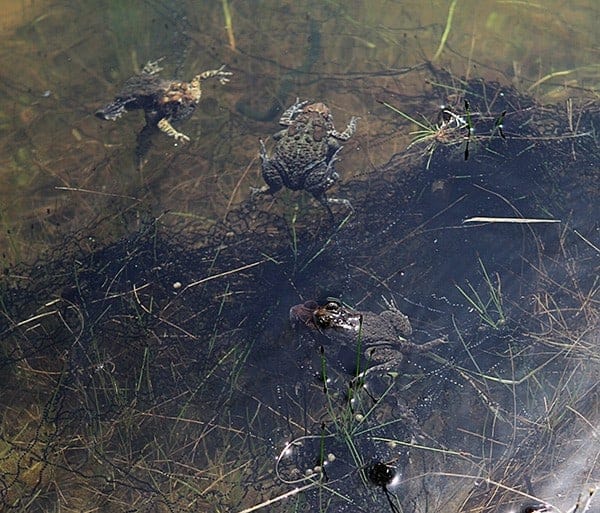 But then I looked even closer.
There was this stuff everywhere.
Black strings of stuff.  EVERYWHERE.
MASSIVE amounts of it.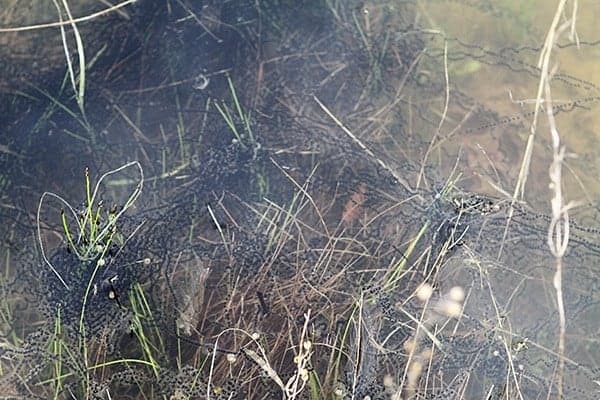 All around in the water there were globs of it.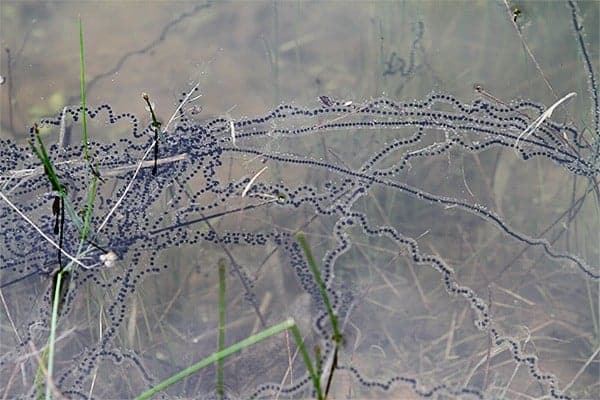 Turns out its frog babies.
That is not the technical term (and since I am not planning on looking it up anytime soon I will just stick to that), but I will hold fast to the wild assumption that it's babies based on the little I do know about the birthing process.
That and this picture.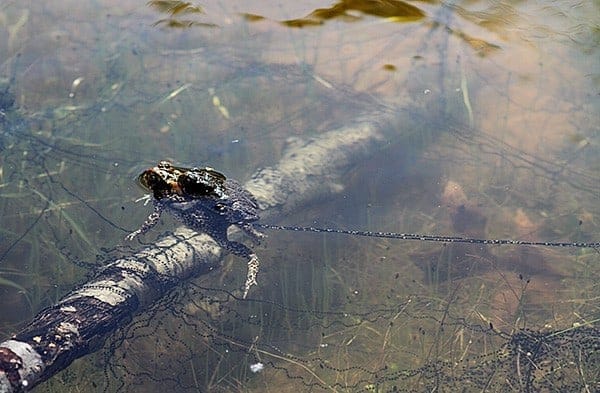 Where it seems that the babies are being 'laid' or 'born' or excreted from a frog.  Is it coming from the top frog?  So the female frog is on top?
Oh,  ok.  I get it now! 
Um, no, no I don't.
So as I stood there in complete disbelief that I could be so entirely clueless about the frog mating and birthing process, I noticed the blobs of black frog babies were moving.
Pulsating.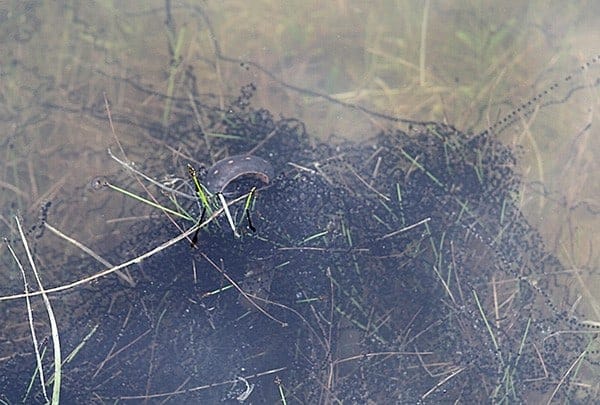 That's when I noticed the leeches.  There are three that I can see in the picture above.  They were feasting.
Ugh, that word makes me shudder.
They were writhing and rolling and feasting on the unsuspecting unborn.
It was a horrific.  It was nature.  My husband got excited at the prospect of fat leeches for fishing.  I declared myself incapable of comprehending the frog baby murders occurring right before my eyes.
The kids got hungry and went inside for snacks.
My disbelief froze me.  I stood there, camera poised but not taking any pictures.  Just watching.
After some time a lone frog made his way over to me and started croaking.
It was so loud it hurt my ears.  Was it a mating call?  Was he warning his fellow comrades of the brutal leech feast occurring on his potential offspring?  Was he just sick of me standing there?  I will never know.
But.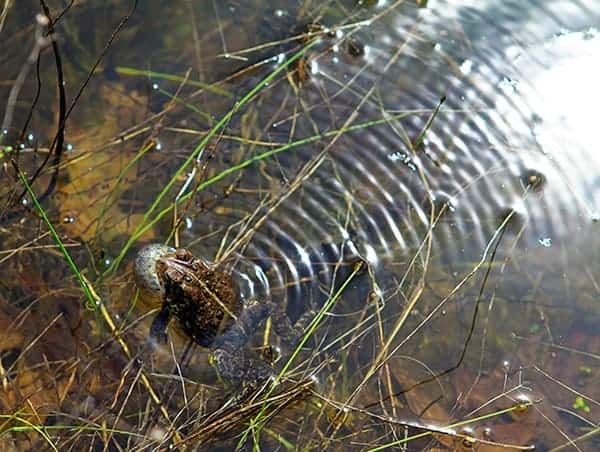 I did manage to capture this moment of that sweet little frog croaking so loud his vocal sac was about to burst.
It was so still in the moment leading up to his song that the water reverberated with his chorus.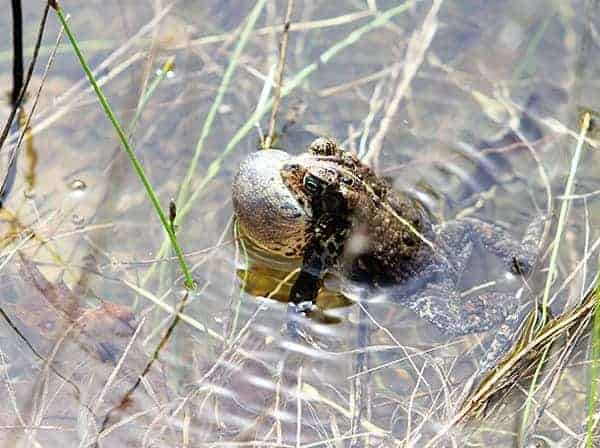 That was cool to see.
So while I am  fully scarred from the days events and will never fully understand what we all witnessed that day, at least I can look back and appreciate the frog song.
And when I say appreciate I really mean not appreciate.  It is SO loud and annoying!  My brain was hurting.
Moral of the story: Frogs are weird.  I do not understand frog sex and baby making.  They are loud. Leeches are disgusting.  Having ponds is not as cool as you would think.
The end.