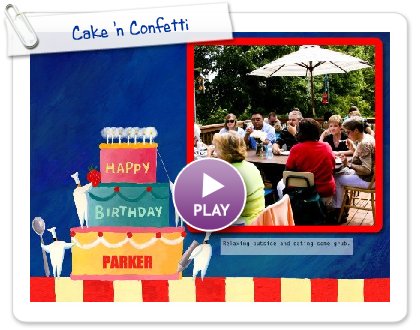 Make a Smilebox slideshow
We had a wonderful day yesterday, eating, talking, laughing, playing, and eating some more.  There were about 25 friends and family here… and about 10 of them were kids! 
So when I say "Gifts Galore" (most of you know I refer to the kids as Gift#1 and Gift#2)I am talking about the magical time I had seeing all beautiful children running and playing and having fun.  I was truly in my element with all those kids around. 
Thanks to all who attended and made our day such a blessing.
Also, this week we found out we are having a BABY GIRL.  Not what I was expecting.
It has been a bit of a shock to me, but I have received some wonderful and insightful advice, and am now looking forward to sharing our lives with a new little angel.
And of course, I know that God knows full well what I can and can't handle, and if I lean on Him, He will give me the strengths I need when I need them!  Being able to give anxiety and uncertainty over to Him is such a relief!  Thank you Jesus!
I pray you are all happy and healthy.
Blessings-
Amanda