I want the best for my kids.  I want them to be smart and strong and generous and kind.
And while I feel blessed beyond measure to have four beautiful children, I sometimes get overwhelmed with mom guilt.
Am I doing everything I can to ensure they are the best they can be?  Shouldnt I be doing more?  Should they be eating better, learning more, playing more, reading more, studying more, praying more?
Clearly I am screwing up my children forever!

MY LATEST VIDEOS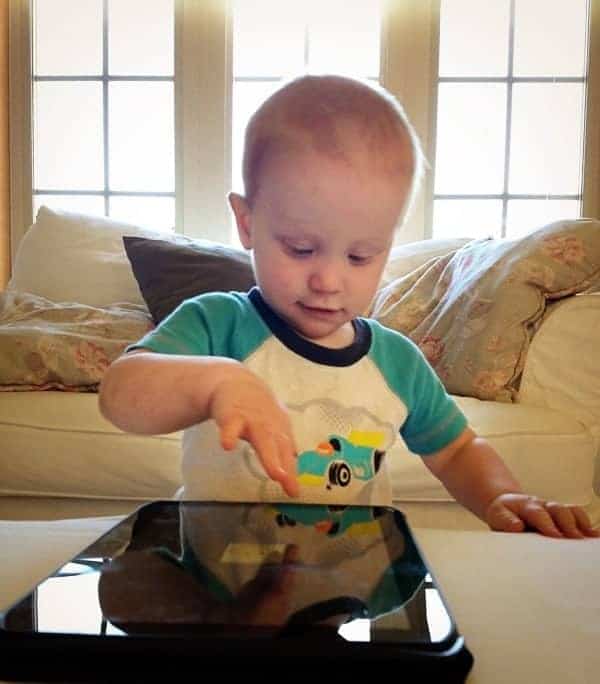 My most recent "mom guilt" issue of late is sweet sixteen-month-old Eddie.
Eddie, as the youngest of four kids, has one particular phrase said to him over and over throughout the day.
'Eddie, no!"
"Eddie dont take my markers!",  "Eddie get off the table!",  "Eddie don't throw your food", "Mom, Eddie is in the bathroom!"
"EDDIE, NOOOOOOOO!"
I lay in bed at night and wonder if he will grow up thinking "No" is the only word people say.
I dont remember how it came about exactly, but somehow our new Droid Xyboard Tablet ended up in front of my 16 month old.
I reached for it and started to say "No!", but something stopped me.
He hopped right on the Toddlers Triflin' app I had installed for my three year old, and started playing.
As I watched his face light up as he popped each balloon, I relaxed.

Without instruction and without prompting, he just sorta got it.  He popped each balloon and clapped for himself and he felt a sense of accomplishment.
And honestly, so did I.
I had a moment of sweet peace, just knowing that everything was going to be ok.  No stress, no worry about the future, just joy and peace in that precious moment.
These sweet and smart and willing to learn kids were going to be ok.
Now if I can just figure out how to install a "clean your room" app life will be perfect!

Disclosure: I am participating in the Verizon Wireless Midwest Savvy Gourmets program and have been provided with a wireless device and six months of service in exchange for my honest opinions about the product.