Or maybe I should title this, "How to absolutely do a selfie."  I haven't decided.  But I digress.
Every Tuesday is garbage day.  Which means that when my husband is out of town and just happens to have the 4-wheeler with him, I need to walk the large and often heavy garbage to the end of the driveway.
Most would not think that is a big deal.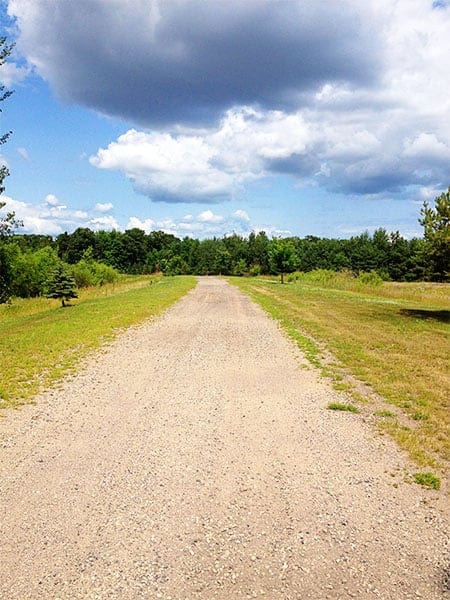 However, when you can't even see the end of your driveway, it can be a very big deal.
And this day, it was feeling more like a burden than a regular chore.  (A chore which I honestly don't mind doing, just don't tell my kids that.)
I had had a tough week and weekend and being responsible was really the last thing I was concerned with.  And that fact that I was going to have to make this trip twice (it was recycling week as well) was weighing my shoulders down like a 100 pound backpack.
The fact that this particular load of garbage happened to contain the remains of a guinea and a chicken was yet another weight added to the load, mentally as well as figuratively.
I started my long slow walk and made it all of 2 steps before this guy was at my side.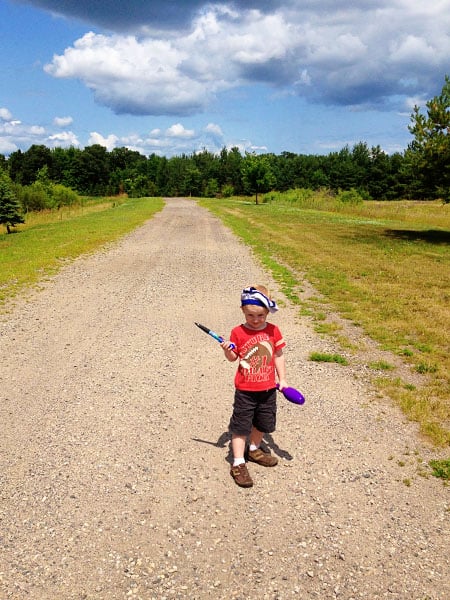 "Can I come with you mom?"
"Eddie… what is that you have on your head?"
He smiled.  He tried to look into my eyes but the sun was too bright.
As he was glancing at the hard rocks he said, "My underwear.  My underwear-hat.  And this is my sword!"
I really don't know what happened in that instant, but all of a sudden I was grinning from ear to ear.
"Of course you can come with me little man.  And tell me all about your sword!  Are you going to battle some tall weeds along the way?"
Eddie launched into a story about an epic battle (his words, I think he got it from Angry Birds Epic) and was happily chattering and dancing along as I pulled to garbage to the end.  By the time we got there, my load seemed considerably lighter.  Not just because this is where I could leave that cumbersome garbage can, but because little Eddie has helped me to enjoy that long walk.
Together we delighted in the sun and battled imaginary weed monsters and laughed.
On the way back he stopped suddenly, as the underwear and slipped over his eyes.
I reached over to pull them up a bit and he stopped me.
"No, you wear now.  I am done."
I stopped and started to shake my head no, incredulous that he would even ask.
But instead of an adamant no, I found myself saying yes.
Kneeling down at the end of our driveway on a warm summers afternoon, I calmly let my son adjust his (clean) underwear on my head.  When his face lit up at the sight of me, all seemed right with the world.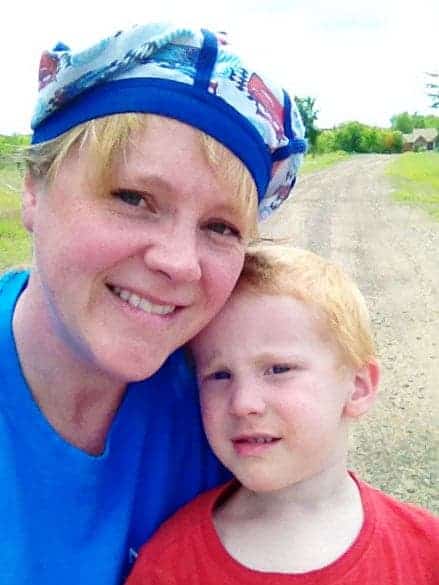 So I did something I normally do not do.  I would even go so far as to say never do.
I took a selfie.
Looking at that picture brings tears to my eyes.  Happy tears, tears of relief, grateful tears.  I left so many emotions at the end of my driveway that day.  I let go of the anxiety and the stress and the fear that I couldn't handle parenting alone.  I said goodbye to the birds that had taken up residence in our hearts as well as backyard.  I left behind some of the insecurity and un-belief in myself.
It was all over, that overwhelming week of trials, and the bigger picture was blue skies, fluffy clouds, happy boys and underwear-hat wearing selfies.
Eddie has no idea how much his time and company meant to me that day, but hopefully someday (when we are much older) we can look at this picture together , laugh at the silliness of it, and I can tell him all about it.