If you are a regular reader of my blog you know that I am making some changes.  I am looking to improve the quality of life, to find and live joy, to make my home and my heart a place that people feel welcome.
The steps are small, some might even say baby.  So I found this post to be appropriate as my first in how to be better organized.  Also, I am NOT naturally an organized person, so I needed the smallest steps possible to make the task do-able.
Baby clothes (or kids clothes in general) I can handle. So here is the low-down.  When I open my kids drawers I want to see this: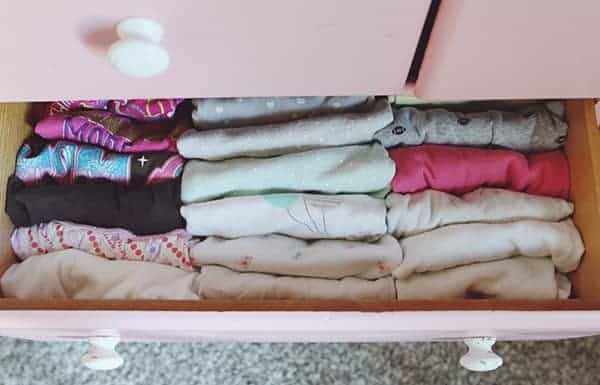 That is Olivia's onesies.  I have folded them and placed them in the drawer so that the folded seam is facing down and the fabric that is facing up clearly identifies what the onesie is.
When you stack clothes on top of each other in the traditional way, you can only see what is on top of the pile.  This will simply not due!  When you have a baby or small child, changing their clothes can be a many-times-throughout-the-day kinda of thing.  Knowing what you are grabbing with one fast glance is essential.
For Olivia's drawer specifically I have shirts on the left, short sleeved onesies in the center, then long sleeved onesies on the right.  Sometimes I organize by color, most of the time not.  Truth is they are used so quickly there is not much point in taking the time to organize by color.  But!  I do like to keep the white onesies together as they can be used alone or under other outfits.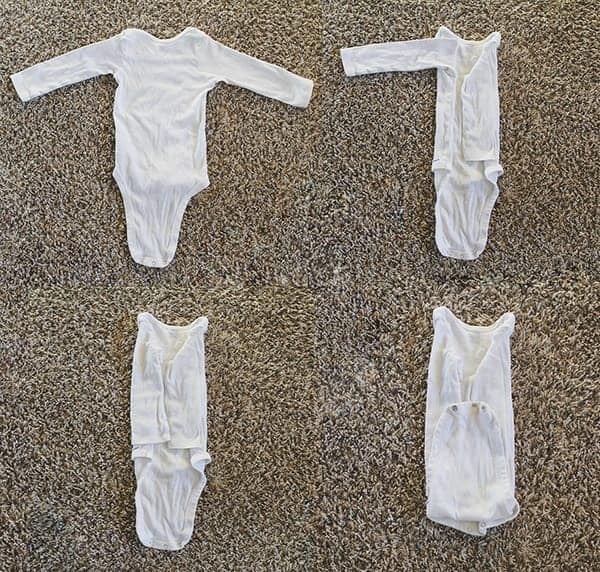 I will show you how I fold a long sleeve onesies but you can fold it in any way you are comfortable with, you just need to place it in the drawer in a way that shows the color/pattern.
Disclaimer: When I am folding I do it completely in the air and use my body to help with sleeves and such.  Just lay the onesie on your chest then fold the sleeves over, fold the bottom up and tuck in the drawer.  Maybe 10 seconds from beginning to end.
Step 1: Lay onesie flat on ground with the back of the garment facing up.
Step 2: Fold in the right edge about 1/2 inch, then fold the sleeve down over.
Step 3: Repeat with left side.
Step 4: Fold the bottom up then fold completely in half.
You should now have the perfectly folded onesie!  Make a stack of them then tuck it into the drawer.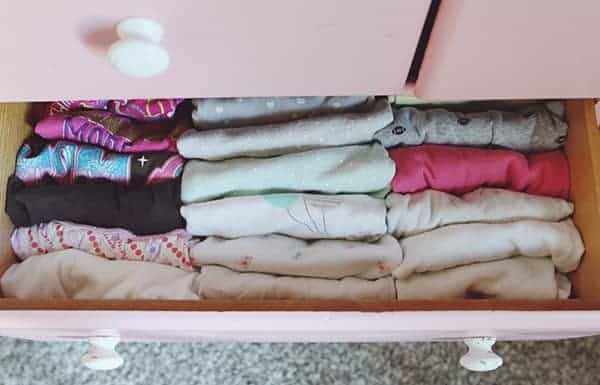 I do the exact same process for pants and sweaters.
For matching outfits I will try to keep the shirt and pants together in the drawer.  I find that separating the shirts from the pants (for babies specifically) is quite a bit of added work when I am trying to get an outfit together.  Especially if baby is laying on the changing table at the time!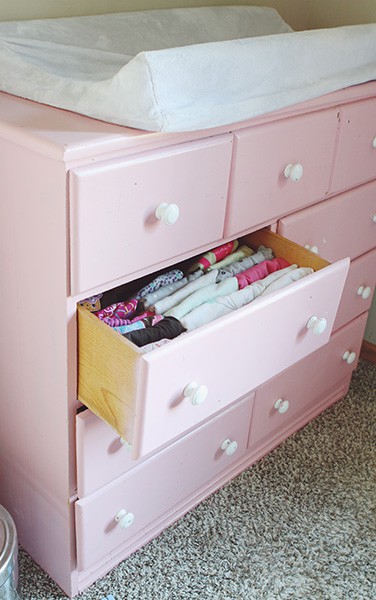 It's all about efficiency!
The drawer right under the changing pad is wipes and creams, then socks, then bathing suits and diaper covers.
All of the remaining clothes fill in the rest of the drawers.
I have used this method since my first baby and it really works!
However, one thing I have learned over the years is that laundry is a really personal subject. People do things a certain way and tend to stick to those methods. (myself included) This just happens to be what works the best for me!
In case you may be wondering, I got this dresser at Goodwill for $5 and my husband spray painted it pink.