The Bad News:
The Environmental Working Group is again sharing shocking news. After surveying 3,300 parents, comparing the baby products they use to lists of chemicals known to cause allergies, hormone disruption, damage to the nervous system, and cancer, the group found that children are exposed to 27 chemical ingredients on a daily basis that have never been assessed for safety. Not by the industry, nor by the government.
Read more here.
The Good News:
I am having a giveaway!
This was inspired by my slightly obsessive compulsive need for my children to be using the safest and most healthy products out there.
All you need to do to be entered in this giveaway is leave a comment!  The winner will be chosen randomly and announced in approximately 7 days!
And (drummroll please) here it is!
In this fabulous gift valued at over $40, you will be receiving Robathal,  California Baby Calming Aromatherapy Bubble Bath, and California Baby Super Sensitive Shampoo and Bodywash.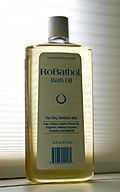 RoBathol-Highly refined cottonseed oil supplements the protective action of the skin's natural oils as it soothes, lubricates and moisturizes dry, chapped skin. Use in the shower or take a long bath. Whether you have hard or soft water, this bath oil really works. A refreshing alternative to often irritating skin products, RoBathol contains NO perfume, lanolin, dyes, or mineral oil and is safe enough for infants.
This product is free of common chemical irritants. This product may be used by those with either normal or sensitive skin.
This product is routinely recommended by dermatologists and other physicians for patients with dry, irritated skin, such as "winter itch" and other dermatologic problems including psoriasis, atopic dermatitis (eczema), contact dermatitis, and ichthyosis.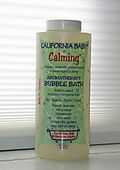 California Baby Calming Bubble Bath
 California Baby® Super Sensitive™ Bubble Bath eschews essential oils in favor of pure, unscented bubbles. This bubble bath has been specially created for those who love bubble baths but have very sensitive skin or cannot tolerate any fragrance. No fragrance means allergy sufferers and those following homeopathic regimens can enjoy bubble baths safely. California Baby® bubble baths are free of Sodium Lauryl Sulfate, DEA, synthetic fragrances or synthetic additives for no tears, non-irritating, biodegradable bubbles.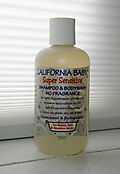 California Baby Super Sensitive Shampoo and Bodywash
California Baby®'s concentrated, extremely mild, no fragrance formula is made to gently cleanse and soothe the most sensitive skin. California Baby®'s Super Sensitive™ Shampoo & Bodywash may be used for hair, face and body. Leaves hair noticeably shiny, soft and manageable. Our customers have reported excellent results with this shampoo & body wash in their fight against eczema, perioral dermatitis and other skin sensitivities.
Benefits & Features:
Contains organic and sustainably grown ingredients
No fragrance, scent masking agents, clear formula chemicals, Sodium Lauryl Sulfate, or DEA
Safe and gentle, no tears; no numbing agents.
Non-irritating and non-chemical formula
This list is something that all these products have in common. 
When using a non-organic product, or a product that does not specifically come free of Sodium Lauryl Sulfate, DEA, chemicals, numbing agents, harmful if ingested toxins, you are unknowingly putting yourself and your child at risk for many painful and lifelong side effects.
I don't know about you, but my children are always trying to drink the water in the bath… just think about all the chemicals and toxins they are ingesting if I do not use an organic product!  Not to mention that are absorbed through the skin and orifices.
Even if none of this seems important to you, just take a moment at bath time tonight and read the ingredients on your children's bubble bath.  Or shampoo.  Or soap.
It is important to recognize that whatever you spread on your skin has a very real chance of being absorbed into your blood stream, with the potential to cause serious damage in your body.
For example, Johnson and Johnson's Baby Shampoo: (Get full report here)
Check the Label!
Are the products you use free of ingredients such as . . .
Dyes

---

D&C yellow #11
FD&C blue #1
FD&C yellow #5
(tartrazine)
 

Lanolin & Derivatives

---

anhydrous lanolin
hydrogenated lanolin
lanolin alcohol
wool wax alcohols
 

Parabens

---

benzylparaben
butylparaben
ethylparaben
methylparaben
propylparaben
 

Formaldehyde Releasers

---

bronopol
diazolidinyl urea
DMDM hydantoin
imidazolidinyl urea
MDM hydantoin
quaternium 15
 

Fragrance

---

colognes
herb extracts
masking fragrance
perfume
plant, fruit and nut oils
Check out these articles for more information:
Washing Your Hair May Be Dangerous to Your Health
Environmental Working Group's Skin Deep
Lets all make an effort to be informed and objective when it comes to the products we use!  I know I have a few I could toss… (but I soooo love my Burberry perfume!)…
Many blessings to you and yours!
Amanda