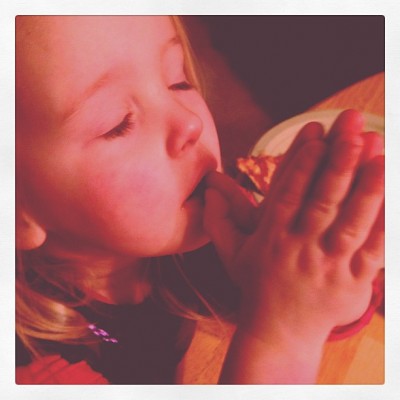 We often let the children pray before dinner.  Parker had just finished his prayer when Audrey declared it was her turn.
We all sat still, bowed our heads, and listened intently.
She began, "Dear Jesus, please bless our house… and Colton… and our house… and Parker… and la la la la la la la la la (singing) ….and daddy… la la la la la la la la  la la la la…"
And more "la la's",
and more "la la's."
Colton finally had had enough and said, "Audrey… come on.  Thats not prayin, its just delayin!"
To which we all burst into a fit of giggles.
***
I took this picture with my new phone using the free Instagram app.  I am completely addicted to Instragram and must know if you are on it.  I cant help but 'heart' almost every picture I see and comment on almost every one as well!
Its been SO cool getting to know people better through this beautiful and creative form of expression.  Please do let me know if you use it too!