When I became a mother for the first time, one thing I knew that I wanted to try was nursing.  I had heard that it was the best thing for the child.  I wanted to give him that gift, so I tried for days to nurse and finally found success after about 5 days.
Something happened when I nursed him.  I was overwhelmed.  I was shattered and shocked.  I would hold him in my arms and be overcome with love.  It literally brought me to tears.  And I, in those precious moments, knew that there was nothing that you could ask of me that I would not do for my child.
This love, well, it was more then a feeling…there was an actual physical manifestation.  I never wanted to let my baby go.
I will never forget the day I finally decided to tell someone about this awesome sense of love I was experiencing.  I was having a conversation and trying to convey how powerful this love was and how it had changed my life forever. 
How I now knew that I was destined to be a mom, that this was my calling, and I was going to savor every precious moment of it and wanted to do nothing else with my life except be the mother to this amazing little being God had gifted me with.
And, bless their heart, the person I was pouring my heart out to proceeded to tell me, "Oh, thats just oxytocin.  Its a hormone released when nursing to help increase the maternal bond with your infant."
What?
Not only was this beautiful precious love not special and unique for just me and my baby, it was an actual chemical that could be defined scientifically and that every mother experienced?
Well. I got over the trauma of it.  Eventually. 
 However science wants to describe it, they can.  They can minimize it -or define it- all they want.
I still feel that love for my child, and I am not nursing him anymore, so I am thinking I am going to give the Good Lord a little credit instead of a hormone. 
I wanted to share this because as I nurse baby Audrey, and experience this unexplainable love for someone entirely new in my life, I am once again in awe of a greater power.  Of this precious present on loan from God.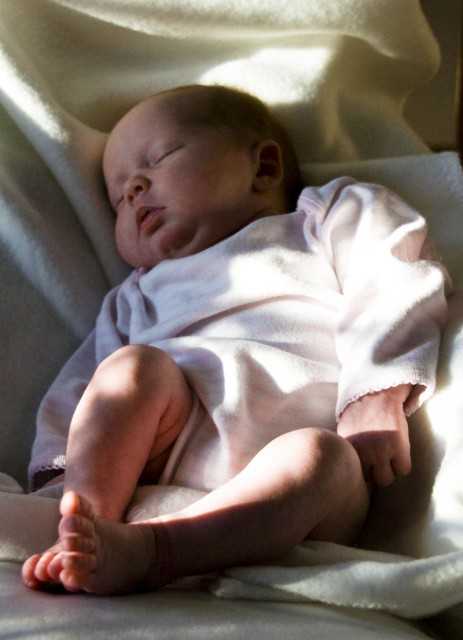 He knew what my calling was all along.
Have you ever felt that kind of love for someone?  Have you ever known that you were in deed a part of the big picture?  Have you ever felt that loved?
My prayer today is for you to know it, share it, and give thanks for it.
Many blessings.