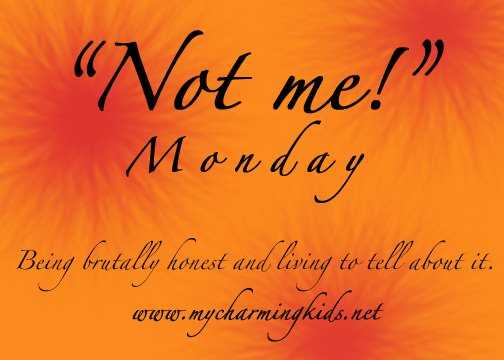 Dont forget to check out my life story, well, simplified version that is!, by clicking here.
While running to the grocery store to buy just milk, I did not buy a package of Nutter Butters, open them when I got home, realize they were STALE and almost broke my tooth, consider suing the company, then proceed to eat three more.  I am not that desperate for processed sugar.
I did not sit and think about all the poop I've eaten since I had kids.  Because 9 times out of ten I fail to wash my hands after I change a diaper unless there is a visible sign of poop on them.  And 9 times out of ten, I change a diaper and go eat some chocolate snack I've been specially saving for the last 32 minutes. 
I did not visit all my regular blogs this week and try to think of a way to steal everyone else's brilliant blogging ideas and pass them off as my own.  (Hence, this post) I would never do that.  I am always creative and imaginative on my own.  And never get jealous of how darn smart the rest of you are! 
My house is always clean.  There is no way that I would throw a dirty diaper (thankfully only pee) on the floor and proceed to step over it for 2 days.  I am meticulous and maintain a spotless home!
I did not consider throwing my water bottle at the TV in disgust this morning as I watched the "commentary" on the fashion of the Golden Globes. 
They said, "It was all understated elegance.  I think everyone really understand the enocomy and state of the nation."  (I heard this from two seperate 'reporters' BTW)  If those fashion 'reporters' think that those actresses got dressed with any intention of other then looking good, then they are CRAZY! 
Can you imagine?  Tina Fey standing in front of a mirror, "This dress is fabulous.  I can't belive how good I look!  But, wait, no, I don't think I should wear it.  The state of the economy is poor, I better just grab that other so-so dress and call it a day."
How have you NOT behaved this past week?  Can't wait to see!
God bless!