I was scheduled to be on Twin Cities Live this week, and we were going to be talking about blogs.
You can read more about that here.
Well, the show I supposed to be on ran long and my segment got cut. Stuff like that happens all the time in the biz. I mean. Not that I would know that or anything, I just wanted to say, "in the biz" and pretend like I actually knew what I was talking about.
You can read more about that here.

MY LATEST VIDEOS
But I still wanted to share a little snippet of what I have been up to.
See, one of that amazing perks of being affiliated with Twin Cites Live is getting to do blog research.
Now, this is something I have totally taken upon myself to do. They have never actually asked me to do that. I am pretty sure that, although they never specified, they would prefer if I purchased some new clothes too. Just sayin.
But one thing I especially enjoy is 'baking' blog research.
Another perk is that not only do I get to talk about amazing local bloggers (Minnesota local) but occasional I get to chat about non-local bloggers. (Be ready you amazing bakers, I just might be stalking YOU right now!)
For this segment, I picked a pretty famous blogger to highlight, Joy the Baker. Not only was I going to talk about her blog, but I decided to make something from her blog and incorporate it.
They were awesome.
But it was for Twin Cities Live, so I thought I could 'personalize' them a bit.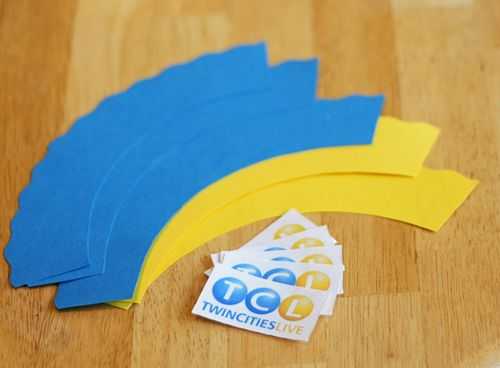 So I found this super easy template at Skip to My Lou.
And made these.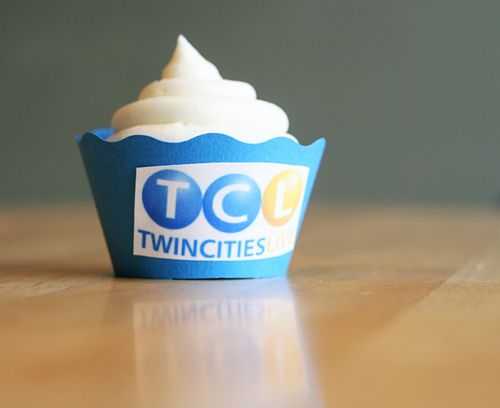 Pretty cute huh?
Here is Joy's Recipe. She has such a fun blog… be sure to check her out!
(P.S. I made her cream cheese frosting without cinnamon and thought it was AWESOME!)
Recipe from Hummingbird Bakery Cookbook
Makes one dozen cupcakes, double recipe to make 2 9-inch layer cakes.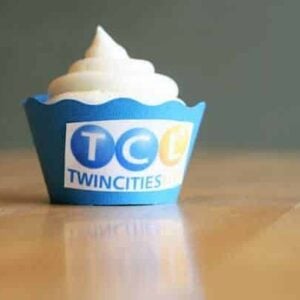 My Favorite Red Velvet Cupcakes
Keyword:
My Favorite Red Velvet Cupcakes, red velvet cupcakes
Ingredients
4

tablespoons

unsalted butter

at room temperature

3/4

cup

sugar

1

egg

2 1/2

tablespoons

unsweetened cocoa powder

3

tablespoons

red food coloring

I using a dash less

1/2

teaspoon

vanilla extract

1/2

cup

buttermilk

1

cup

plus 2 Tablespoons all-purpose flour

1/2

teaspoon

salt

1/2

teaspoon

baking soda

1 1/2

teaspoons

distilled white vinegar
Instructions
In the bowl of a stand mixer fit with a paddle attachment, cream the butter and sugar until light and fluffy, about three minutes.

Turn mixer to high and add the egg. Scrape down the bowl and beat until well incorporated.

In a separate bowl mix together cocoa, vanilla and red food coloring to make a thick paste. Add to the batter, mixing thoroughly until completely combined. You may need to stop the mixer to scrape the bottom of the bowl, making sure that all the batter gets color.

Turn mixer to low and slowly add half of the buttermilk. Add half of the flour and mix until combined.

Scrape the bowl and repeat the process with the remaining milk and flour. Beat on high until smooth.

Turn mixer to low and add baking soda and white vinegar. Turn to high and beat a few more minutes.

Spoon batter into a paper lined cupcake baking pan and bake at 325 F for 20-25 minutes or until a skewer inserted into the center cupcake comes out clean.

Let rest in the pan for 10 minutes, then place them of a cooling rack to cool completely before frosting.
Adapted from Hummingbird Bakery Cookbook
Double recipe to frost a 2 layer 9-inch cake.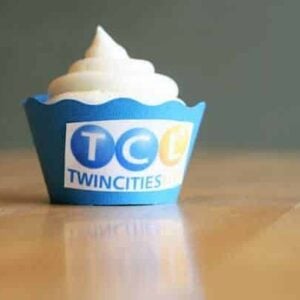 Cinnamon Cream Cheese Frosting
Keyword:
Cinnamon Cream Cheese Frosting
Ingredients
double recipe to frost a 2 layer 9-inch cake

2 1/3

cups

powdered sugar

sifted

3

tablespoons

butter

room temperature

4

ounces

cream cheese

cold (I used room temperature)

scant 1/4 teaspoon ground cinnamon
Instructions
Beat the powdered sugar, cinnamon, and butter together in the bowl of a stand mixer fit with a paddle attachment. Mix on medium-slow speed until it comes together and is well mixed.

Add the cream cheese all at once and beat on medium to medium-high until incorporated.

Turn the mixer to medium-high and beat for 5 minutes, or until the frosting becomes light and fluffy.