Life has been busy on the homestead. With my husband out of town (going on week two) and having four kids in school and one sweet precocious toddler forever under my wings, I am not often wanting for things to do.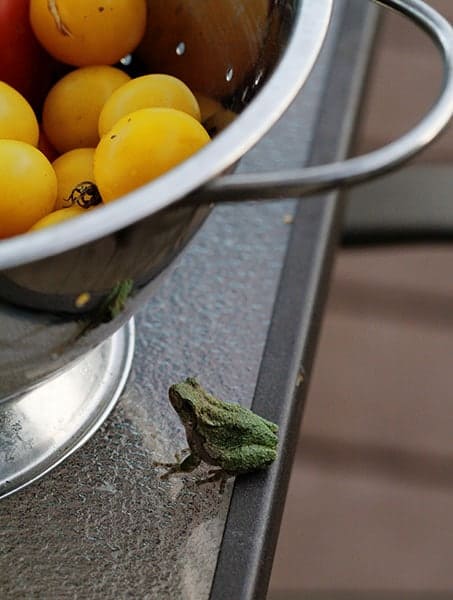 The garden is forever looming in my eyesight. We have canned over 100 jars of tomatoes and tomato sauce already and still have a garden full of beautiful red, orange, and yellow tomatoes.
I love it. And hate it. But mostly love it. Love the flavor (they taste amazing this year!) and love the convenience and love all of the ways that we have incorporated them into every meal. I love that it's time my husband and I spend together and that we have some of our best conversations over boiling water and steaming hot jars.

MY LATEST VIDEOS
But with tomatoes comes fruit flies. (Especially when I have baskets and baskets of tomatoes that I can't get to or figure out what to do with so they just sit.)
So I set them outside on the deck.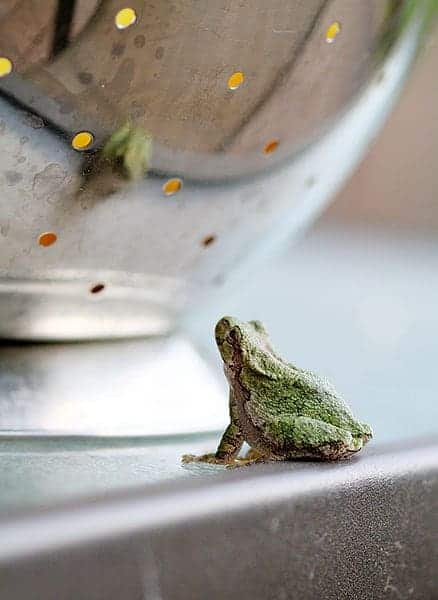 Which brought me to this guy.
At first when I saw him he didn't do anything to command much attention, as we literally have hundreds of frogs around our property.
But when I stopped and really looked at him I couldn't help but notice what he was doing.
He seemed to be looking at himself.
His eyes seemed to be fixed right on his reflection.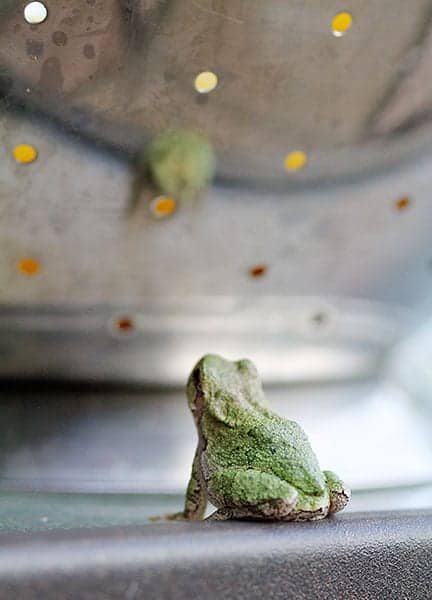 There, in all his reflective glory on the side of my stainless steel strainer carrying plump yellow cherry tomatoes, he stared.
It felt uncomfortable to watch at first.
But as I moved closer and studied the curious little creature, discomfort changed into intense curiosity. I looked closer… could have sworn he was smiling.
Just gazing at himself with calm joy. Happiness even.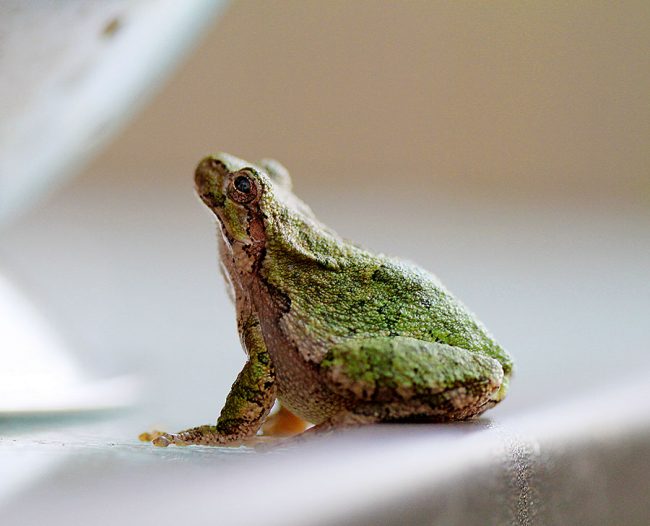 For a moment (ok, it was longer than a moment but I am embarrassed to admit to even that) I was jealous of a frog.
A tiny little toad willing to just stop everything that compels him and just be.
I can't remember the last time I stopped everything I was doing and just was. I don't think I have ever sat in front of a mirror and felt joy. Peace. Happiness. Anything positive.
Standing on my deck on a humid Minnesota night, in the middle of trying to take care of tomatoes and kids' homework and blog posts and laundry and getting dinner ready… I just stopped.
And watched.
And realized that with everything I am, I just wanted to be more like that little frog.