See where I store all my sprinkles, food coloring, and other baking essentials! (Who knew Baking Supplies Storage could be so fun?!?)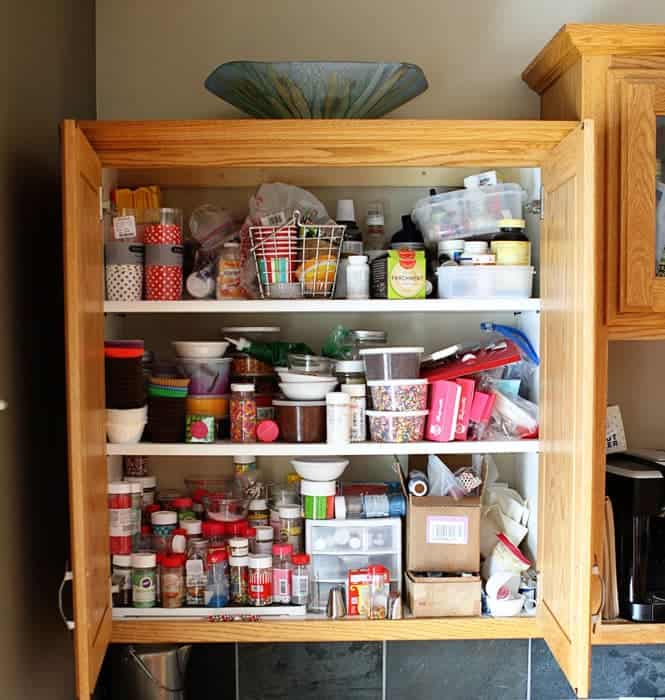 I found this picture of my sprinkles cabinet that I took last year. After I took the picture I immediately started organizing.
This was no small feat. Just look at how disgusting the space is! I have frosting in there (no idea how good it was!), random icing tips everywhere, old liners, even medicine! NOT good.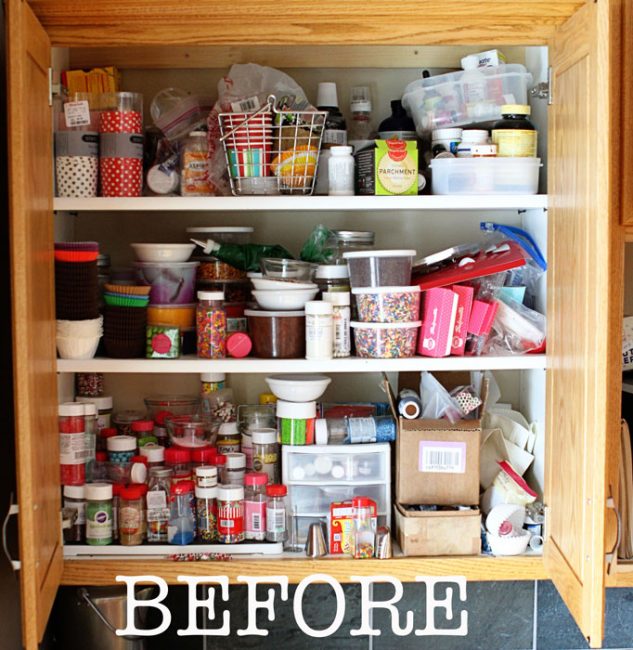 So I took everything out of the cabinet and got rid of what didn't need to be there.
All the sprinkles needed to go together. All of the cupcake liners needed to be stacked. All of the boxes of food coloring needed to be edited.
Basically, I wanted it to look pretty.
I started with the sprinkles.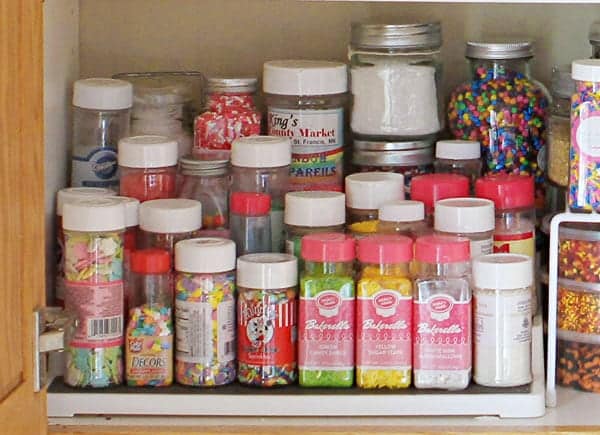 I had this spice rack before and decided to keep using it. But I had far more sprinkles than I did room on that rack! So some are stored in sealable plastic containers and some are in jars.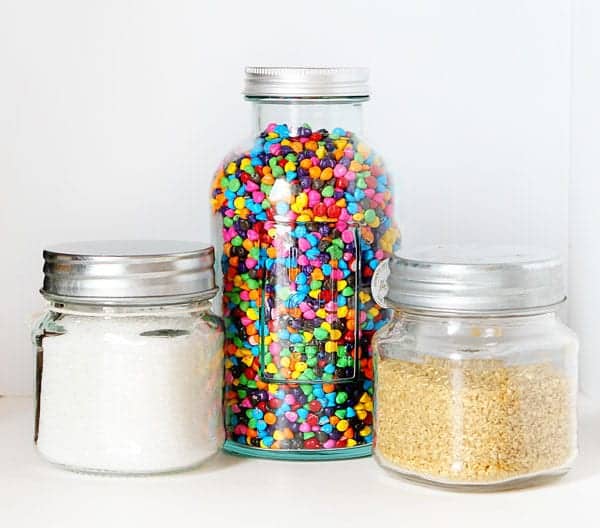 The small jars are from the $1 bin at Target and the larger jar is from Homegoods. I use a ton of these sprinkles and had 3-4 bottles of each. Consolidating them into a little jar was a pretty and space saving option!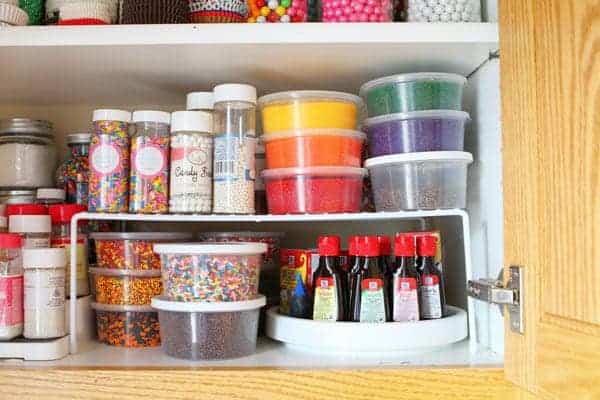 Next came the decorative sugars and food coloring. I used those sealable plastic containers for the sugars and then a lazy-susan for the extracts. I am a little obsessed with that lazy-susan as it works perfectly in this space!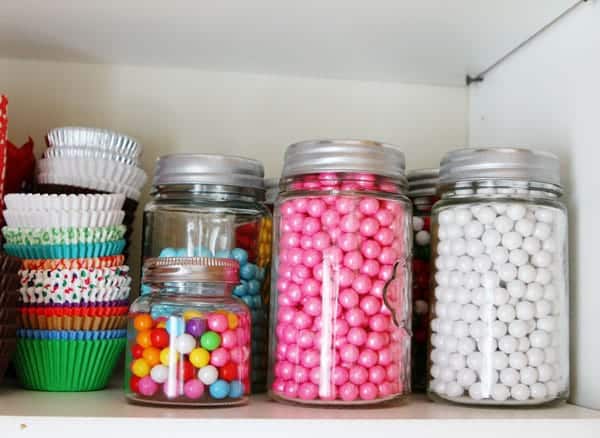 Moving up a shelf, we see the Sixlets. Those used to be in the cardboard boxes they arrived to my door in. These jars (also purchased at the Target $1 bin) are the perfect solution. I can see exactly how much I have, what colors I have, and can even organize the colors for the season! I have pink, red, and white towards the front for Valentine's Day.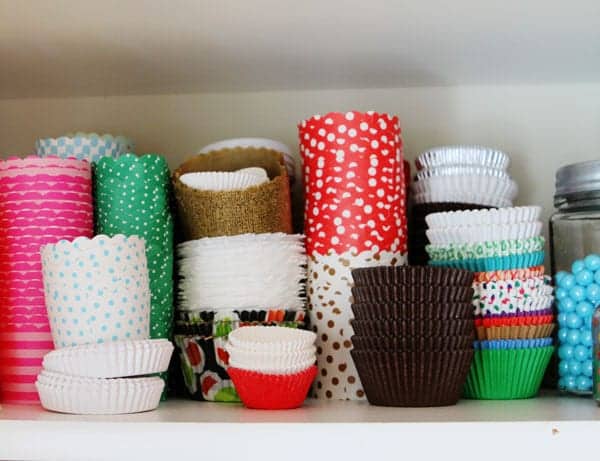 Now, you may have already noticed that my liners are just sitting out. I used to have them in pretty jars, but actually found it to be a hassle when trying to use the liners I wanted. Now that I have a designated section where they all can be, they are no longer in random spots all over the cabinet and my kitchen. With the varying shapes and sizes, this method actually works really well.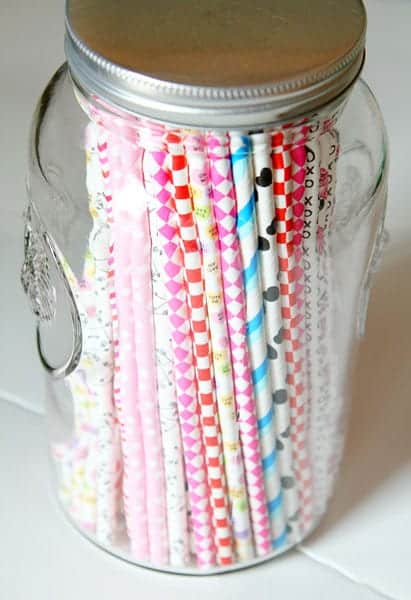 This was one of my best finds! I just happened to find this jar at Homegoods that was tall enough to hold straws. (This is harder to do than you would think!) It works perfectly and allows me to see exactly what straws I have. Sometimes I just set it on my counter and pretend I am in a soda-shop. 😉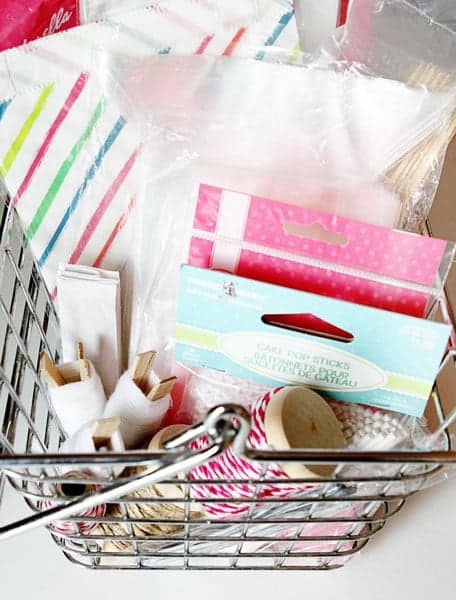 The top shelf was designated for the things that I do not use as often. This little basket is for pretty twine (which I am obsessed with) and decorative bags and things used to package up baked treats.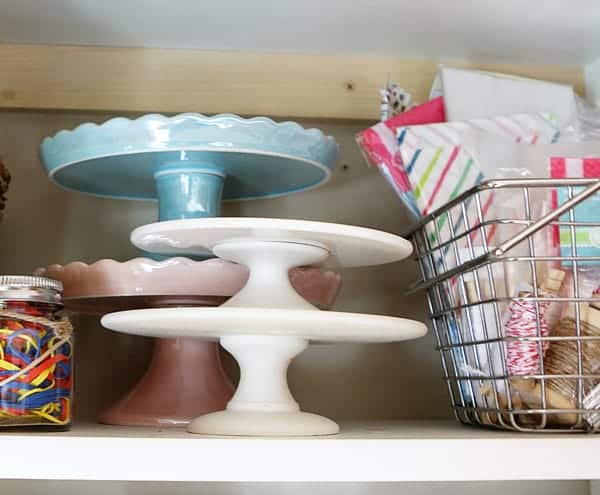 Next to that is a couple of my most used mini cake stands. These end up working beautifully with cupcakes and mini cupcakes and I like being able to have quick access to. On the far left is other misc. food coloring, some cookie cutters, and other random stuff.
Ready for the complete big reveal?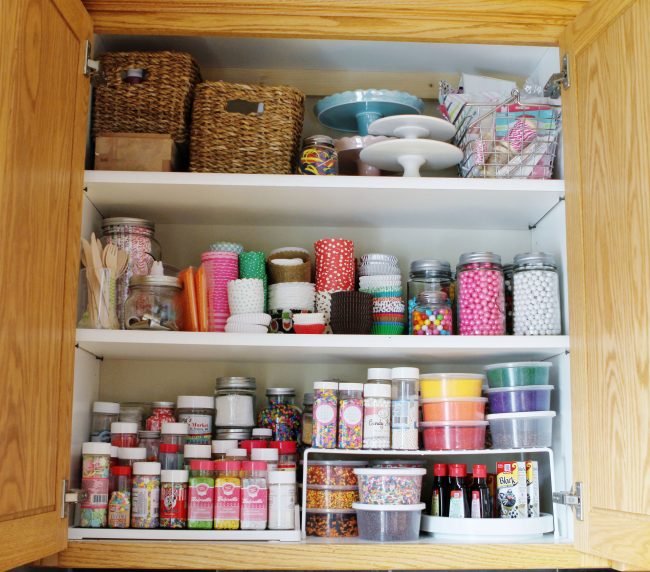 This is a highly functioning and (in my humble opinion) really pretty cabinet!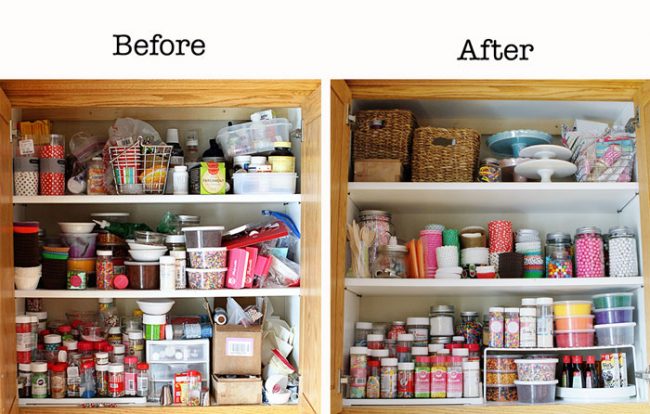 I am really happy with how it all came together! How do you store your baking supplies?
(I also give a Live guided tour of this pantry HERE.)
*****
You can see my PANTRY Before & After HERE.
And my Cake Stand Closet and Cake Stands 101: What you NEED to Know!