Its taken me awhile to update my blog about my husband.
I havent really known what to say.
Its been an emotional roller coaster to say the least.  I was an wreck before and during his ablation procedure… but after having researched it and nurses and doctors explaining it, it seemed like no-fail.
When I spoke with the doctor right after the procedure, it was such good news.  "He's a great candidate for this."  "His heart, aside from the AFib, is very healthy."  Even after, the news was encouraging.  "It was a success."

MY LATEST VIDEOS
Chad stayed in the hospital overnight and it was rough.  Coming home was rough.  The next seven days were rough.  Recovery was not easy for him and it was hard to see, much less understand.
A week later when he went back for a check-up and EKG, we got the news that we feared.
He is back in AFib.
If we continue to listen to doctors thats kinda normal.  I mean, the ideal scenario presented to us was that they find the connection that was causing the problem and that Chad would never deal with AFib again.  That didnt happen.  But now they are saying that some AFib is normal.  But how much?
They propose chemical cardio versions and actual cardio versions and maybe even more ablations.  More drugs more procedures more of the same stuff that keeps failing.
Its hard seeing Chad like this, knowing that his body is not working like it should and that the side effects are hurting him.
Its hard facing a future of what-ifs, maybes, and kindas.
So many have reached out and shared their own experiences with AFib and I appreciate that.  Its good hearing about and understanding how others cope.
I think we are just in a state of unknown.  We dont know where to go or what to believe about it anymore.
We do have tremendous faith in God and in His plan for us.  We are forging ahead in spite of the "unknown" and making some pretty big steps in the direction of Hope.  Big changes and big plans and big dreams that it may seem funny to follow, but the alternative is just not an option.
And with all the events of late, its good to put things into perspective… into the right perspective that is.
This quote sums things up for me.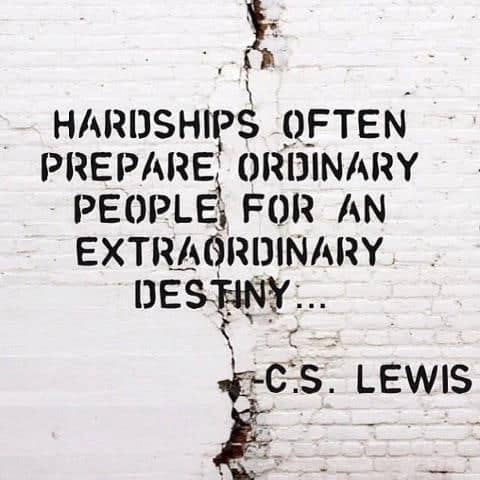 Sending love and blessings to all those who are dealing with trials today.