The winners are:
#40 Tiffany
#148 Heather
#150 Krissy
#155 Molly
#165 Alana
Congrats!!
I am so thrilled to be sharing this giveaway with you today.  I am sure you have heard of Crystal Paine, or at the very least, her hugely popular webiste MoneySavingMom.com.
She has 90,000+ twitter followers and over 160,000 facebook followers.  And now, she has written a wonderful book called The Money Saving Mom's Budget.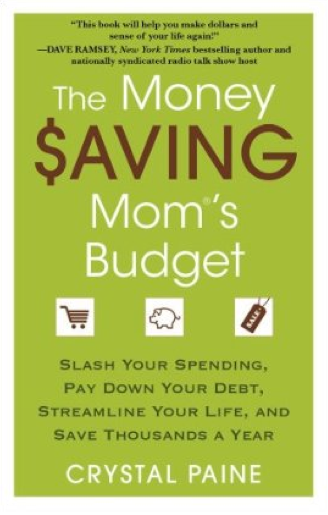 There is a reason that she is so popular among moms.  She is a mom.  And she knows exactly what struggles we face on a daily basis.
Her book speaks not only to the home that needs some fiscal organization, but to the tired housewife that just needs a little relief.  Crystal will help you to not only streamline your budget but your entire home!
She even gets into the hot topic of extreme couponing and tells you how you can be like those money saving moms on TV!
But thats not the best part.
Crystal has pledged to donate 100% of her profits to Compassion International.
One Hundred percent.
Talk about amazing.
Truly, if you want to be inspired and encouraged, read about how her book is changing lives in some huge ways.
I am so pleased to tell you that Crystals generosity doesnt end there.  She wants so badly to see people reach financial freedom that she has graciously offered FIVE of her best selling books for you!
How can you win?
Tell me, "What is your favorite way to save money?"
Do you coupon?  Go to discount stores? Use a piggy bank?  Having a hard time saving anything at all?  (like me!)
For an extra entry you can tweet:
I would like to win a free copy of  @MoneySavingMom 's new book from @iambakertweets! http://bit.ly/wCE00J
This is open from March 13th through March 21st.
Official Rules HERE.