Do you like Biblical trivia?  Are you a wiz whenever Bible questions come up?
You have got to check out this new show that is starting on GSN!
It is being hosted by Jeff Foxworthy, of ARE YOU SMARTER THAN A 5th GRADER fame. (and also "you might be a redneck if…" fame for me.  I just crack up at those jokes!)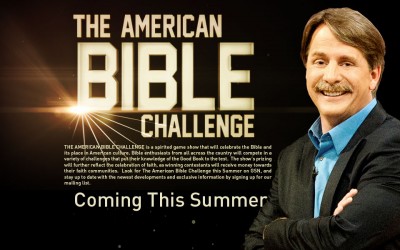 You can click HERE to find out if the auditions are coming to a town near you.  (that link has all the important info!) Even if they aren't, a road trip might be in order! 🙂
According to the official press release:
GSN is looking for teams of three people who have competitive spirits, great personal testimonies, a familiarity with pop culture—and, of course, an awesome knowledge of the Bible.
I can think of a few people who would be perfect for this!
And I gotta tell ya, to think that there would be a show on TV that is seeking out personal testimonies and glorifying God by showing His followers' passion for His word… well, that is just AWESOME!
If you can think of anyone who might be perfect for this, I pray that you will send it to them.  I am so excited that Christians have an opportunity to share the Word and do it in a fun and educational format!