I have the amazing privilege and honor to be able to homeschool my kids.  I have spent hours going over curriculum and studying learning styles and trying to determine the best ways to teach my little ones everything they need to know about english, math and science.
But as any parent knows, we teach our kids so much more than history and literature. We are fortunate enough to be a part in the growing of their hearts.
This past Saturday sweet little 4 year old Audrey and I were hanging out in the kitchen.  I was making a grocery list and she was lamenting over not having anything to do.
On a whim, we decided to bake some cookies.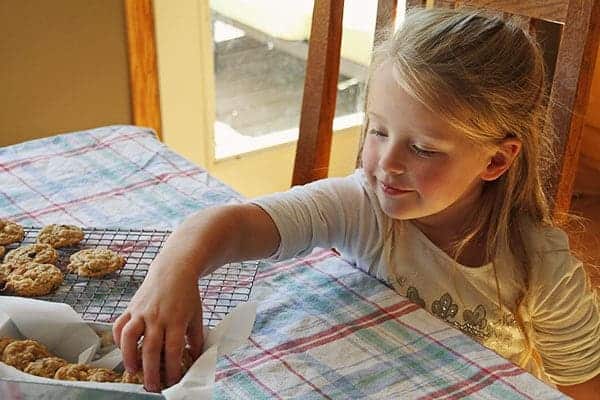 "And what should we do with all these delicious cookies Audrey?"
"Eat them!"
"Well, we can't eat all of them.  Do you think we should give some away?"
She got very quiet and I knew she wanted to say no.  I could just see her trying to figure out a way for us to be able to keep all the cookies (and trust me, the thought crossed my mind, they were yummy!).
She finally said, "I guess." Sensing she needed a little more motivation I said, "How much do you love getting cookies Audrey?"
"I LOVE IT!  Its my favorite thing in the world!"
"Well," I started slowly, "wouldn't it be nice to let someone else have the same feeling a joy?  Wouldn't you love to see a friends face when they realize they get to eat our delicious cookies?" She nodded excitedly. So I decided that we would give our cookies to our local fire department.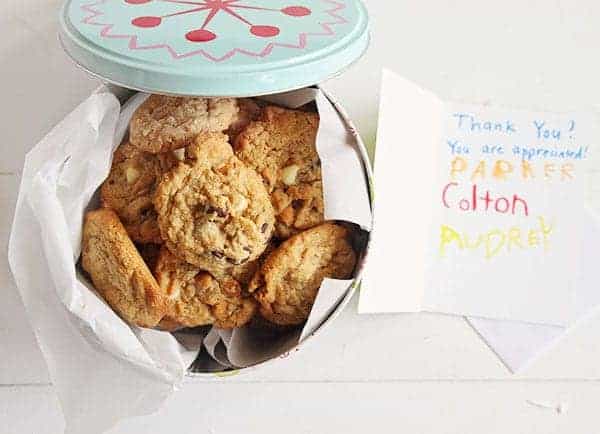 We packaged them up nicely and the kids wrote cards and we all got in the car and drove to the Fire Station.  In the car we talked about acts of kindness, about how giving to others was truly a gift to ourselves, about how we look at and think about the world. (going for a lesson on optimism)
We pulled into the Fire Station.  It was closed.  Not a soul in site.
So we drove miles and miles to the neighboring community and found their Fire Station.  Which was also closed.
I sat in my car in the deserted parking lot and felt my shoulders slump.  Great lesson I was teaching my kids here.  We did all that work and they didn't get to experience the joy of giving.  I turned the car around and tried to ignore the feelings of failure.
As we were turning on to our road the kids noticed the neighbors outside doing some yard work.  "Mom, mom, mom!!  Lets give the cookies to them!"
Well, yes!  Of course.  Why didnt I think of that right away? I pulled into the neighbors drive and the kids rushed out of the car cookies and card in hand.  "We brought you a gift!" Audrey shouted to a woman she had never met. (We just moved here a couple months ago)
Our sweet neighbor came over and accepted the cookies from the kids.   We all introduced ourselves and had a wonderful conversation.  Leigh and her husband were so appreciative of the gift and I could tell that we were going to be fast friends.
When we got home that night the kids told dad all about their experience with giving and how good it felt.  I think they, even more so than me, were able to see the beauty in a random act of kindness.  It has definitely inspired then to want to do more… to give more… to get out and build up relationships with the people around us.  They are excitedly talking about writing cards to friends and baking more treats to bring to Leigh's and our other neighbors. In the end what I had perceived in a failed lesson was actually a fun and rewarding learning experience for us all!
The Best Part is an online community that's dedicated to brightening your day—every day. How? By spreading optimism, one share at a time. The Best Part posts inspirational stories, encouraging quotes, good news and other upbeat items on Facebook, Twitter and Instagram—and encourages fans and followers to share that optimism with their friends. Because when optimism is shared, it grows, making an even more positive impact on our world. Check out what others are sharing on Facebook, Twitter and Instagram.