UPDATE: Why Not to Freak Out About the New Instagram Policy Dec. 18th, 2012
Let me start by saying I am not a lawyer and I wouldn't know how to think like one even if I tried.
What I am is an honest blogger who is feeling duped.
When I started my Instagram account I was instantly smitten.  Everything about it was wonderful… the ease of uploading and processing my pictures, the convenience of posting my pictures to other forms of social media.
I even wrote posts about it and made a cake in honor of it!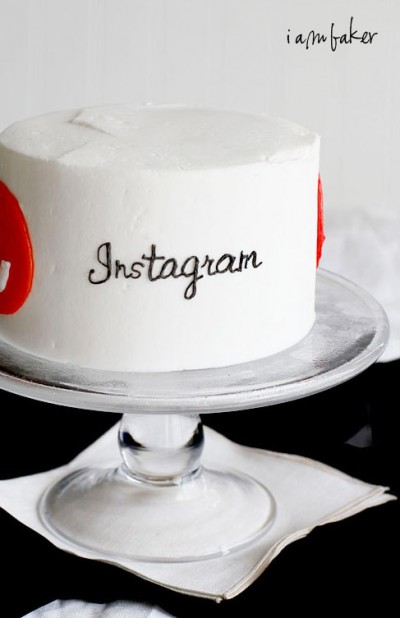 Most of all, I loved looking at other peoples streams.  The talent and content was mind blowing… what people can do with a camera phone is truly awesome!
But there is a dark side.
People take images off the internet and repost them on their Instagram accounts.  With no attribution.  Essentially, they are creating their own 'Pinterest like' boards through Instagram.
This is a violation of the terms of use by Instagram, as they clearly state here:
You represent and warrant that: (i) you own the Content posted by you on or through the Instagram Services or otherwise have the right to grant the license set forth in this section, (ii) the posting and use of your Content on or through the Instagram Services does not violate the privacy rights, publicity rights, copyrights, contract rights, intellectual property rights or any other rights of any person, and (iii) the posting of your Content on the Site does not result in a breach of contract between you and a third party. You agree to pay for all royalties, fees, and any other monies owing any person by reason of Content you post on or through the Instagram Services.
So when I saw my Surprise Inside Heart Cake posted on an account with over 174,000 followers, I was upset.  I left a comment on the picture saying, "This is my picture.  I did not give you permission to post it.  Please remove it from your feed."
I was ignored.
I reported the picture to Instagram.  See, I read this post and thought they had my back.
I was ignored.
As it stands there are over 24,000 "hearts" on that picture.
There are comments like, "Cool!  How did you do that?" and "Recipe please?"  "How did you get the surprise inside that cake?"
The people who posted my picture (proprietors) also submitted my picture to various contests and photo galleries.  Never once, anywhere, did they ever credit me or even imply the picture was not theirs.
To this day, the picture is still there and I have never heard one single word from Instagram.
There is another account (around 60k followers) that posted my rainbow pancakes.
I asked the proprietor to remove the image from her feed and she all but laughed in my face.  Some of the comments I got when I asked her to remove the picture:
(from the proprietor herself)
"I got the images from weheartit.com a picture sharing website.  I feel no shame for taking a picture off a website and reposting it, like hundreds of millions of people do.  And that picture is not your picture, unless you uploaded it to weheartit.com yourself, which was your fault because it's a photo sharing site.  Once you upload it there, you cant get upset when someone else reposts it because that's the whole idea of the website."
For the record, I have never uploaded a picture to weheartit.com
"If she (the proprietor)  gets them off google anybody can take them and if she takes it from u it just means u had a good pic…"
"She (the proprietor) doesn't have to do anything!  She doesn't know you! What is your problem?  Its not like anyone would just take your pics.  GET A LIFE!  Don't you have better things to do?  Oh wait, I guess not!"
"Once you put ANY type of media out on the Inernet, it is no longer yours.  Its anyones to use, repost, or "steal".  And none of those things are any type of actions that are illegal."
"Dont flip out *** dang!  Those pictures are all over instagram and pinterest.  Stop being a baby."
"You do know its not copyrighting unless she sells it or takes credit for it, right?  Oh wait, you don't know.  Its basically like printing off a picture from the internet for a school report.  All your classmates see it, and its not copyrighting.  Thats just the same as Instagram.  Read (the proprietors) bio.  She didn't claim credit for them.  Get your facts straight."
Clearly people were not happy I asked for my images to be removed.  I am continually getting harassing comments and being insulted.
(These are just two examples, there are many more ofenders)
So why do I bother?
I work hard on taking pictures and publishing things on my blog.  Taking pictures does not come easy to me and its often a labor of love.  I have invested time and money into every post published.
When I published that picture on my blog, per my disclaimer, I immediately had copyright.  I own my pictures.  I have the right to say if someone can post it or not.  Furthermore, I have legal recourse if someone posts it without my permission.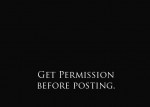 Except with Instagram.
Because even though their terms of service indicate that you need to own a picture before posting it, there are thousands of accounts that do not follow those terms.  These accounts have huge followings, and are full of images that the proprietor does not own. (see below)
And, in my personal experience, Instagram has not done anything about it.
Under the Proprietary Rights in Content on Instagram section on their legal terms page it states:
Instagram does NOT claim ANY ownership rights in the text, files, images, photos, video, sounds, musical works, works of authorship, applications, or any other materials (collectively, "Content") that you post on or through the Instagram Services. By displaying or publishing ("posting") any Content on or through the Instagram Services, you hereby grant to Instagram a non-exclusive, fully paid and royalty-free, worldwide, limited license to use, modify, delete from, add to, publicly perform, publicly display, reproduce and translate such Content, including without limitation distributing part or all of the Site in any media formats through any media channels, except Content not shared publicly ("private") will not be distributed outside the Instagram Services.
So even if someone takes my pictures and distributes them, Instagram is not responsible.
If  you read on further, Instagram also claims your picture as theirs.  They can use your image(s) around the world and owe you nothing.*
They, and all of their users, can use your pictures for whatever they want whenever they want.
And there are no consequences.
*I am not saying I wouldnt be honored to have my pictures deemed worthy enough to distribute.
I could contact an attorney and pursue legal action, but right now that would be out of anger and hurt feelings.  I want to make sure if I pursue this its for the right reasons and would help the greater good.
I also want people to understand that just because they found a picture on google doesn't make it their property.
I hope that when people post on Instagram that they have either taken the picture themselves or are willing to pay royalties/give credit to the appropriate source.
That they would post with integrity.
Am I asking too much?
*If you are a blogger or have a website, I encourage you to try searching for one of your more popular images on Instagram.
***********
I just received this from Instagram:
Thank you for your email. Stealing photos is against our Community Guidelines (bit.ly/igcg) and we take it seriously. We want photographers to feel confident and safe sharing their work on Instagram.With regards to your case, we saw flags submitted for these images but we could not confirm the original source of the photos. By the time it was flagged, the image seemed to have reached "internet meme" status and had spread to many different accounts and webpages. This is a testament to how much people enjoy your photo, but, unfortunately, it makes reviewing the image for original ownership much more difficult. In the future, we suggest that when you flag an image you 1. include links to the original source of the file in your flag reporting and 2. email us if the image(s) are not removed within 24 hours with links to your original file and links to all of the images on Instagram where you have seen the photo replicated. To locate links to stolen images, we suggest using a web browser version of our site
 (
http://web.stagram.com/n/USERNAME
). 
You can click the "O" in the top right corner of each image which will take you to an Instagram web page for that photo. Then, you can send us the URLs to the Instagram web pages.Finally, we have reviewed the accounts you mention above and taken appropriate action. Please let us know if there is anything else we can do. 
The Instagram Team
Every single account I mentioned was closed.  Now those individuals know that they were doing something wrong and that there ARE consequences for their actions.  We obviously have a long way to go, but I cannot even tell you how much of my faith was restored in the Instagram community!
 Thank you, Instagram, for handling this issue and upholding your terms of use.  And  thank you for providing further information on how to better safeguard ourselves.
And thank YOU for sharing this issue and providing helpful, informative, and sound advise in how we can all better our online communities!
**********
I have since had other pictures posted on peoples accounts without permission.  I followed Instagrams directions and flagged the images with the details they require.  Again, no action was taken.  I then emailed again and requested some advice in how to handle this.  They removed my image from an offending account, (thank you) but left the account open even though every other image was also stolen.
So, as it stands, I believe Instagram has good intentions, but not good execution.  I feel there is much work that needs to be done.