OK.  So heres the deal.
About four months ago I wrote this post that featured some rainbow pancakes I have made.
A huge blogger featured my pancakes on his site, and they took off like wild fire.  A newspaper shared them. Someone tweets them… they essentially went viral.
Wanna see the pancakes in question?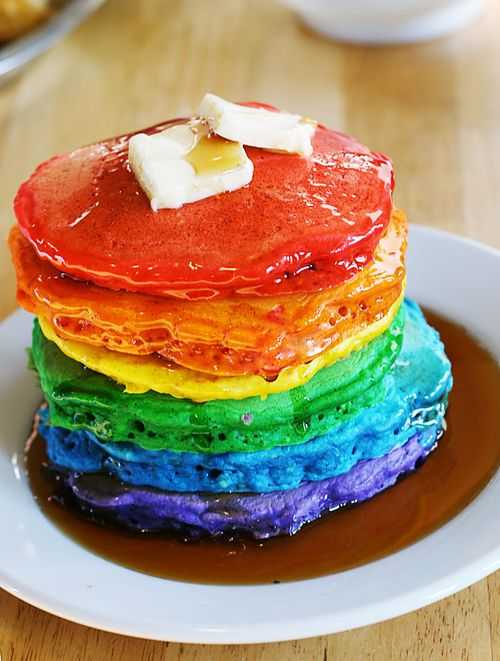 In all that traffic you can imagine that some folks wanted to leave an opinion or two behind.
The Good:
what an awesome idea for the pancakes! I am going to have to try that.
My kids
are really excited about the idea of rainbow pancakes.  Even my non-pancake eater is begging me to try this.
Those rainbow pancakes make me smile. *grin*
The Bad:

Something terrible 🙂 it's hard to imagine, how someone could eat these
things full of chemicals to achieve the colour. People, wake up and
don't harm your health!
Love colorful stuff, but the photoshop just makes it bearable. 'Cause the thought of eating that much food coloring = um, yuck.
I'm all for fun food, but for me, this is pushing it too much. Although
I'm sure that food dye isn't good for you, I'm sure its no worse that
whats in regular processed food. I am more concerned with the fact that
it doesn't *look* like real food. It looks like candy.


I think its important that our kids' meals look a little more natural –
meals are made from the stuff that comes from nature, and not from
melted plastic which is what this looks like to me. Its so important
that kids appreciate simple, real food and I guess this just goes in
the opposite direction of that.
I am screaming in fear.
The Ugly:
this is so gross – to feed 6 pancakes to your kid ? should be illegal
to put so much food coloring into anyone's food, more so one's own kids.
Gre-e-e-a-a-at.
Trick the little tykes into consuming as much of this worthless nonfood
as possible. Bunches of sugar and other empty carbs, cholesterol, etc.
Gotta get a jump start on that diabetes, hypertension, heart disease,
and stroke.  Gee – you oughta be nominated as be Mother of the Year.
You should be shot.
I just called CPS on you, I hope they take your kids away.
You should not be allowed to procreate. I hope your kids are taken away and put into a loving home where they actually have a shot at a good life.
I gotta tell ya, I just dont have the thick skin it takes to handle this sort of mean.
For someone to pass judgment on me for making my kids rainbow pancakes just seems so silly. At first, I was trying to laugh it off, but they just kept coming.  At one point I wanted to scream and yell and defend myself… saying "I AM a good mommy!!  I swear!"
But should I?  Should I take it personally?  Is it personal?
So I gotta ask… does it just come with the territory?  Is it a safe assumption to make that the more people who read your blog the more likely you are going to be persecuted… for any and everything? If you are a blogger, are you fair game?