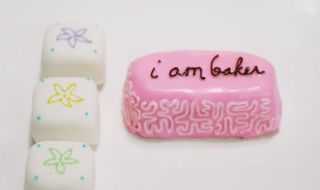 Why 'i am baker'?
Simply because this blog is an extension of my other blog, 'i am mommy'.
I am mommy. I am wife. I am child of God. And now, I am baker.
Well, at least my blog says I am.
I am totally amateur.
I make lots of mistakes.
I eat lots of mistakes.
But man do I love baking.
To celebrate the launch of my new blog, I would like to share some of my passion with you.
Just leave a comment, and you are automatically entered to win 2 dozen cookies of your choice. Not sure why you would want cookies? Check out my cookie gallery and get some ideas.
Maybe for a birthday? An office Christmas party? Want to impress your MOPS group? Or how about your Mother-in-Law?
Will we ever truly be able to impress our Mother-in-Laws?
Maybe you are just hungry.
Whatever your reason, I've got ya covered.
So, please, take a moment and acquaint yourself with my new home away
from home. I hope that you will be inspired to create your own
delicious treats!
Be sure to check out this post if you like to bake too!