The secret to the BEST gravy? It's bacon!! And could not be easier!
So this week I made a turkey.  I love to be able to make a turkey for a week's worth of meals… it smells so good and tastes so good and feels like such an accomplishment when I pull it from the oven all golden brown and glistening and sizzling.
I normally just throw stuff in the oven and hope for the best, and this was no exception.  Except after about 3 hours I pulled out my yummy turkey and realized the outside was looking a bit… dry.
So I took a leap of faith and grabbed a pastry brush and went to town.
I figured if the combination was horrible and vile and completely unacceptable I would never tell a soul and all would be well with the world.
About an hour later I took my golden turkey from the oven and let him rest on the counter.
It tasted good.  I served the kids and started the gravy, using the drippings from the humble bird.
Ten minutes later I had an acceptable looking gravy.
I poured it over a nice sweet slab of white meat and took a bite.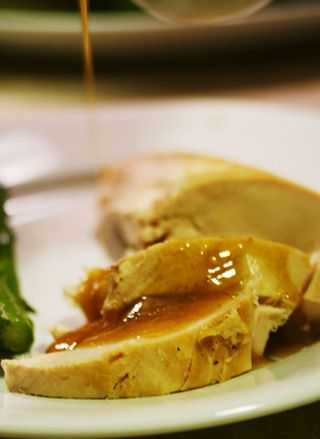 And surely was transported to my happy place.
I think I may have even groaned aloud.
It was the best, and I mean the best gravy I have ever tasted in my life.  That little bit of (and when I say little I mean at least a quarter cup) of bacon grease has seasoned that gravy within an inch of its life.
It was rich.  It was decadent.  It was good enough to drink.  (not that I did that…)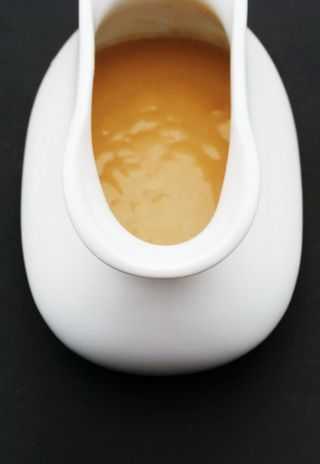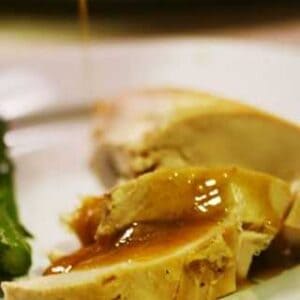 The Best Gravy
The secret to the BEST gravy? It's bacon!! And could not be easier!
Ingredients
Basting
1/2

c

up to 1 cup of bacon grease
Gravy
1/4

c

turkey drippings

1/4

c

all-purpose flour

2

c

liquid

juices from roasted turkey, broth, water

salt and pepper to taste
Instructions
Basting
Prepare turkey as you normally would, only baste it with the bacon grease.
Gravy
Pour drippings from roasting pan into bowl leaving brown particles in pan. Return 1/4 cup drippings to roasting pan.

Stir in flour.

Cook over medium heat, stirring constantly until mixture is smooth and bubbly.

Stir in liquid. Heat to boiling, stirring constantly. Boil and stir 1 minute.

Salt and pepper to taste.
This entire recipe is basically how you BASTE the turkey. It's done with bacon grease. That's it! You can prepare your gravy from the pan drippings any way you want, but the key factor is how you basted that bird.
Seriously… I implore you… you MUST try this next time you cook a turkey. There is an occasion coming up quite soon right? 😉
I can't even imagine how it would taste over creamy, fluffy white mashed potatoes.  It's more than my little bacon grease loving brain can handle.