Today's special guest is Karen Hossink from the blog Surviving Motherhood.  I have known Karen for many years and find her heart and dedication to Jesus truly inspirational.  She is a talented writer, author, singer and mentor.  Karen's blog, Surviving Motherhood, is a sacred, happy place full of encouragement and support.
Last week the sermon at church was all about our words.
A few days ago someone asked me, The peace that comes over you hearing a graceful melody – is that how you are heard?
And every day since the beginning of the month, I have been reading a chapter of Proverbs.
Words – what I say, how I say it, and the way in which it's heard – have been heavy on my mind. Because I am becoming more and more aware just how powerful our words are. To build up, or to tear down.
I am a woman, so – by nature – a lot of words come out of my mouth. My husband hears them. My kids hear them. The folks where I work hear them. My friends hear them. And when I am particularly excited or angry, my neighbors hear them, too.Words, words, words!
But what are they accomplishing?
Proverbs 10: 11a says, "The mouth of the righteous is a fountain of life." Verse 21 of the same chapter says, "The lips of the righteous nourish many." And I find myself drawn to that image – a fountain of life, nourishing many. Yes! That is what I want my words to accomplish.
So, I've started doing something.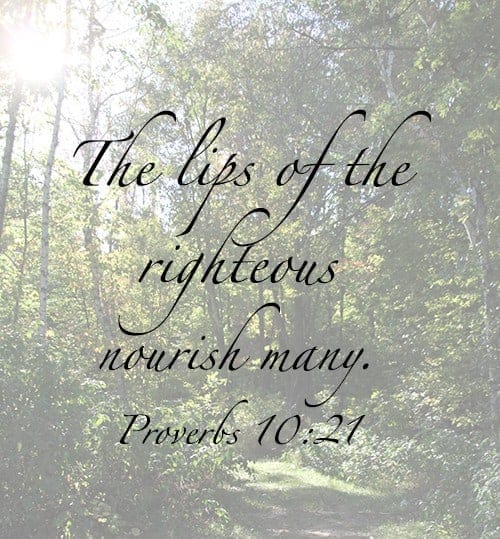 Besides being more intentional about speaking my love to others, and handing out compliments and encouraging words on a regular basis, I have started copying a few biblical authors. I noticed at the beginning and ending of just about every letter written in the New Testament, the author uses words like, "Grace and peace be yours in abundance." (1 Peter 1:2) "Grace and peace from God the Father and Christ Jesus our Savior." (Titus 1:4) "The Lord be with your spirit. Grace be with you." (2 Timothy 4:22)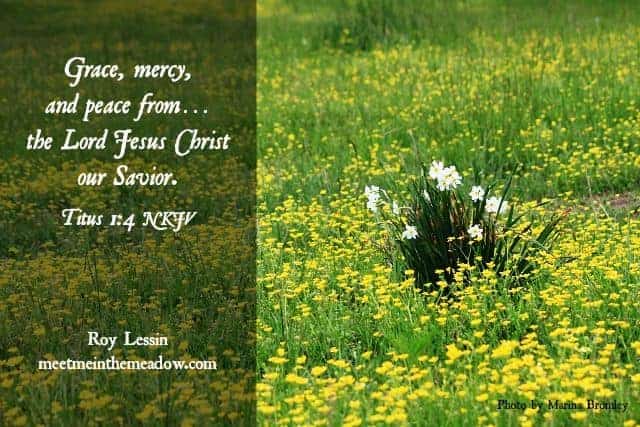 Photo by Marina Bromley on Meet Me in the Meadow
And I thought, Wow. How great would it be to receive a greeting like that on any given day? But – who talks like that???
I mean, really. Nobody talks that way anymore, do they?
Well, I decided I'm going to start. I am using greetings like those when I end an email or a text message. I am working on practicing those greetings verbally, too. I realize I might sound strange to most people, but I want my words to be a fountain of life which nourish many people. And if that makes me sound strange? So be it!
 Will you join me in this quest to speak life?