Instead of having a fall carnival or festival, this year our church did a trunk or treat for halloween.
Prior to this announcement I have never heard of a trunk or treat.
I am now aware that I am the only person in the world who had never heard of it and from now on I will be taking mandatory breaks outside of the box I am getting so comfortable in.
Thank you.
Most cars involved did really fun and creative and interactive designs.

We, uh…. well…. we sorta opted for simplistic design principles.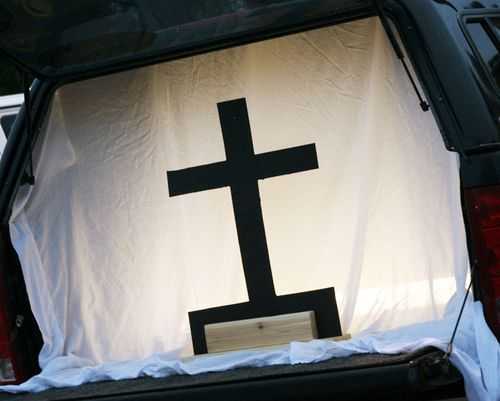 Our churches' trunk-n-treat was open to the general public, so I was tickled when one child approached so cautiously and whispered,
"What is that?" as she pointed up.
"Well, thats a cross sweetheart." I said with a smile.
Her mom got closer and said to her tiny sprite of a daughter, "You know what that is!"
She looked at me with mild frustration… "She's just being shy."
So I leaned in closer and said, "Do you know who died on the cross for you?"
She looked up at me with a mixture of curiousness and fear in her big eyes…
"Jesus did.  All for you.  He loves you that much!"
Her eyes crinkled a bit at the corners as a smile creeped onto her face.
Either she was delighted in hearing those words, or happy I had just dumped 27 suckers into her bag.
I'm taking the first choice. 
Just wait!  You are not getting away that easy!I just have to show you pictures of my little ones dressed up!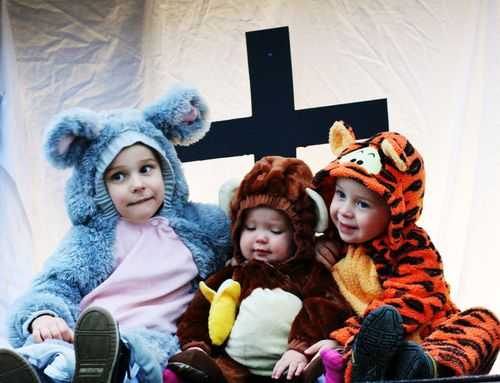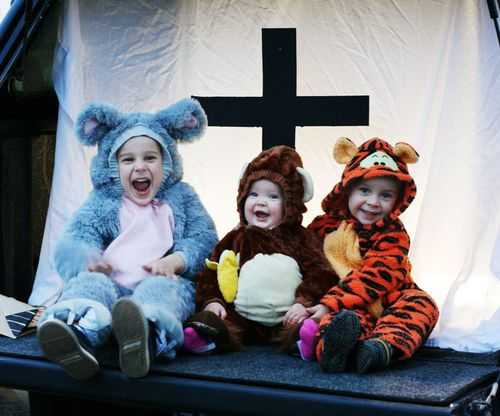 Yeah.  They had fun.
How was your Halloween?  I'd love to hear all about it!  If you blogged about it, feel free to leave a link so we can all check it out!