And the WINNERS are: (I responded to each comment, but if you see your name and comment here please email me at [email protected] with your mailing address and phone number!)
Darla
My son doesnt like frosting, but he loves cool whip and whipped cream. I use whipped cream as frosting for a couple different recipes. When I am decorating I love adding a splash of either almond or peppermint extract to vanilla buttercrean.
Bri Kent
Cream cheese
Felecia Keith
I made your wonderful whipped buttercream for my granddaughters Moana cake last weekend. The texture was simply wonderful and it didn't seem to be as heavy and sweet as regular buttercream. I'm making a chocolate cake before hurricane Harvey is due to arrive later this evening. I'm on the coast so atleast we will have cake!!! LOL
Cathy
I like chocolate fudge icing that has a little "crackle" to it.
It's FRIDAY! We made it through another week. Let's start the weekend off right with a GIVEAWAY!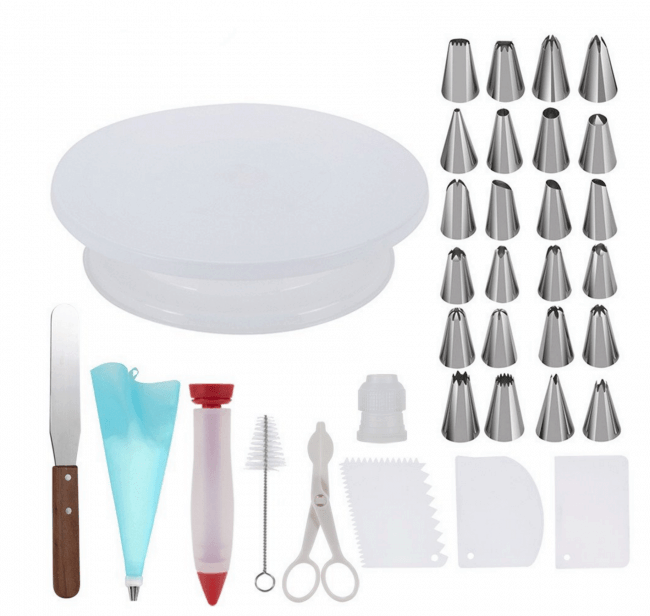 I would love to gift someone this ENTIRE set of cake decorating supplies!! You will get:
Cake Turntable

Icing Spatula

24 Stainless Icing Tip

Pastry Bag and Coupler

Cake Brush

Cake Cutter

Cake Pen

3 Cake Scrapers
To be entered just tell me:
WHAT IS YOUR FAVORITE FLAVOR FROSTING?
This giveaway is open to everywhere Amazon ships! If you are chosen as a winner and Amazon does not ship to you, I will paypal you the cash equivalent. Giveaway open until 7pm CST August 25th. You can enter up to 3 times per person. I will announce the winner HERE, right at the top of this blog post, after 7pm CST.