I have been going Red Velvet crazy!
Ever since I made some red velvet sugar cookies my mind was working overtime coming up with different ways to use it.
There is of course my favorite, the Red Velvet Sugar Cookie Strawberry Shortcake.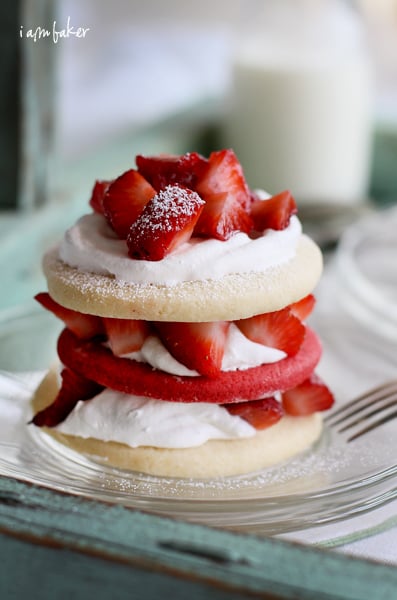 But before I show you all the variations, let me share the recipe.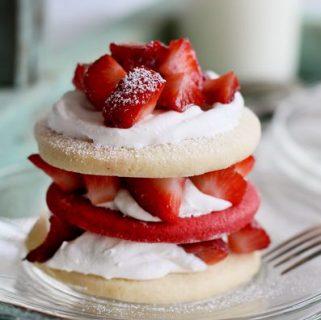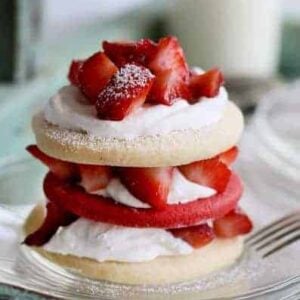 Red Velvet Sugar Cookies
Ever since I made some red velvet sugar cookies my mind was working overtime coming up with different ways to use it.
Keyword:
Red Velvet Sugar Cookies
Ingredients
1 1/2

c

Butter

I Use Unsalted

1

tsp.

Salt

2

tbsp.

cocoa

4

c

All-purpose Flour

1

tsp.

red gel food coloring

2

tsp.

Almond Extract

4

tsp.

Vanilla Extract

3

eggs

2

c

Sugar

1

tsp.

Baking Powder
Instructions
In a mixer, beat butter and sugar until well combined, about 2 minutes.

Add in 3 eggs and mix until combined.

Add in vanilla extract, almond extract, and red gel food coloring, then mix thoroughly.

In a separate bowl, sift together flour, cocoa, salt, and baking powder. Slowly (about a cup at a time) add flour to butter mixture and combine. You can use a mixer or not, just depends on how strong you are.

I usually just mix ingredients until they are combined, as I have heard that if you over-mix this dough it will get tough.

Put dough in some Saran wrap and refrigerate for at least one hour. When you are ready to bake, heat oven to 350 degrees. Roll dough out, cut out cookies, and bake for 6-8 minutes.
I tried a few versions… adding apple cider vinegar and buttermilk and red-velvety type ingredients, but ultimately, this was the best tasting for me.  I did find that if I did want to add in the apple cider vinegar that the almond extract was a must!
I also found that the ACV variation tasted best with the Cream Cheese Buttercream, but that the cookie batter alone was not as delicious.
So therefore, I am not sharing that recipe.  If you want to play around with it, I added 1 tsp vinagar and 1/4 cup cocoa and subtracked 1/4 cup flour.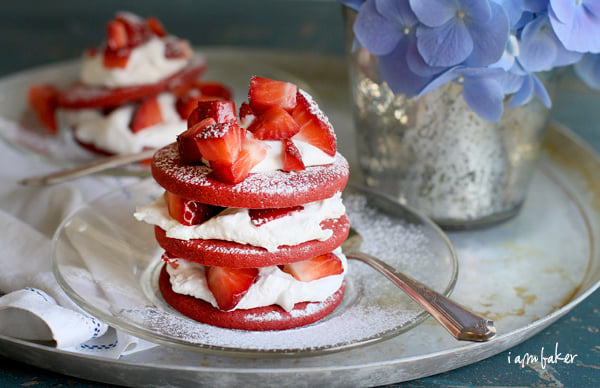 So here is the full on Red Velvet Sugar Cookie Strawberry Shortcake.
This is a winner.  I would make this for any and every one.  Its messy and delicious.
Next I took my base red velvet cookie and added Cream Cheese frosting. (Dont click that.  Seriously.  That is the greatest cream cheese frosting I have ever had and you will be forever ruined once you have tried it.  Just dont click.)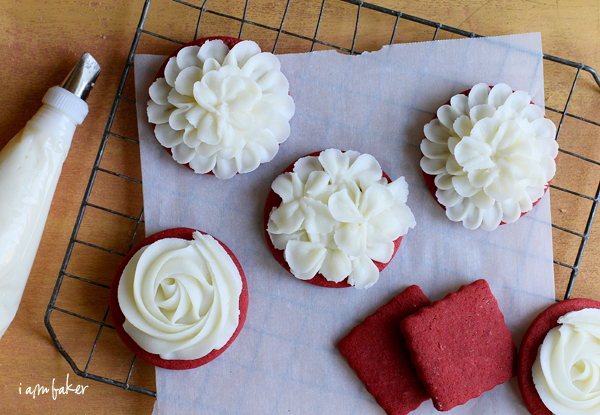 I thought these would be perfect for Mothers Day!
I could pipe out a bunch of different flowers on the cookies and give mom a red velvet cream cheese bouquet!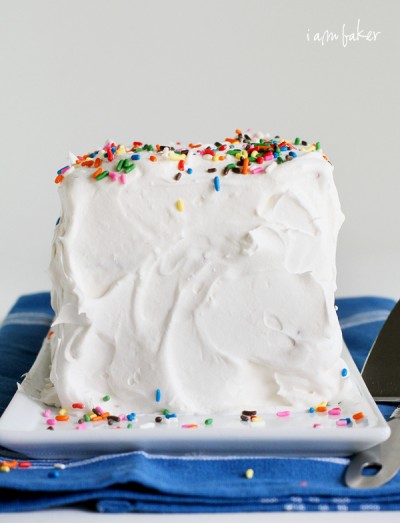 Then I made a cake.  But not any old cake.
A red velvet cookie cake with cream cheese ICE CREAM.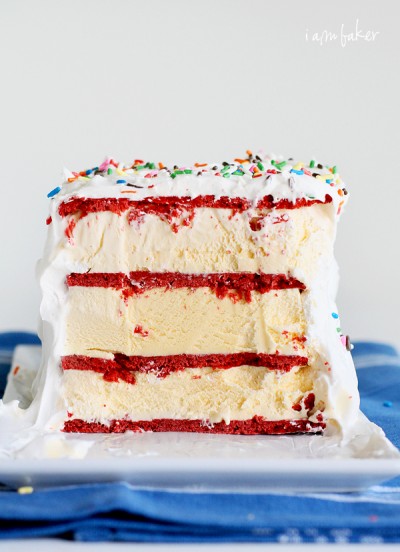 I used this recipe from Taste of Home.
And then I cut into it and the whole cake nearly slipped off the plate and I was licking my fingers like crazy and holding a giant butcher knife and I decided there had to be a better way.
So I made these.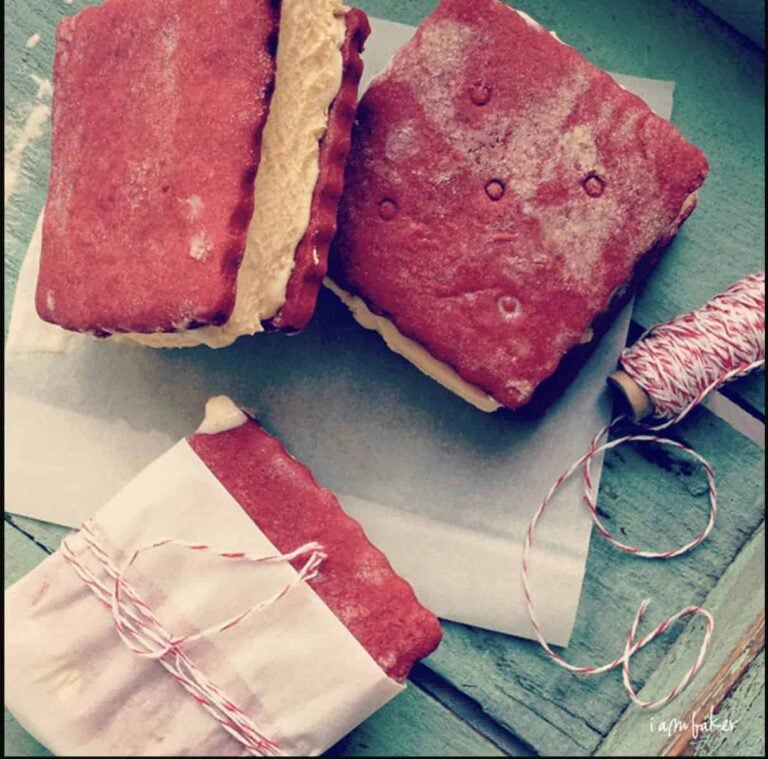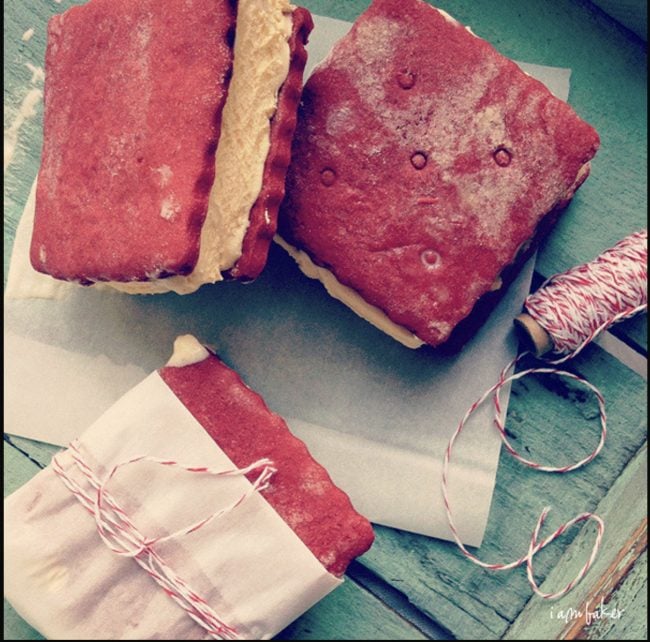 Red Velvet Cream Cheese Ice Cream Sandwichs.  These are my favorite.  I may have even drizzled melted chocolate over the top and added sprinkles to this already decadent treat.
And why does this picture look all funny?  I took it with my phone.  Using Instagram to be more specific!
Needless to say, I am more than smitten with the Red Velvet Sugar Cookie.
But I think I will now try to go 24 hours without eating one.  It will be hard, but I feel its necessary for the sake my poor, unsophisticated palate.
If someone invents decaf red velvet mocha coffee I am so screwed.