This perfect Lemon Bars Recipe has two important things; the perfect amount of lemon and a rich buttery crust. I add a bit more lemon juice than most, but it's what sets my lemon bar recipe apart!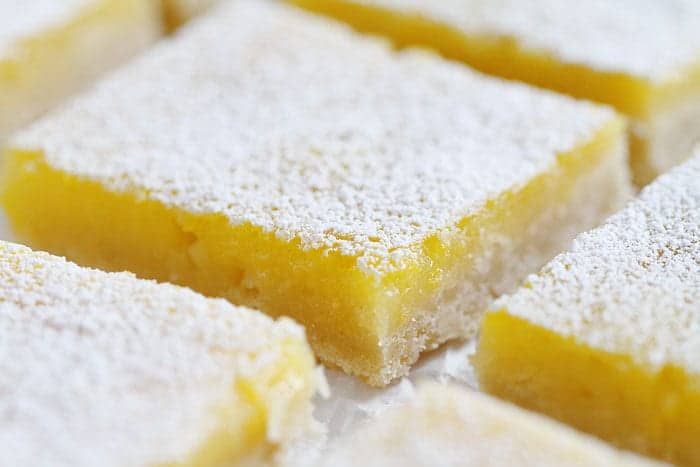 Lemon Squares Recipe
Growing up in Minnesota I knew these as "lemon squares". It's just what my grandma called them! They were served at most potlucks, church fundraisers, and definitely, bake sales.
So what is a lemon square/lemon bar? They are tart, sweet, and buttery perfection, all rolled into one! I find myself making these decadent bars all year long, but especially in the winter. There is something so refreshing about lemon desserts when there is snow on the ground. (which is half the year when you live in Minnesota!)
To make this Lemon Bars you will need:
Lemon Bar recipe (below)
9×13 pan (I love this recipe in an 8×10 pan as well, the crust is wonderfully thick)
aluminum foil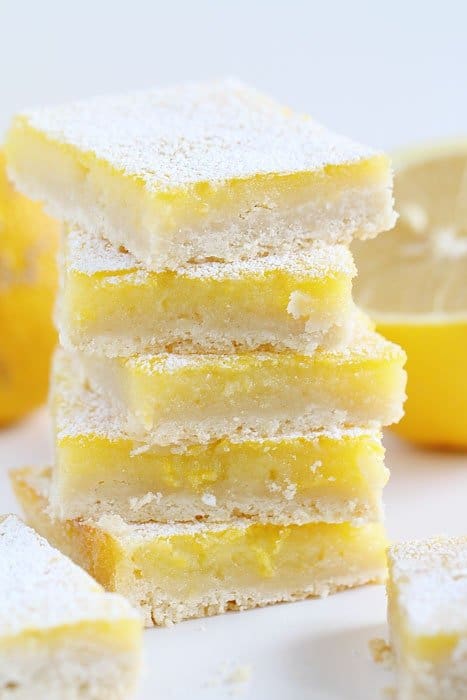 Tips, Tricks, Variations
Room temperature ingredients are key! I teach you how to quickly warm up butter and eggs here.
Lining your pan with foil is optional. You can also use parchment paper, I would just make sure it extends up over the sides for easy bar removal.
Only have 2 lemons but want to get as much juice as possible? Take the lemon and roll it on the counter roughly, pressing hard on the lemon. This will help to loosen up the juices before extraction.
Try to get your crust as even as possible! In case you were wondering how to make lemon bar crust, I will share my secret! I press the crumbs into the pan then go back with a hard flat surface (like a drinking glass) and press down on the crust. This helps to create an even surface.
Feel free to use only 1/2 cup of lemon juice the first time you are making these bars. I just happen to like that awesome extra lip-smackin-kick of the real lemon juice and like to use a lot!
Make these bars Gluten-Free simply by using an interchangeable Gluten-Free flour. I used Namaste Perfect Flour Blend and it worked beautifully.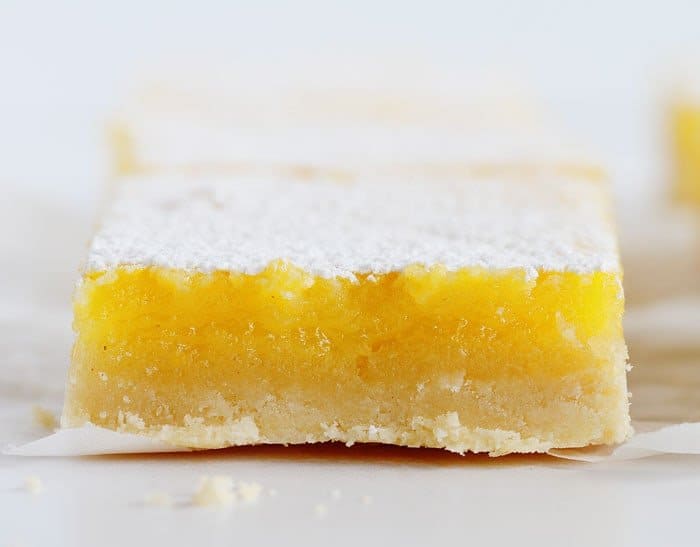 Guaranteed, these will be your new favorite lemon bar!
Recipe barely adapted from The Best Lemon Bars and The Pioneer Woman Lemon Bars.
Here is a video on how these bars are made:

Love lemon desserts? Try any of these:
Lemon Cake with Lemon Buttercream