This Artisan Apple Bread is a family favorite. Perfectly baked every time (it really is easy!) but tastes just like it was baked at a world-class French bakery. Have no fear, Artisan Bread is a fantastic way to show off your baking skills!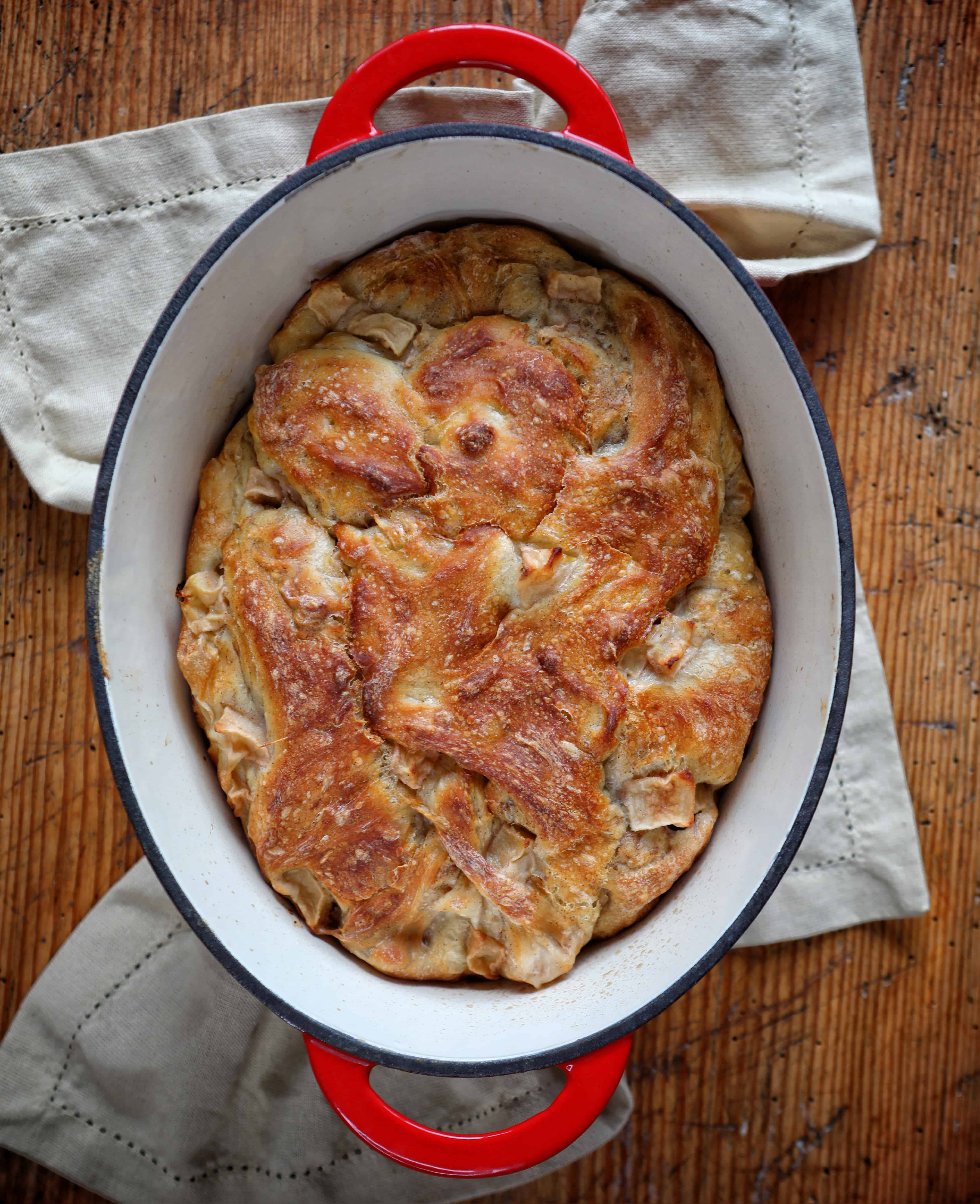 Artisan Apple Bread
Artisan bread is best defined as who is making the bread. An artisan baker is a craftsperson who is trained to the highest level to mix, ferment, form, and bake a hand crafted loaf of bread. They incorporate the science behind the chemical reactions of the ingredients and use them to create the most optimal environment for the bread to develop. However, it can also be about the science behind the recipe. Artisan bread is all about the ingredients. They typically have flour, yeast, water, and salt. Some add in flavors and herbs like apple or tomato. With all artisan bread, it is important that every ingredient be real and familiar. No chemicals.
Learning to appreciate Artisan Bread is almost as much fun as eating it. I loved pouring over this recipe and others trying to understand everything I could about the process and ingredients.
Speaking of ingredients, I sought out the best I could find for this bread. I got a perfect Granny Smith that holds up beautifully in this recipe. I also picked up some all-purpose flour, yeast, and of course, salt. The basics for this amazing recipe and they did not disappoint!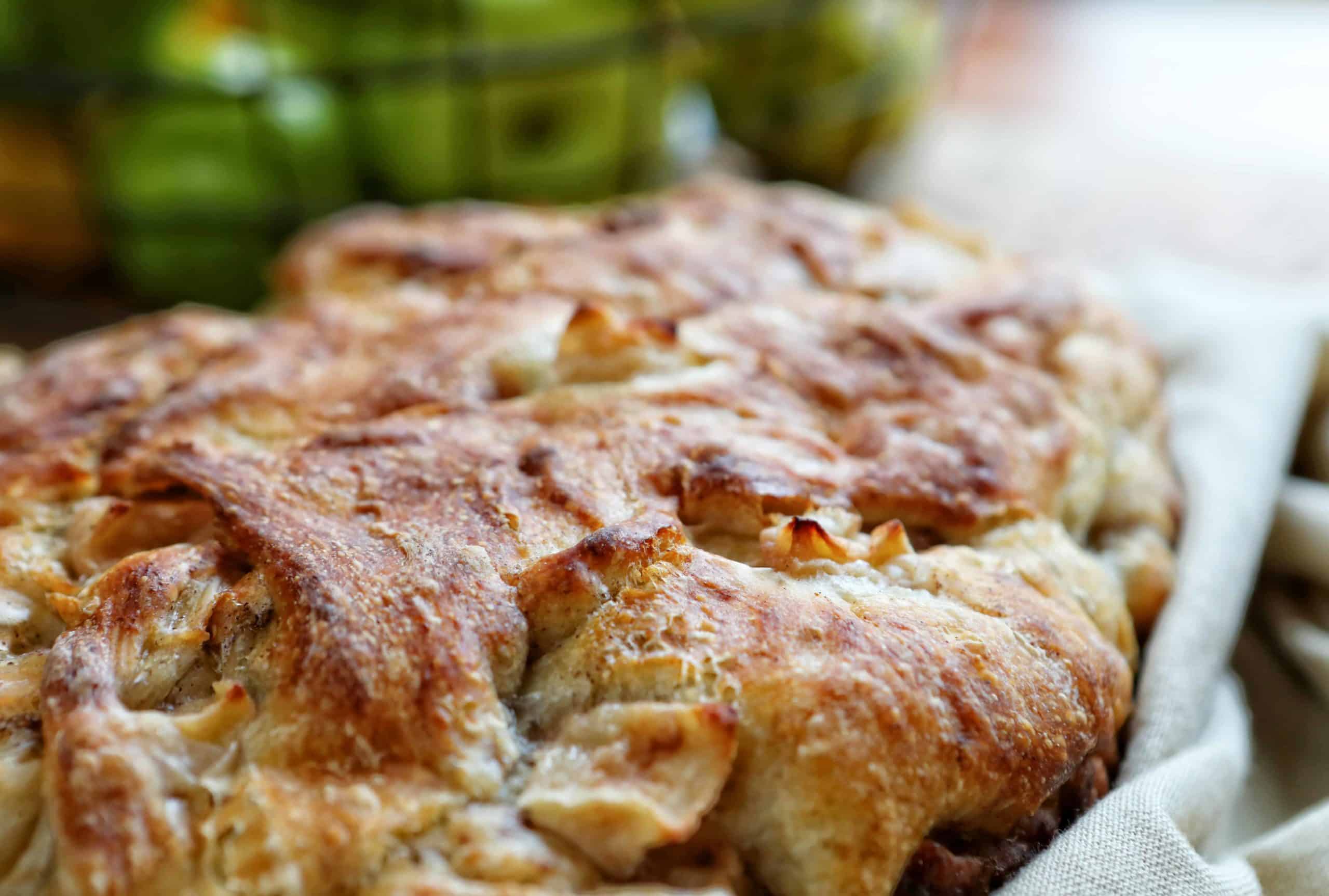 How to Make Artisan Bread
Now if you have ever been scared off by making real homemade bread, set all those fears aside. This recipe is considered a "no-knead" recipe which means that you don't have to spend 20 minutes standing at your counter with your arms shaking and wondering why your kids are so quiet. The process of making this bread simply requires a little time, but it's small bits of actual work.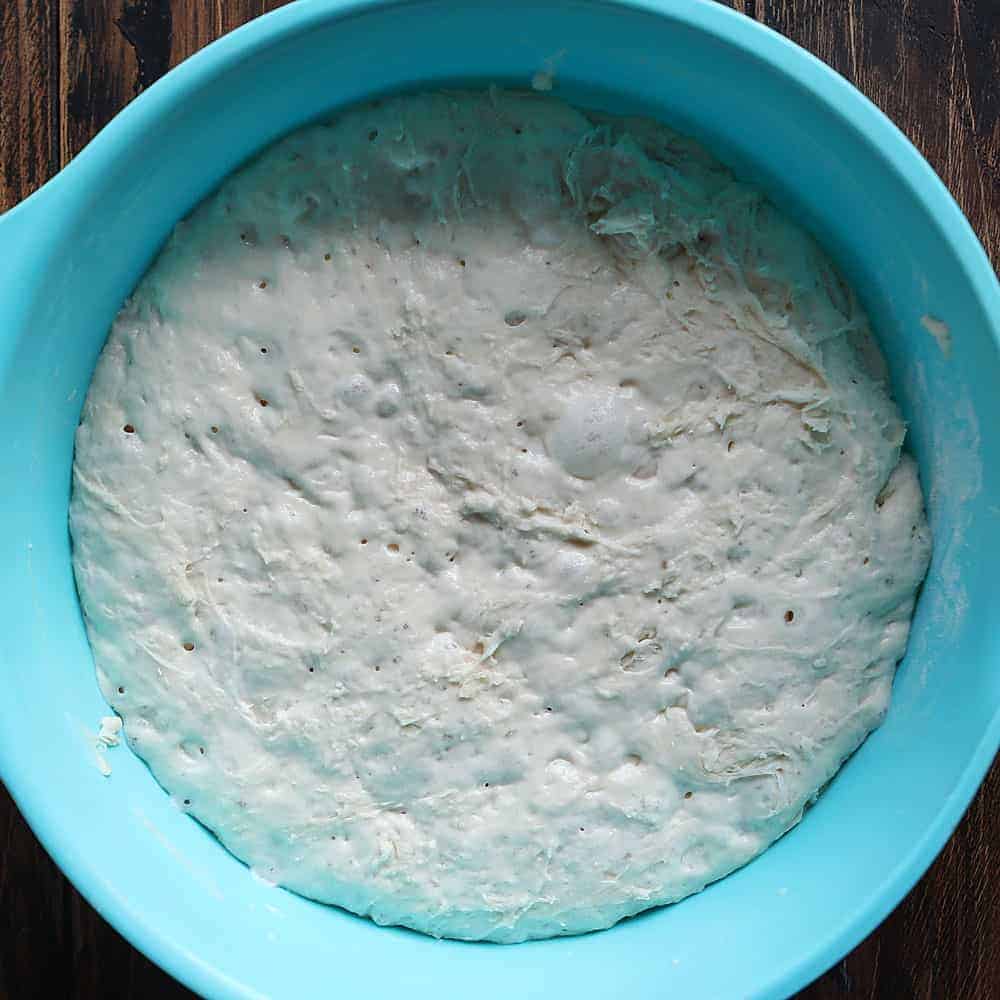 You begin by making your starter. Mix the flour, yeast, salt, and water in a large bowl. Stir with a spatula to mostly incorporate then use your hands to work the dough a bit. This only takes about a minute, but really ensures that every last bit of flour is incorporated. Cover the bowl with plastic wrap and then let it sit about at least 8 hours, or up to overnight. (Max of 18 hours.)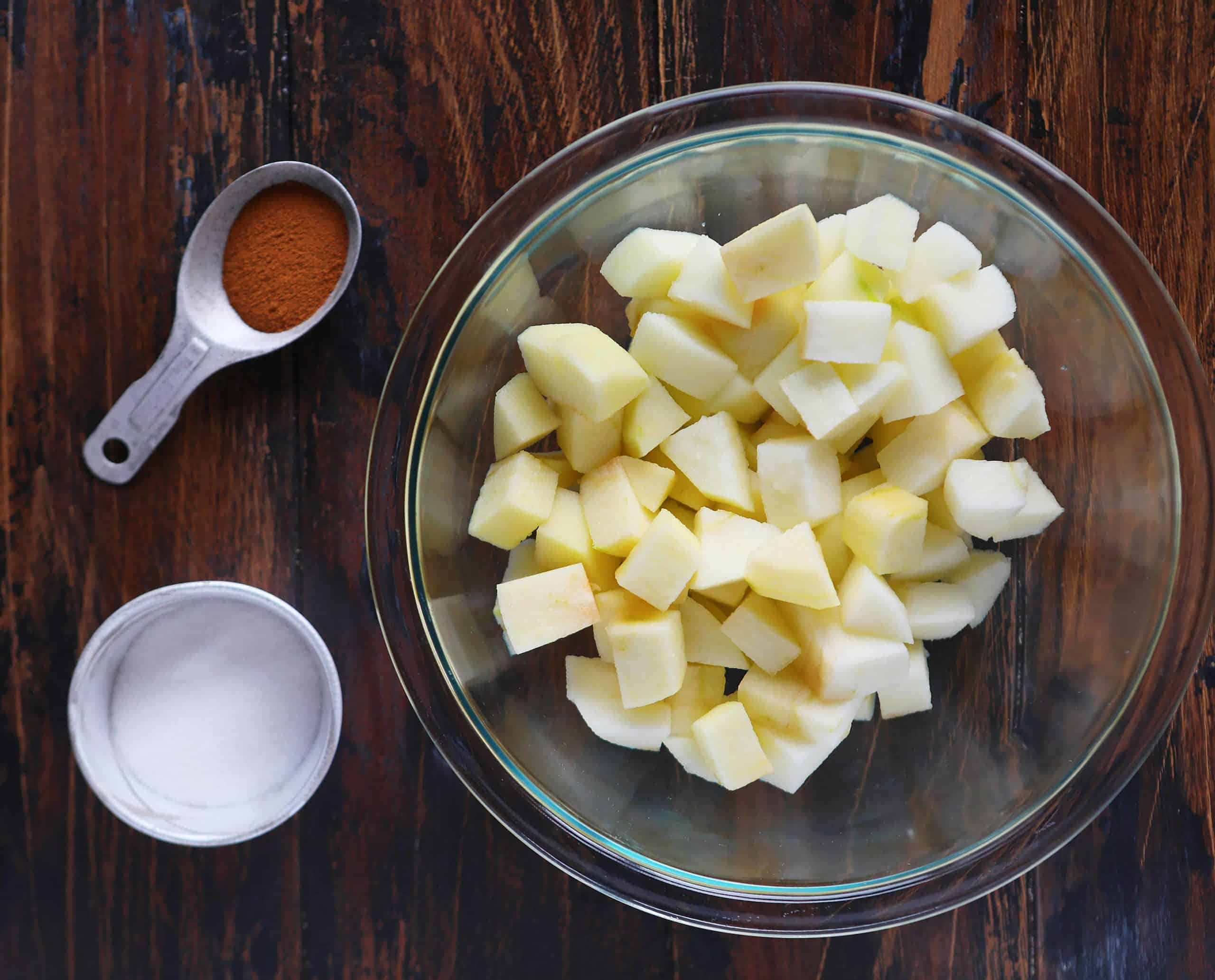 After 8 hours (and your dough has risen considerably), prepare the apples. I peeled and diced 3 small apples which yielded about 2 1/2 cups of diced apples. I chose to make fairly large bits of apple and I love biting into a big chunk in this bread, but you can certainly make them smaller.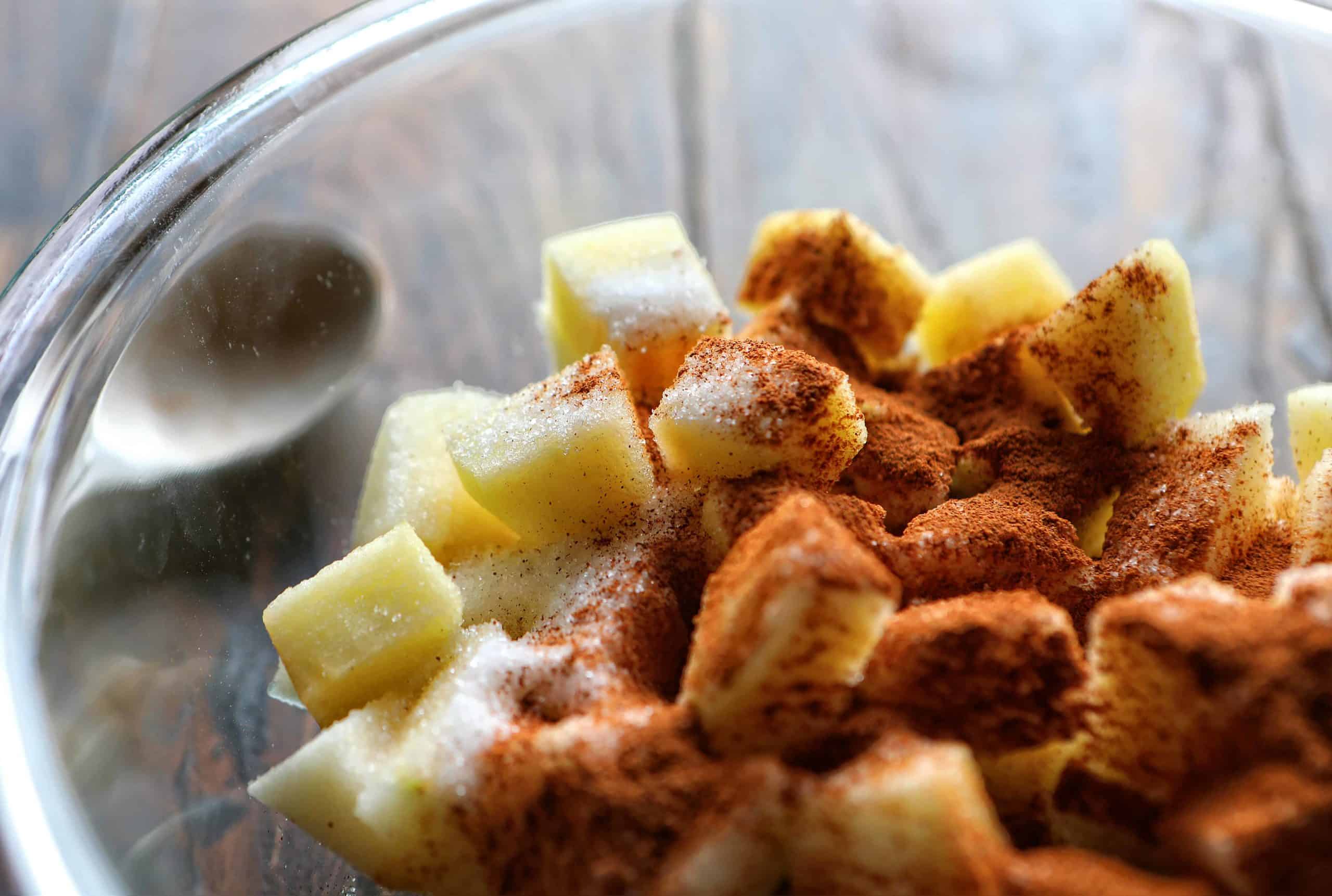 Add the sugar and cinnamon to your diced apples and stir to evenly coat.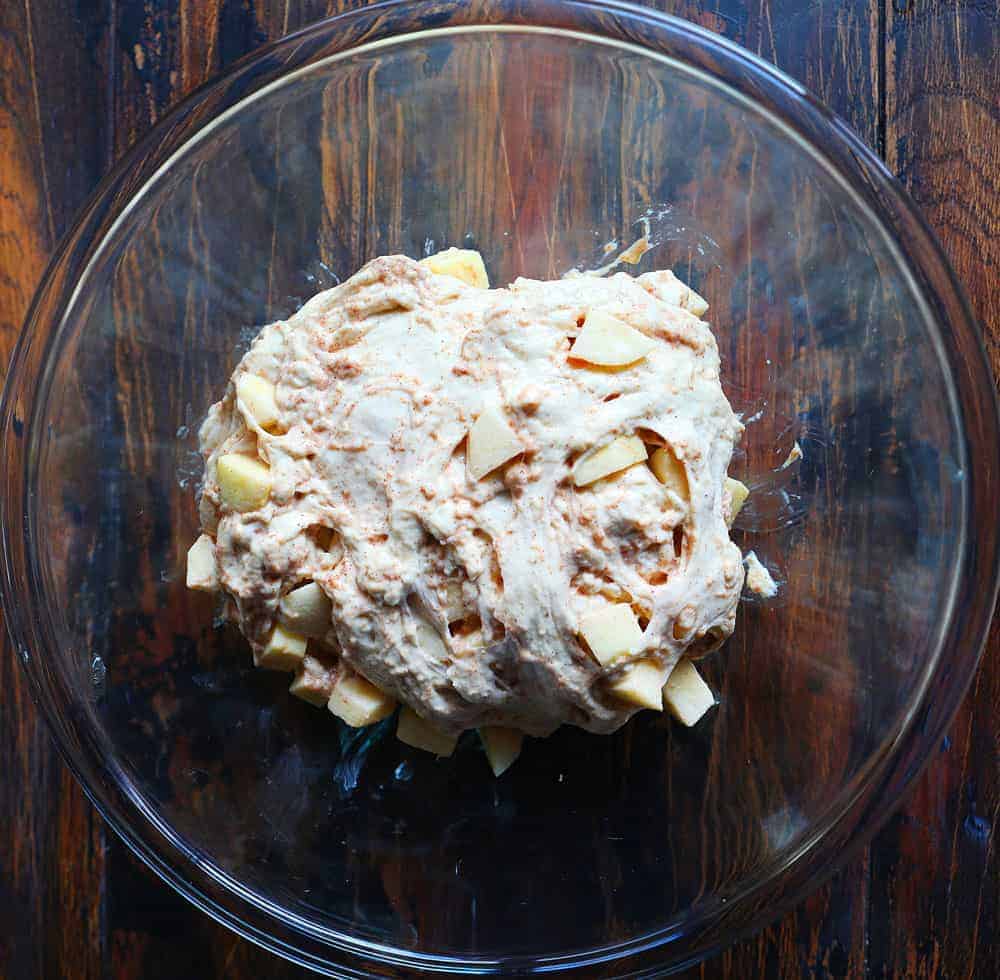 Grab your dough and add the apples. Using your hands, work to incorporate the apples. Not every single little apple piece will be incorporated and that's ok. Just let the apple pieces fall to the sides or place them on top.
Place the dough into a buttered French Oven, cover, and let the dough rise another 2 hours. It should rise noticeably, but not as much as before.
After 2 hours, place the French Oven with your dough into a cold oven. Be sure to set it on the bottom rack and remove the upper rack so that the French Oven will fit nicely and you will have room to remove the lid later. Turn your oven to 425°F and bake for about 45 minutes.
After 45 minutes, carefully remove the lid and allow the bread to bake for another 10-15 minutes, or until the top is beautifully browned, but not burnt.
Remove the French Oven and then carefully let the bread fall out onto a cooling rack. If you tap the bottom of the bread and hear a hollow sound, the bread is done.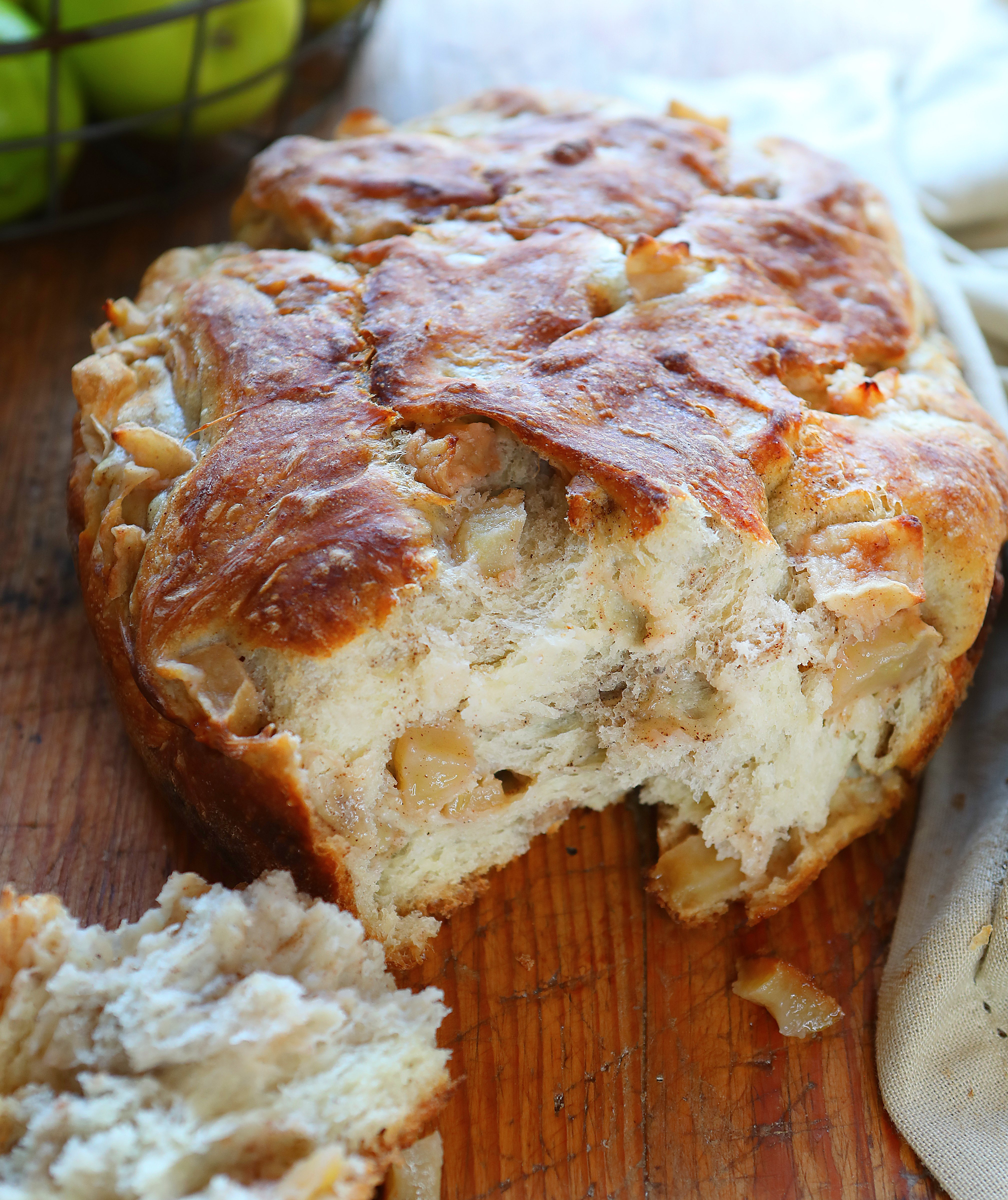 Now here is my favorite part. Don't slice the bread. When the bread is cool enough to touch, simply use your hands and tear off a big piece. This bread is meant to be eaten with your hands! And there is something magnificent about how the hard outer crust breaks away to reveal a warm soft interior. You can immediately smell the cinnamon and see the beautiful apple chunks.
Homemade Maple Butter
Not that this bread needs it, but I decided to make a decadent butter to smear all over this fantastic apple bread. And the recipe could not be easier! You just take some butter, add some, brown sugar, cinnamon, and maple syrup and add it to your stand mixer. Mix together and chill until ready to use.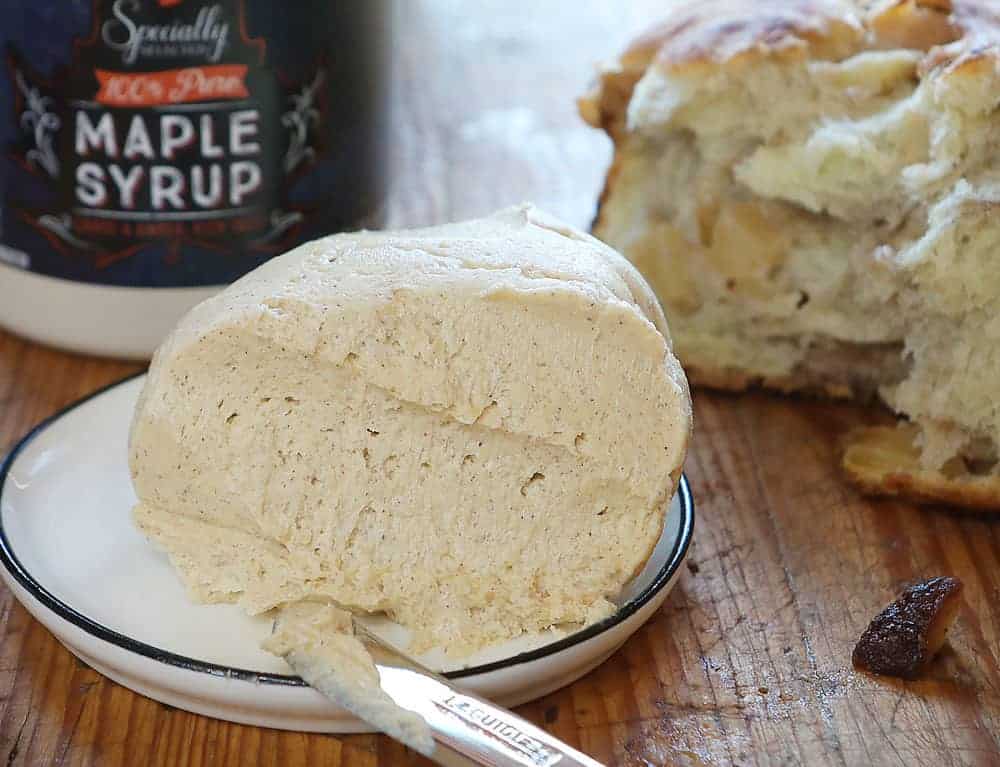 When I tried this butter on the bread I was blown away by how amazing they taste together. The secret was the maple syrup. I used 100% Pure Maple Syrup and love the depth of flavor and sweetness it adds to the butter. I just might have to keep some in my fridge all year long because it goes great on everything!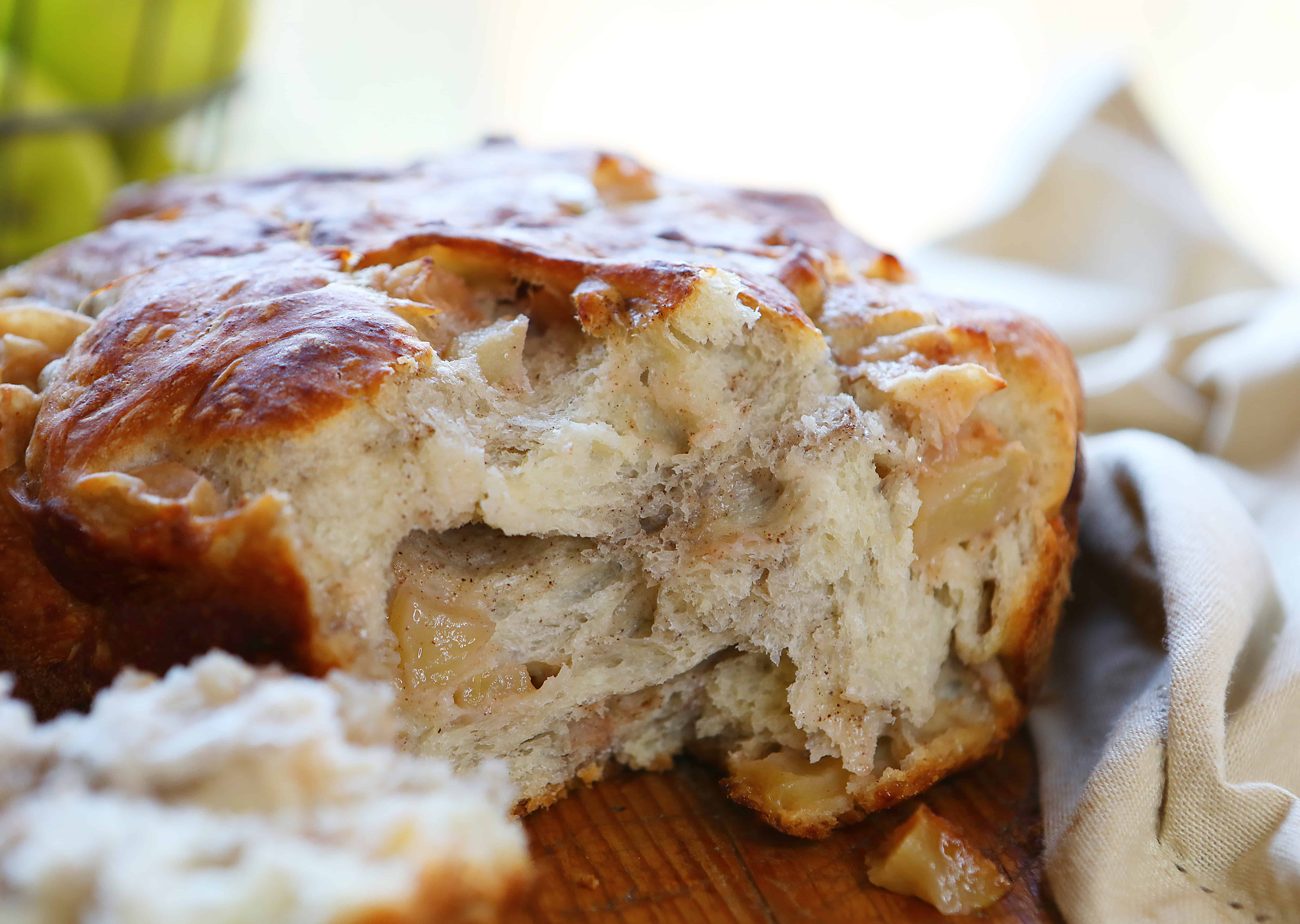 Tips for Apple Bread
You may have noticed that this recipe adds cool water to yeast. This is important to talk about because what kind of yeast absolutely matters! To make the addition of cool water work, we need to be using an Instant Yeast. Cool water can hurt Active Dry Yeast, as ADY cells require warm water to reconstitute their walls. As such Active Dry Yeast should not be used in this recipe.
I added apples before the second proofing because of the moisture that apples release. (They could hurt the first proofing.) If you are using dried apples you could add them to the first proofing dough. (I would make sure that you are using seasoned dried apples, ones with cinnamon baked on.) I will mention it again because it's important, but I prefer a larger dice of apple, like at least 1-inch cubes. I have gone as big as 2-inch pieces and while delicious, it did not look as appealing and took away from the gorgeous bread.
What is a French Oven?
I got the beautiful Crofton Cast Iron French Oven (4.6-quart size) you see in the picture at ALDI. Based on a need for a lighter and easier to care for Dutch Oven, companies took the basic concept of a Dutch Oven and added the enameled coating. These were then referred to as 'French Ovens' to try to distinguish them from Dutch Ovens. French Ovens are just as popular as Dutch Ovens (it's probably what you have!), but the term French Oven itself never really stuck. So what is a Dutch Oven then? A Dutch Oven is typically made of all cast iron, has a tight-fitting lid, and can be used in the oven, on the stove top, or over an open flame. They are often seasoned inside (like how your cast iron skillet is seasoned) and if so, aren't ideal for baking sweetbreads after they have been used for savory cooking.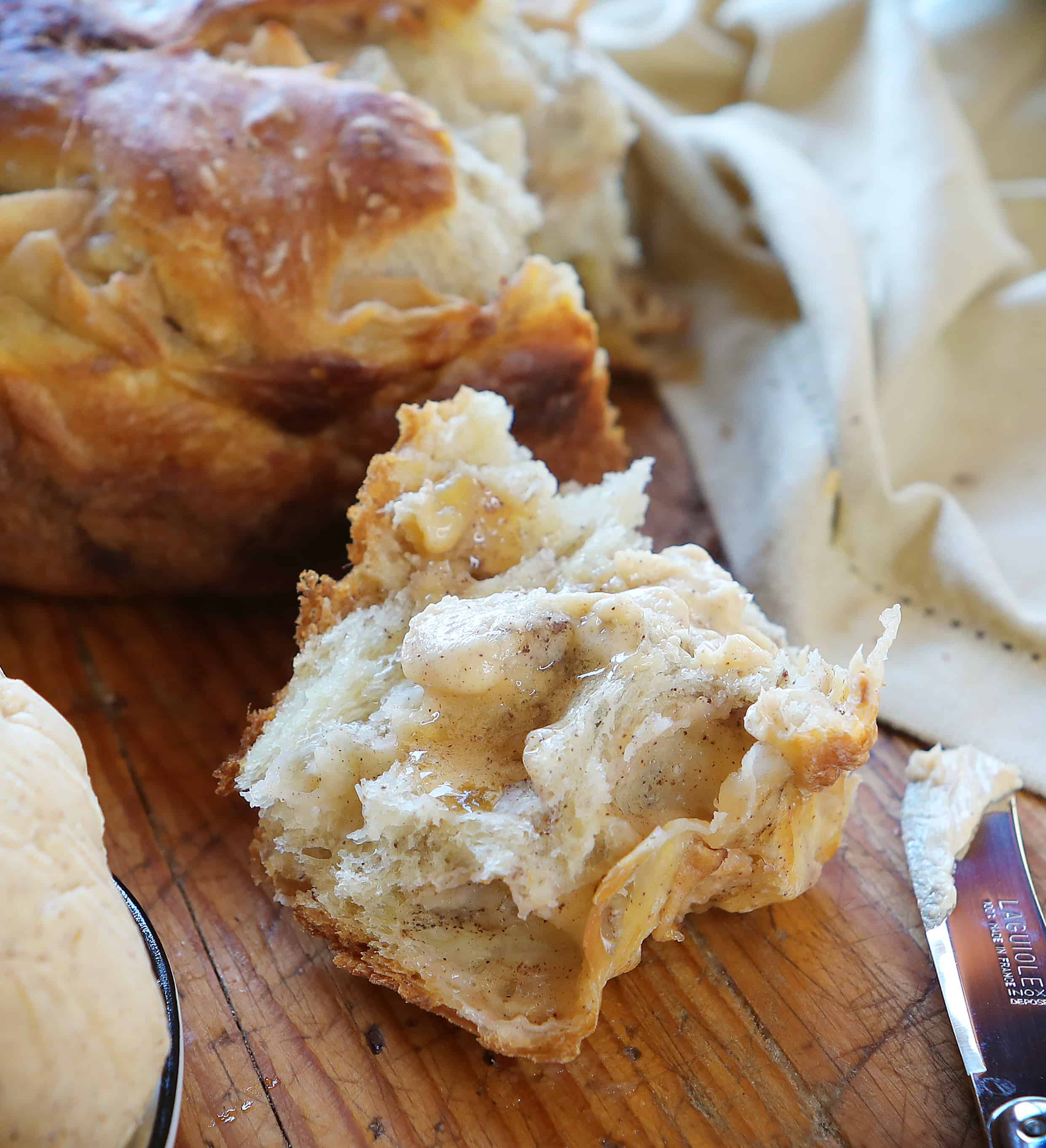 If you want to make a crispy, crusty, gorgeous loaf of Artisan Apple Bread at home, the French Oven is the way to go. It is the perfect vessel for making artisan-style loaves. The steam that's created inside the pot miraculously transforms the dough, ensuring the bread's crust will break into perfect portions and that the inside will be (Remember, try tearing off a piece before slicing it!)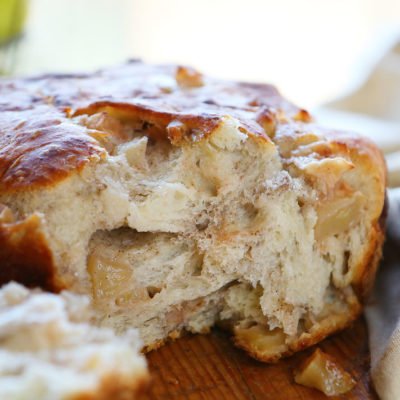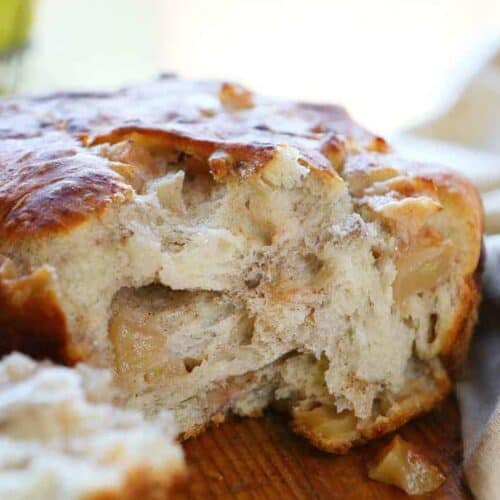 Apple Bread
This Artisan Apple Bread is a family favorite. Perfectly baked every time (it really is easy!) but tastes just like it was baked at a world-class French bakery. Have no fear, Artisan Bread is a fantastic way to show off your baking skills!
Ingredients
Apple Bread Dough (DO THIS THE NIGHT BEFORE)
4

cups

(512g) All-Purpose Flour

1

teaspoon

salt

1/2

teaspoon

Instant yeast

1 3/4

cups

cool water
Chopped Apples (START THIS AFTER BREAD HAS PROOFED 8 HOURS)
2 to 2 1/2

cups

Granny Smith apple,

peeled and chopped

2

tablespoons

Granulated Sugar

1

teaspoon

ground cinnamon
Maple Butter
1

cup

(2 sticks, 226g) unsalted butter

1/4

cup

(32g) Brown Sugar

1/4

cup

(85g) Pure Maple Syrup

1

teaspoon

ground cinnamon
Instructions
Apple Bread Dough (DO THIS THE NIGHT BEFORE)
In a large bowl that is not metal, mix the flour, salt, yeast, and water. Stir, and then use your hands or a dough whisk to mix and form a sticky dough.

You will want to work the dough just enough to incorporate all the flour.

Cover the bowl with plastic wrap, and let it rest at room temperature for 8 hours or overnight. It'll become bubbly and rise quite a bit.
AFTER DOUGH HAS PROOFED 8 HOURS
Prepare your apples. Peel and dice 2-3 apples so that you have 2 1/2 cups of apple pieces. Place pieces in a medium bowl and add the granulated sugar and cinnamon. Stir and make sure each piece is coated.

Pour the apple pieces into the bowl with the bread dough and using your hand, knead the apple pieces into the dough. Some pieces will not incorporate and that's ok.

Pour the apple dough into the 5qt French Oven that has been lightly greased.

Place the lid on the French Oven and let the dough rise at room temperature for about 2 hours, until it's puffy. It should rise noticeably, but not as big as the first rise.
When You are Ready to Bake
With the lid on the 5qt French Oven, place the bread in a COLD oven. Now set the oven temperature to 425°F.

Bake the bread for 40 to 45 minutes, then remove the lid and continue to bake for another 10 to 15 minutes, until the top is deeper brown in color.

Carefully remove the bread from the oven, turn it out onto a rack.

When cool enough to touch, tear off a piece, add some Maple Butter, and enjoy!

Store airtight at room temperature for up to a week; freeze for up to 3 months. (Make sure it is completely cool before placing in the freezer.
Maple Butter
In the bowl of stand mixer, mix together the butter, brown sugar, maple syrup, and cinnamon until well blended, about 5 minutes on medium-high speed.

Remove from mixer bowl and drop onto a clean piece of plastic wrap. Wrap the butter tight and chill in the refrigerator for at least 30 minutes.

For storage, cover with plastic wrap or waxed paper and store in the refrigerator for up to 1 week. You can also place in a sealable container or jar for storage.
Video
Notes
I used a 5qt French Oven for this recipe.
Did you make this recipe?
Thank you for making my recipe! You took pictures, right? Well go ahead and post them on Instagram! Be sure to mention me @iambaker and use the hashtag #YouAreBaker.
This recipe is brought to you by ALDI.