Artisan Apple Bread is a family favorite that is easily put together but tastes just like it was baked at a world-class French bakery. And then, I added homemade maple butter to spread on the bread. Try my Apple Fritter Bread for another homemade bread that will be a hit with family and friends.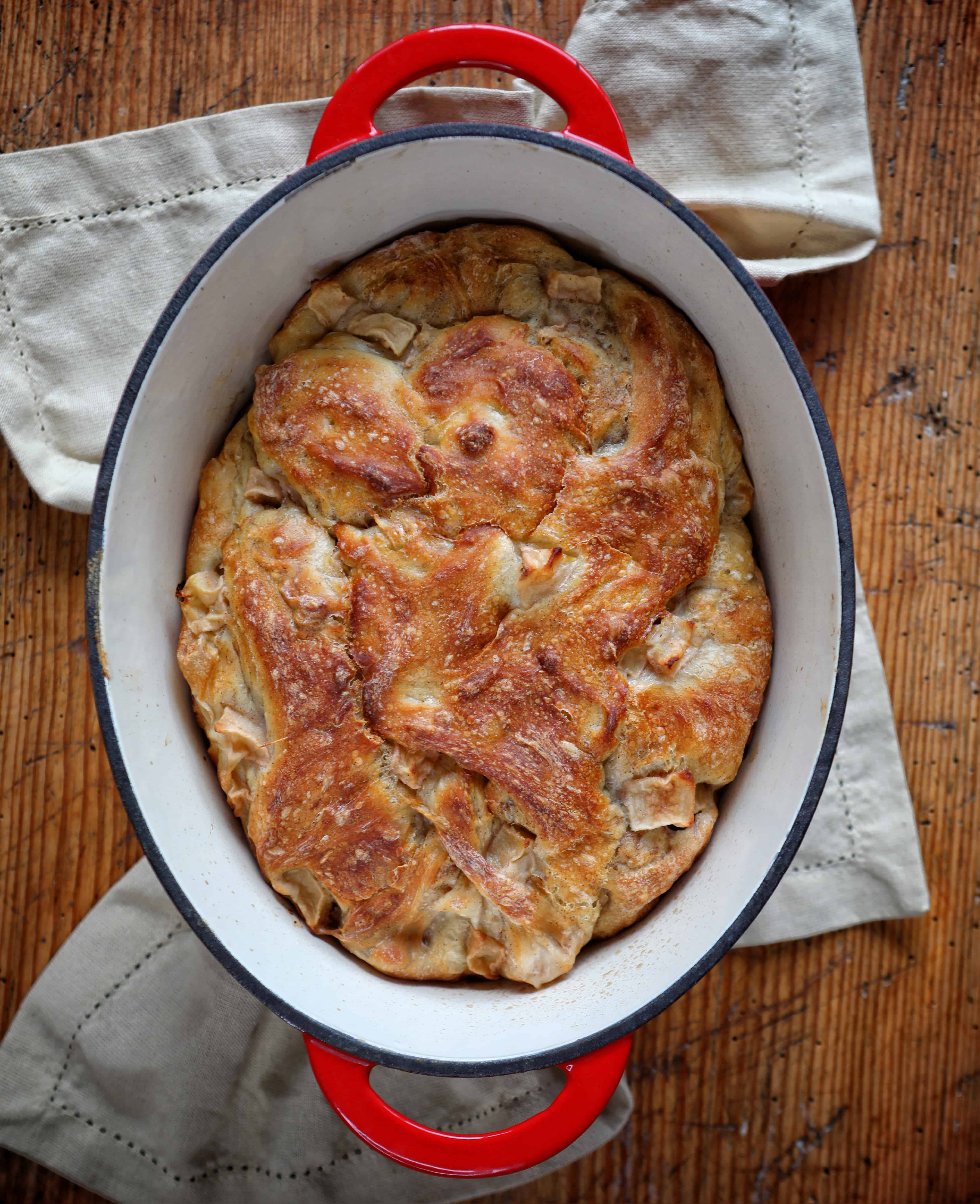 Artisan Apple Bread
Artisan bread is best defined as who is making the bread. An artisan baker is a craftsperson who is trained to the highest level to mix, ferment, form, and bake a hand-crafted loaf of bread. They incorporate the science behind the chemical reactions of the ingredients and use them to create the most optimal environment for the bread to develop. However, it can also be about the science behind the recipe. Artisan bread is all about the ingredients. They typically have flour, yeast, water, and salt. Some add in flavors and herbs like apples or tomatoes. With all artisan bread, it is important that every ingredient be real and familiar. No chemicals.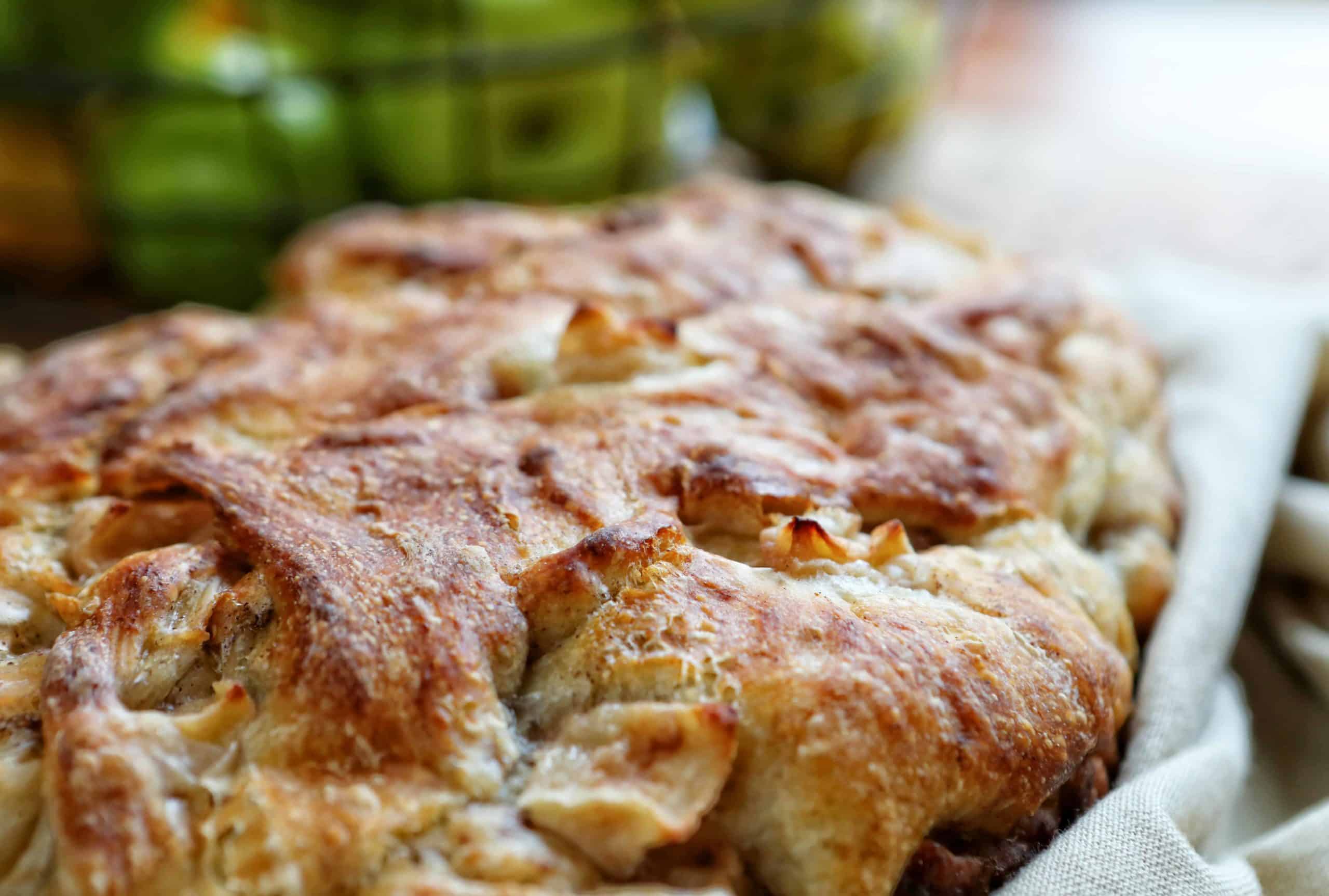 Ingredients
Cool Water: When making the bread dough, you need cool water added to the yeast.
Yeast: For the yeast to work with cool water, it needs to be instant yeast (NOT active dry yeast).
Apples: I love using Granny Smith apples in baked goods like this bread. They hold their shape the best and have a delicious tartness to them. Braeburn or Honeycrisp apples would also be flavorful in this bread.
Maple Syrup: I highly recommend using pure maple syrup for the butter.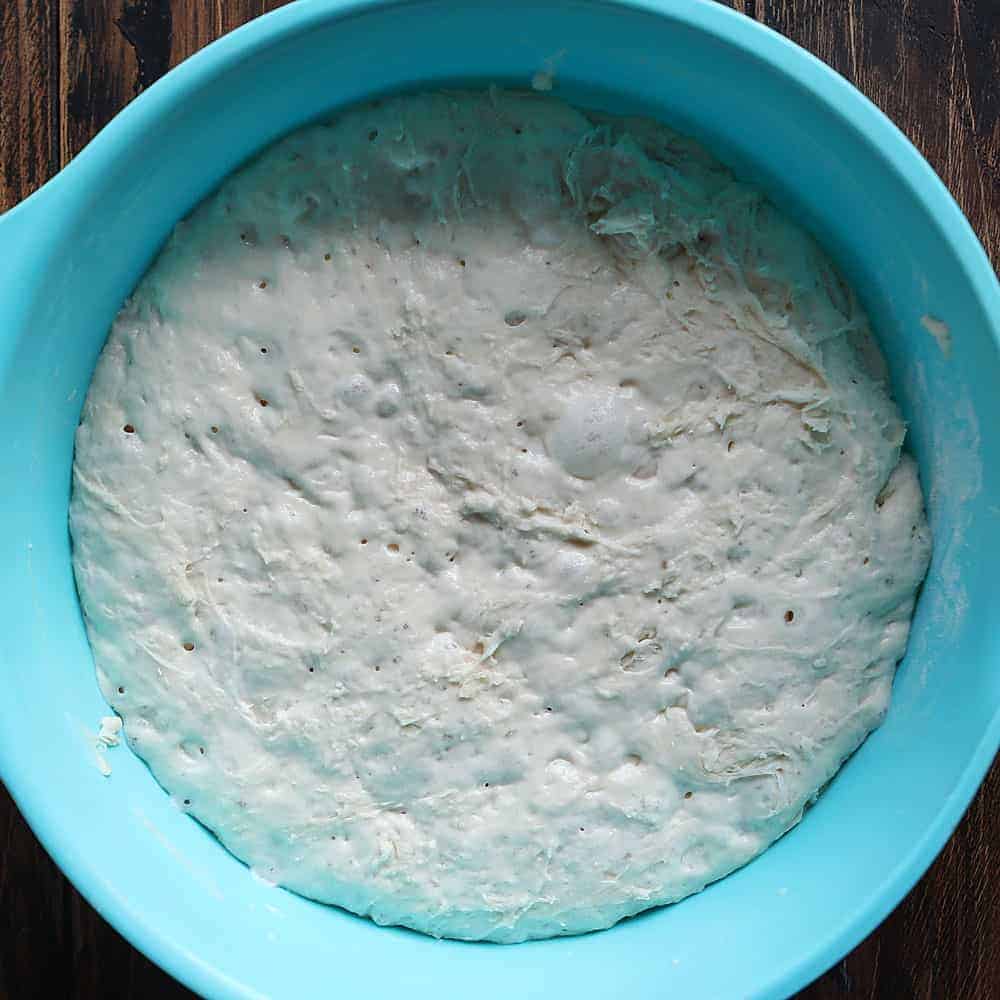 What is a French Oven?
I got the beautiful Crofton Cast Iron French Oven (4.6-quart size) you see in the picture at ALDI. Based on a need for a lighter and easier-to-care-for Dutch Oven, companies took the basic concept of a Dutch Oven and added the enameled coating. These were then referred to as 'French Ovens' to try to distinguish them from Dutch Ovens. French Ovens are just as popular as Dutch Ovens (it's probably what you have!), but the term French Oven itself never really stuck.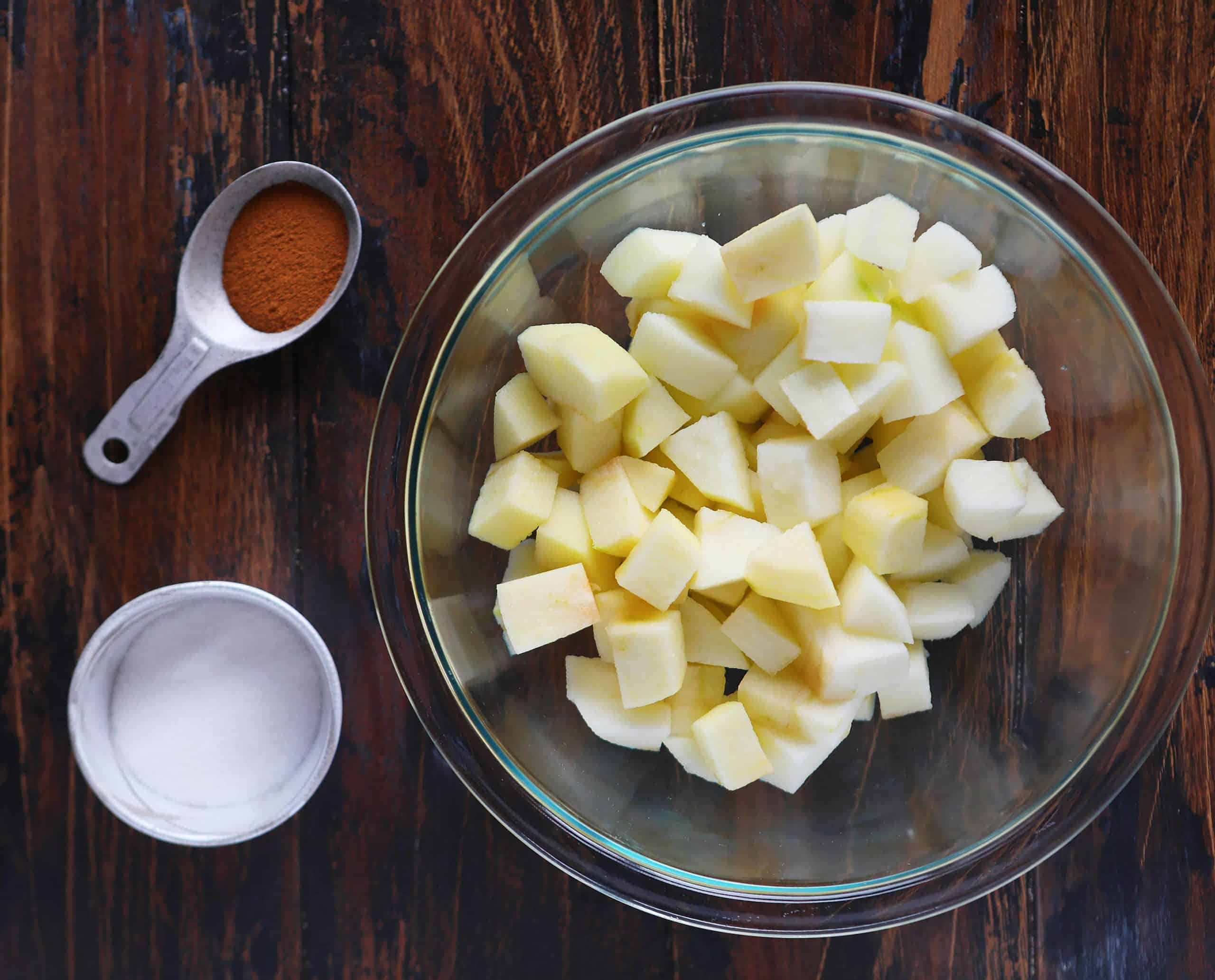 French Ovens vs Dutch Ovens
What is a Dutch oven? A Dutch Oven is typically made of all cast iron, has a tight-fitting lid, and can be used in the oven, on the stovetop, or over an open flame. They are often seasoned inside (like how your cast iron skillet is seasoned) and if so, aren't ideal for baking sweetbreads after they have been used for savory cooking.
If you want to make a crispy, crusty, gorgeous loaf of Artisan Apple Bread at home, the French Oven is the way to go.  It is the perfect vessel for making artisan-style loaves. The steam that's created inside the pot miraculously transforms the dough, ensuring the bread's crust will break into perfect portions.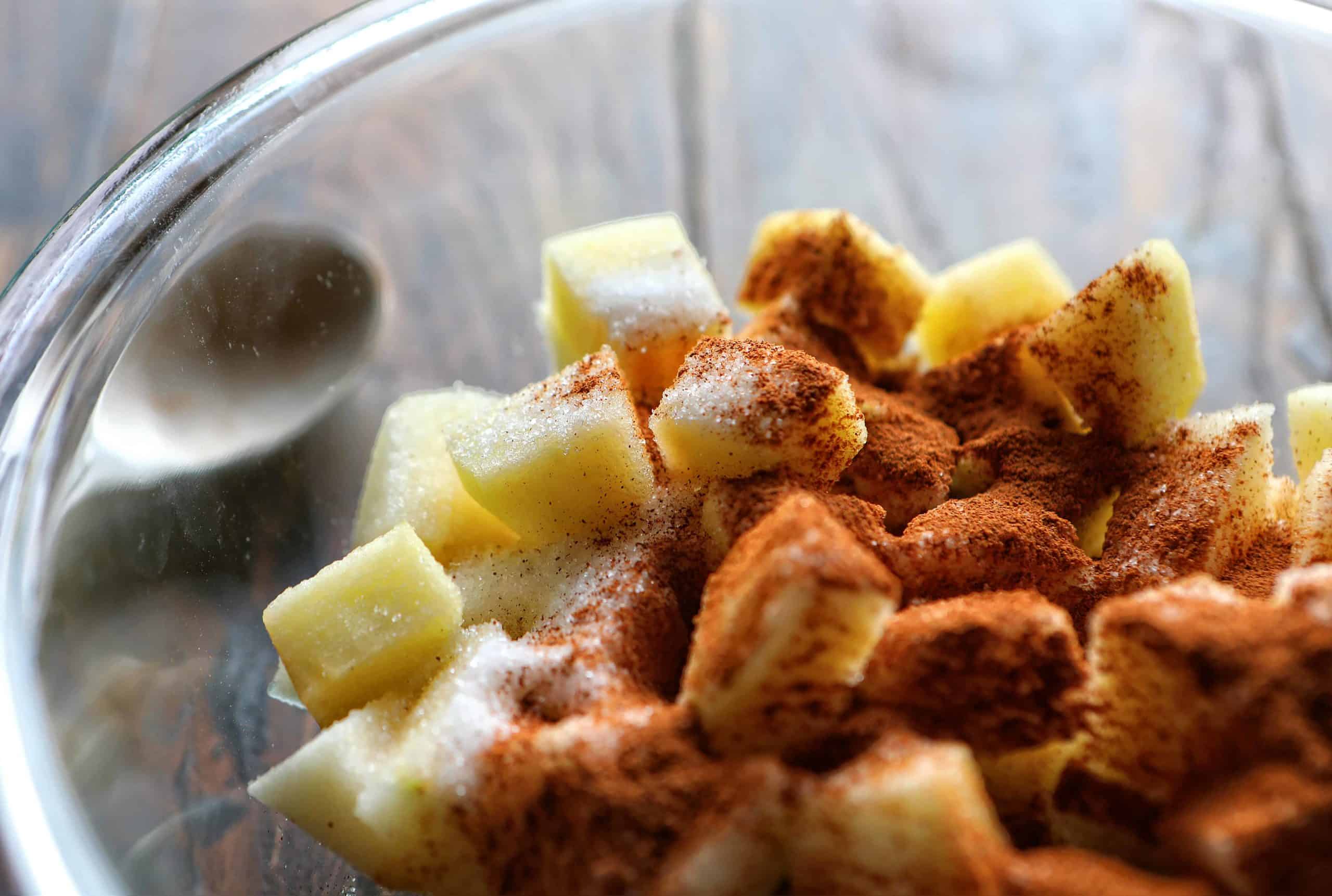 Homemade Maple Butter
Not that this bread needs it, but I decided to make a decadent butter to smear all over this fantastic apple bread. And the recipe could not be easier! You just take some butter, add some, brown sugar, cinnamon, and maple syrup and add it to your stand mixer. Mix together and chill until ready to use.
When I tried this butter on the bread I was blown away by how amazing they tasted together. The secret was the maple syrup. I used 100% Pure Maple Syrup and love the depth of flavor and sweetness it adds to the butter. I just might have to keep some in my fridge all year long because it goes great on everything!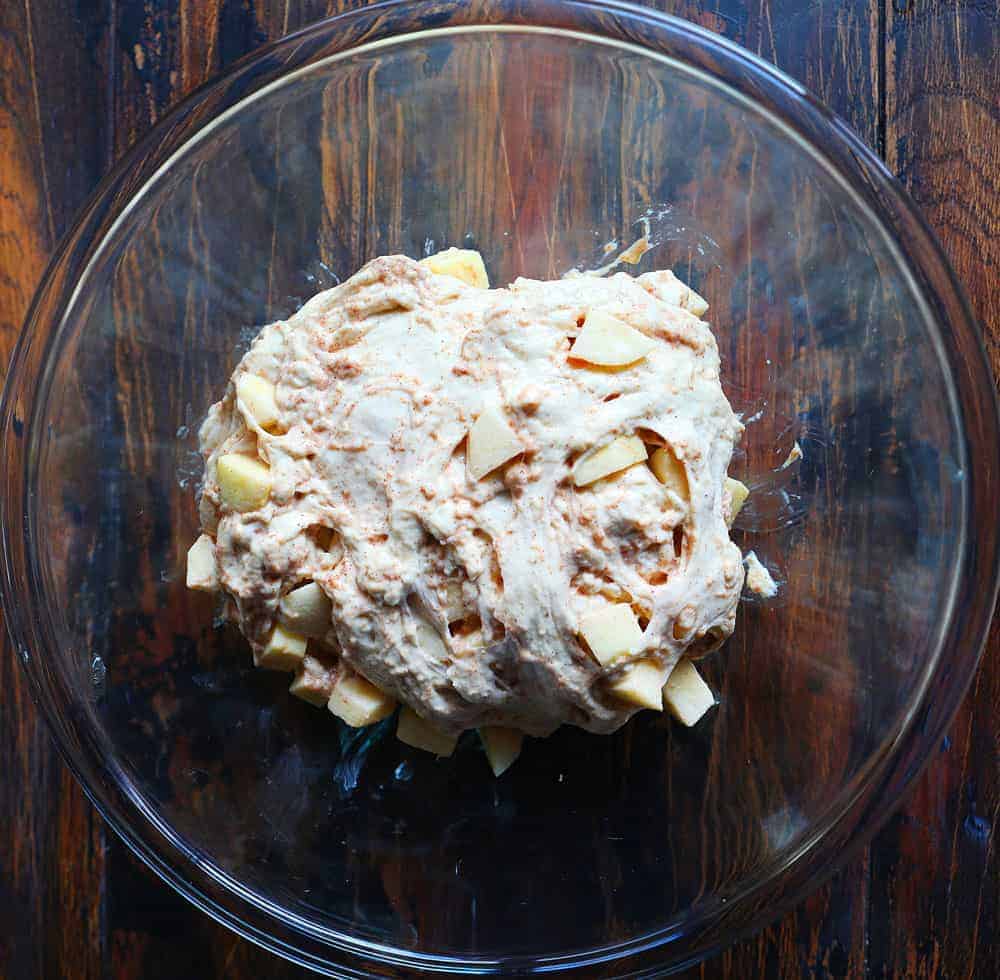 Tips for Apple Bread
Add cool water to the yeast. This is important to talk about because what kind of yeast absolutely matters! To make the addition of cool water work, we need to be using instant yeast. Cool water can hurt active dry yeast, as those cells require warm water to reconstitute their walls.
Add apples before the second proofing because of the moisture that apples release. (They could hurt the first proofing.) If you are using dried apples you could add them to the first proofing dough. (I would make sure that you are using seasoned dried apples, ones with cinnamon baked on.)
I prefer larger dice of apples, like at least 1-inch cubes. I have gone as big as 2-inch pieces and while delicious, they did not look as appealing and took away from the gorgeous bread.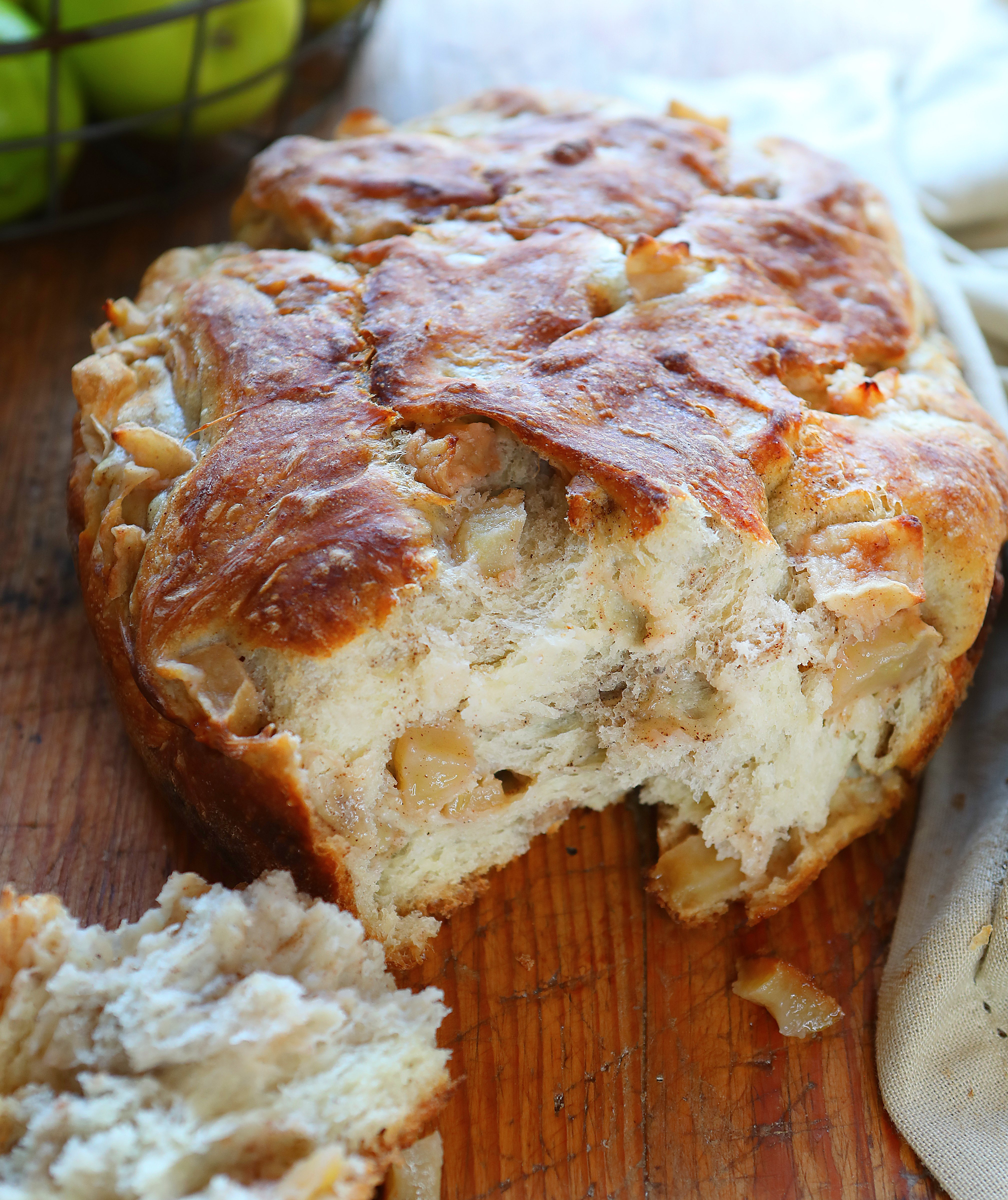 How to Serve Artisan Apple Bread
Instead of cutting this bread into slices, tear off pieces of the bread when serving! Then, smear some maple butter on your piece and enjoy!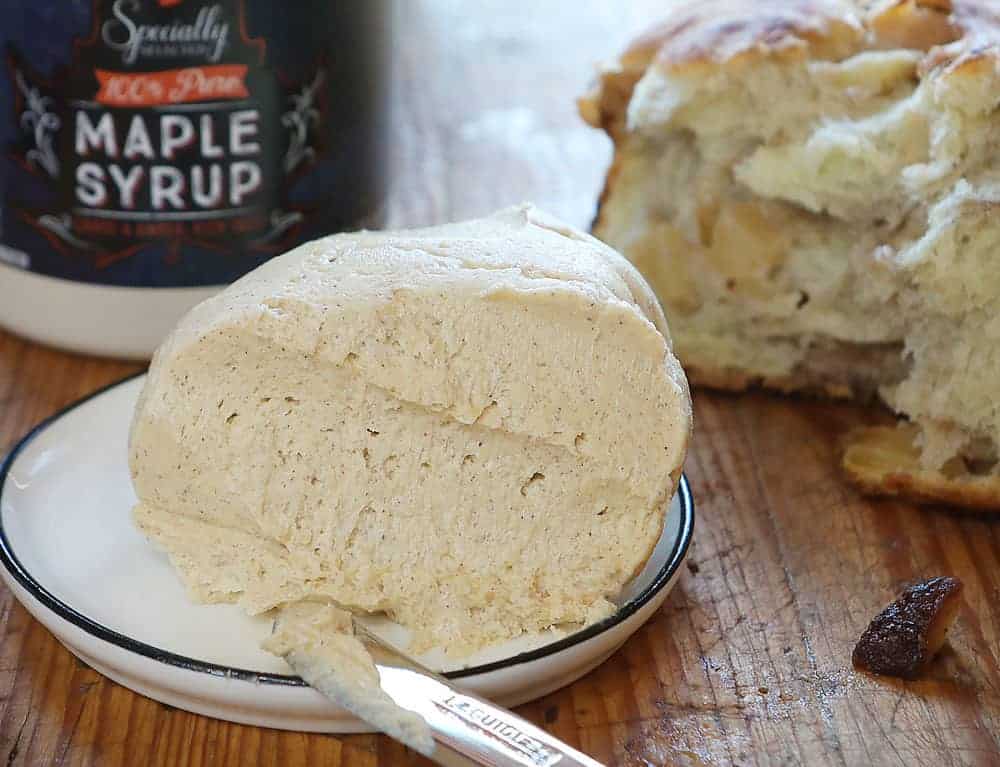 How to Store Artisan Apple Bread
To store this bread, keep it at room temperature. It will last, in an airtight container, for up to a week. The maple butter will last in the refrigerator for about a week as well, wrapped in plastic or in a sealed container. Perfect timing for a perfect match!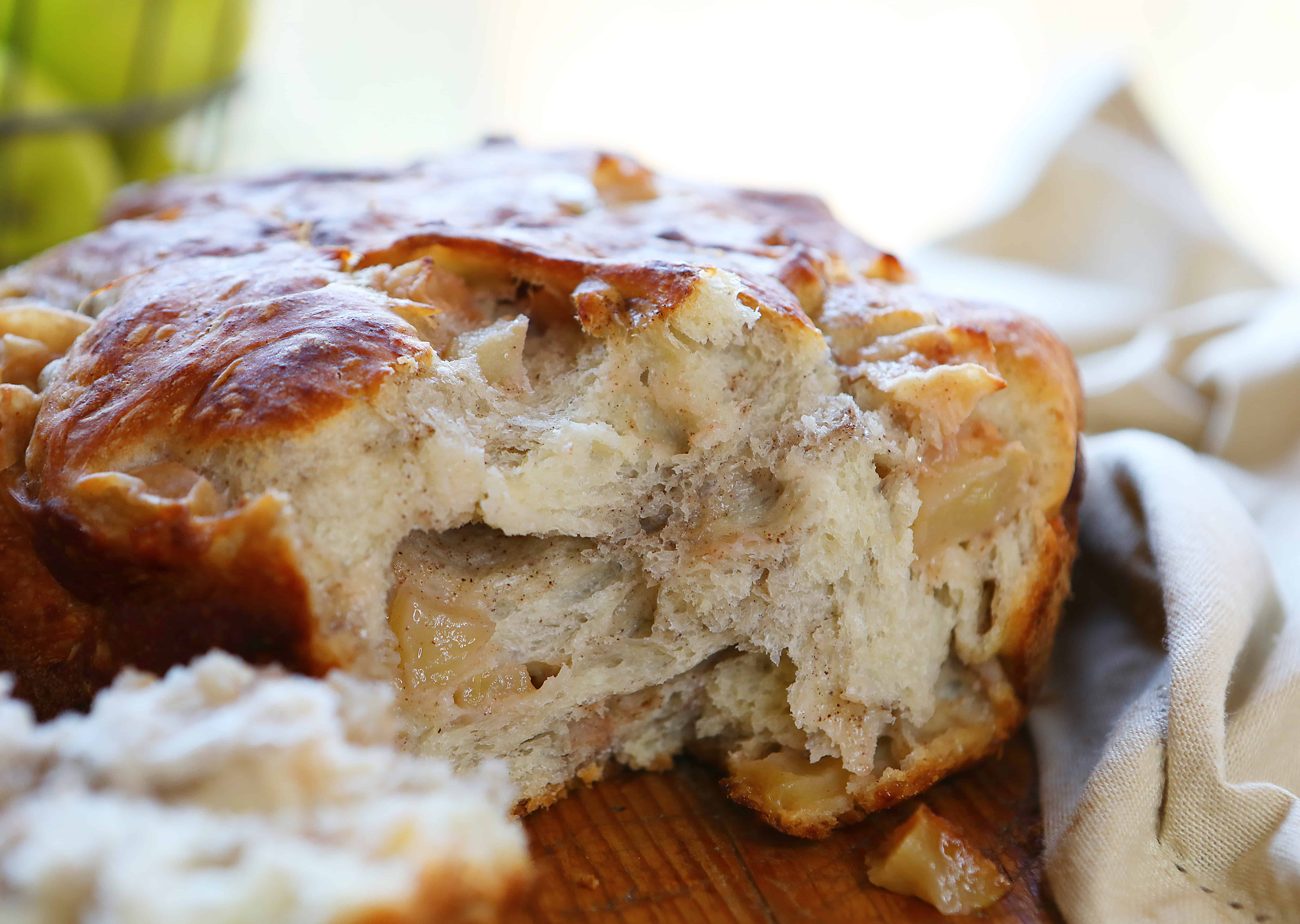 Can I Freeze this Bread?
Sure! If you are not going to enjoy the bread within a week, don't let it go to waste! Freeze the bread instead. It will last in the freezer for up to 3 months. Be sure to label and date the packaging.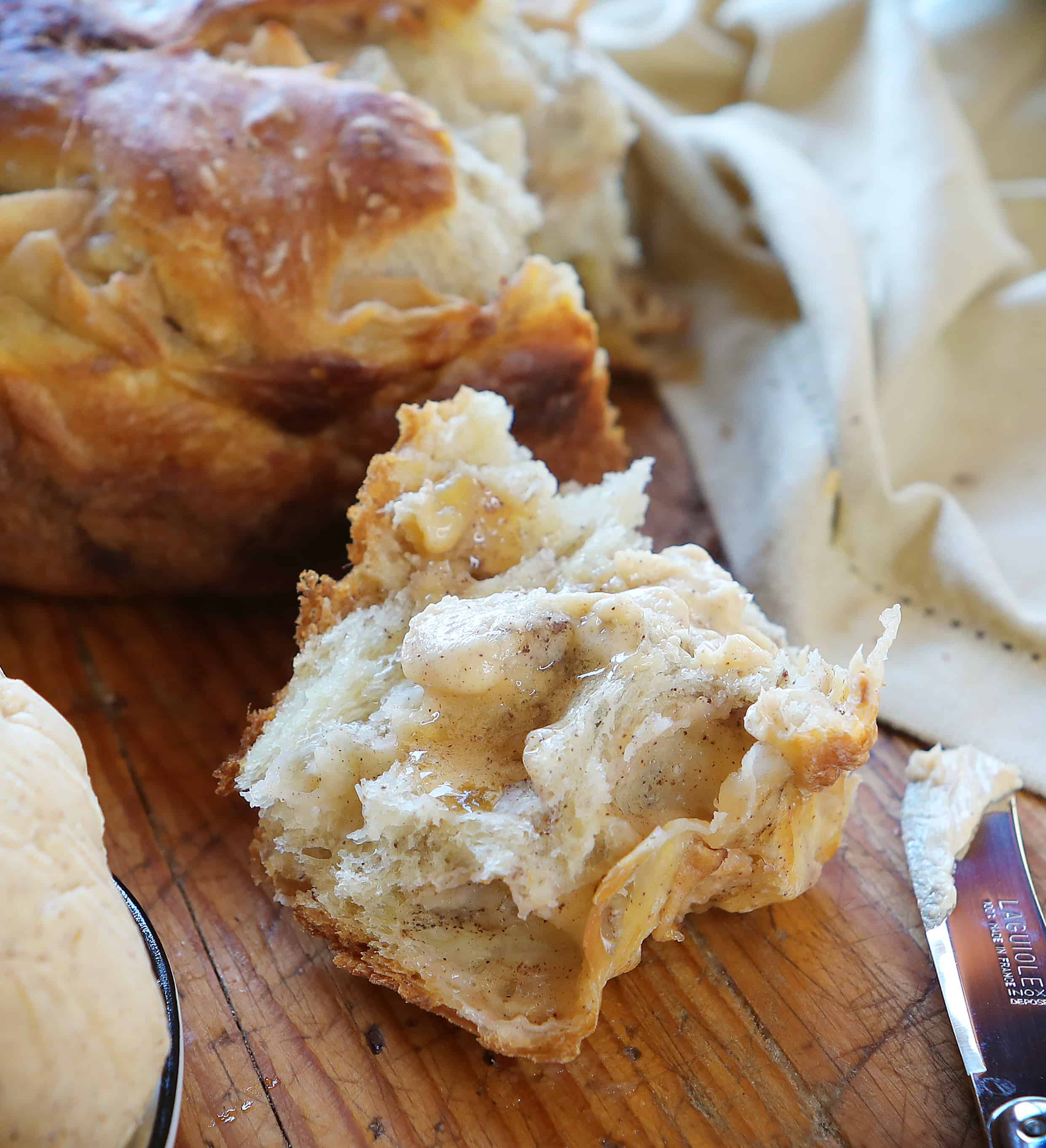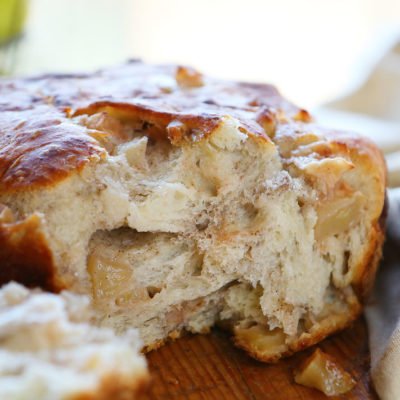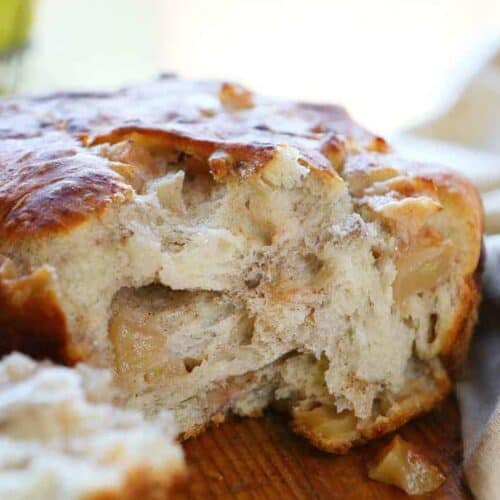 Apple Bread
This Artisan Apple Bread is a family favorite. Perfectly baked every time (it really is easy!) but tastes just like it was baked at a world-class French bakery. Have no fear, Artisan Bread is a fantastic way to show off your baking skills!
Ingredients
Apple Bread Dough (DO THIS THE NIGHT BEFORE)
4

cups

(512 g) all-purpose flour

1

teaspoon

kosher salt

½

teaspoon

instant yeast

1¾

cups

cool water
Chopped Apples (START THIS AFTER BREAD HAS PROOFED 8 HOURS)
2-3

large

Granny Smith apples,

peeled, cored, and chopped (about 2½ cups)

2

tablespoons

granulated sugar

1

teaspoon

ground cinnamon
Maple Butter
1

cup

(2 sticks / 226 g) unsalted butter

¼

cup

(32 g) brown sugar

¼

cup

(85 g) pure maple syrup

1

teaspoon

ground cinnamon
Instructions
Apple Bread Dough (DO THIS THE NIGHT BEFORE)
In a large bowl that is not metal, mix the flour, salt, yeast, and water. Stir, and then use your hands or a dough whisk to mix and form a sticky dough. (You will want to work the dough just enough to incorporate all the flour.)

Cover the bowl with plastic wrap, and let it rest at room temperature for 8 hours, up to overnight. It will become bubbly and rise quite a bit.
After Dough Has Proofed
Prepare your apples. Peel and dice 2-3 apples so that you have 2½ cups of apple pieces. Place pieces in a medium bowl and add the granulated sugar and cinnamon. Stir and make sure each piece is coated.

Pour the apple pieces into the bowl with the bread dough and use your hands to knead the apple pieces into the dough. Some pieces will not incorporate and that's okay.

Pour the apple dough into the 5-quart French Oven that has been lightly greased.

Place the lid on the French Oven and let the dough rise at room temperature for about 2 hours, or until it's puffy. It should rise noticeably, but not as much as the first rise.
When You are Ready to Bake
With the lid on the French Oven, place the bread in a COLD oven. Now set the oven temperature to 425°F.

Bake the bread for 40 to 45 minutes. Then remove the lid and continue to bake for another 10 to 15 minutes, or until the top is deeper brown in color.

Carefully remove the bread from the oven. Turn it out onto a rack to cool.
Maple Butter
In the bowl of stand mixer, mix together the butter, brown sugar, maple syrup, and cinnamon until well blended, about 5 minutes on medium-high speed.

Remove from mixer bowl and drop onto a clean piece of plastic wrap. Wrap the butter tight and chill in the refrigerator for at least 30 minutes.

Spread the chilled butter on a piece of bread. Enjoy!
Notes
I used a 5qt French Oven for this recipe.
Did you make this recipe?
Thank you for making my recipe! You took pictures, right? Well go ahead and post them on Instagram! Be sure to mention me @iambaker and use the hashtag #YouAreBaker.
This recipe is brought to you by ALDI.