This cheesecake is a fabulous combination of cinnamon, sugar, and creamy cheesecake all in one beautiful pie! (Be sure you read until the end, as I am going to share a really fun twist on this recipe!) If you love the Apple Crisp Cheesecake as much as I do, be sure to also try my award-winning Apple Crisp and Cheesecake Recipe!
What is Apple Crisp Cheesecake?
Simply put it is a cheesecake with a pie crust on the bottom, creamy cheesecake filling on top, and apple crisp crumble sprinkled over. It is a mash-up of some of our favorite treats!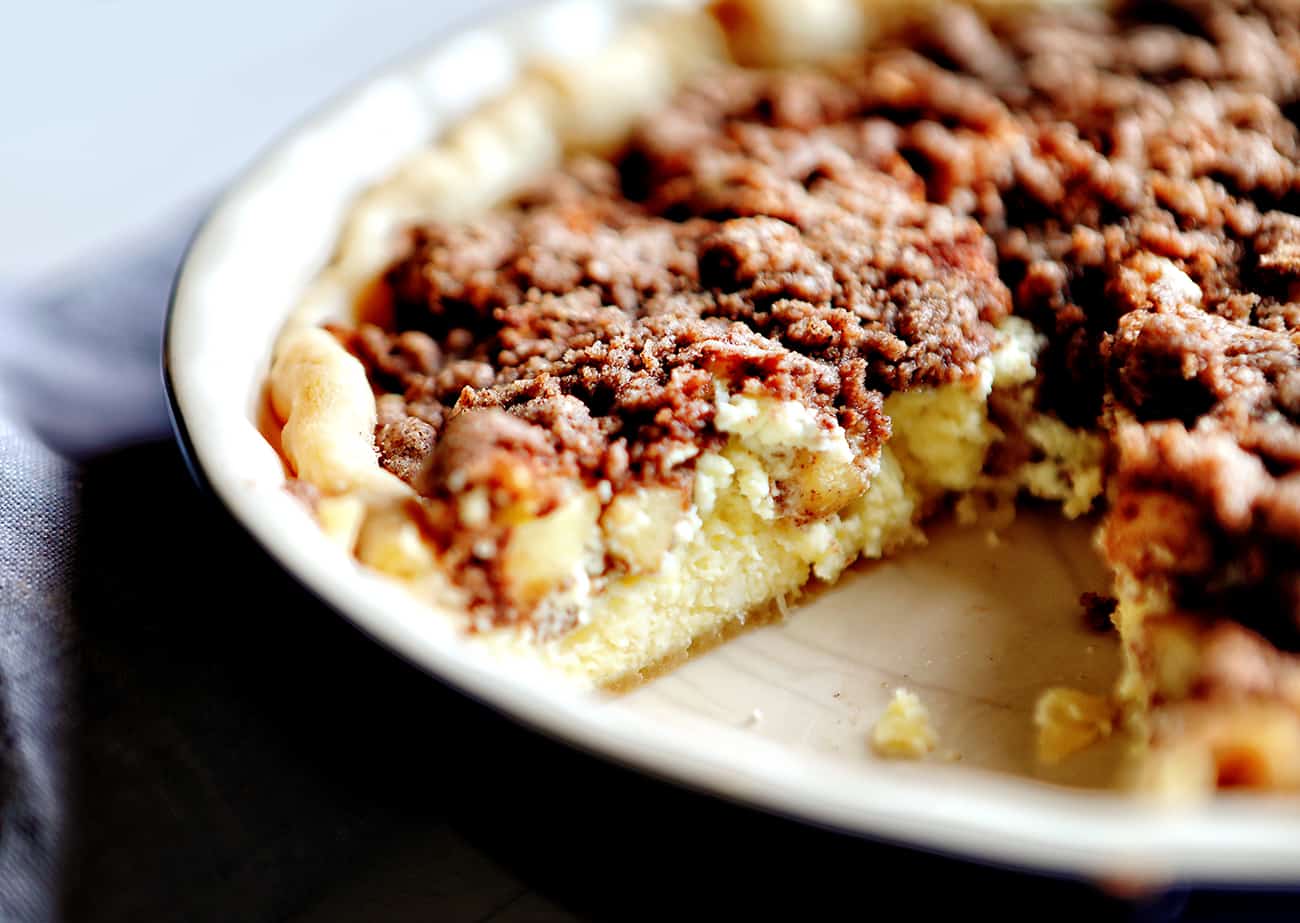 Apple Crisp Cheesecake
The first time I made this apple crisp cheesecake was on a cold Minnesota Sunday afternoon. I was cleaning out my pantry and realized I had 4 bottles of McCormick Pure Vanilla Extract and decided that I should bake something to use up some of that glorious vanilla. A cheesecake came to mind, and then I glanced over to my table and saw a bowl of apples. The last time I had used them was for my favorite Apple Crisp and that is how this Apple Crisp Cheesecake was born!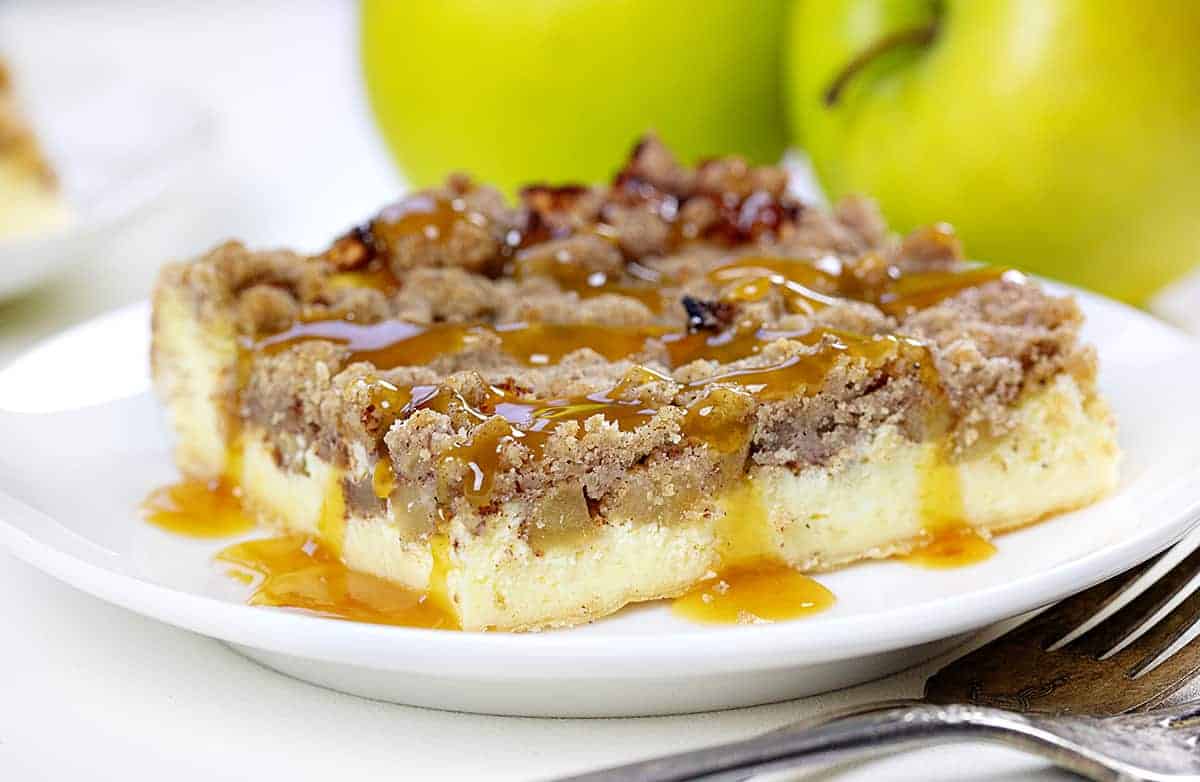 Best Apples to Use in an Apple Crisp Cheesecake
It is important to use tart apples in order to get that tang that contrasts well with the buttery topping in an apple crisp. Honeycrisp (they are crisp and juicy with a honey-sweet and tart flavor) or Granny Smith (they are crisp and very sour) are my top two favorites. The Honeycrisp was developed right here in Minnesota. #proudMinnesotan Either of those apples is ideal, but you could also do a combination of the two. Some folks in my extended family love to do a combination of a sweet apple (like Golden Delicious) and a tart apple. When we sampled this version we did enjoy it but found that the leftovers did not reheat as nicely as the version with all tart apples. (They were mushier than we liked.)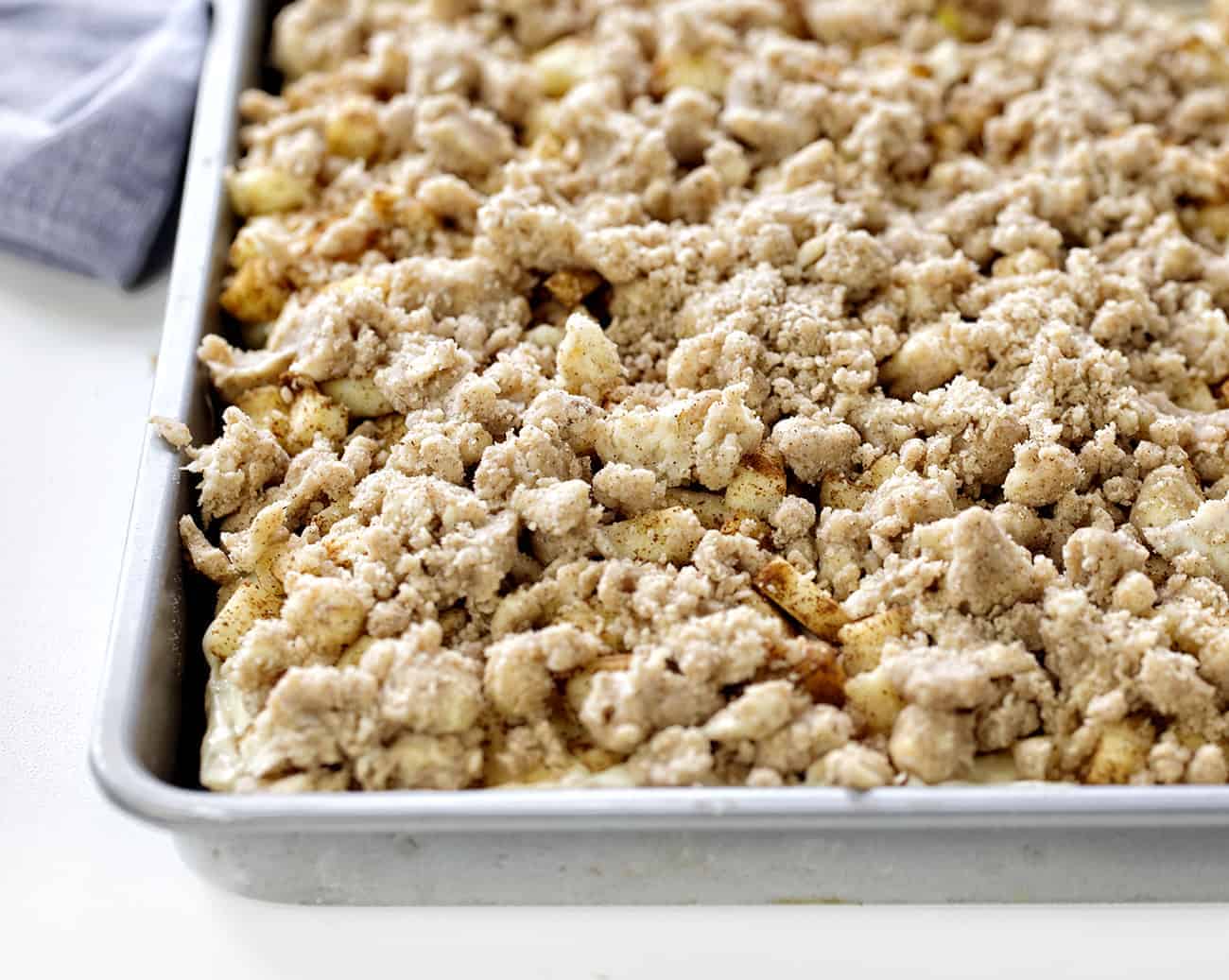 Brown Sugar Apple Crisp
Most recipes call for all granulated sugar or 1/2 granulated and 1/2 brown. While these recipes are sweet, they lack the depth of flavor that all brown sugar adds. And after you try this apple crisp, you will definitely understand what I mean! I used light brown sugar, but you can definitely use dark brown sugar as well. If you don't happen to have any brown sugar on hand, you can always make your own!
Homemade Brown Sugar
For light brown sugar add 1-2 tablespoons of molasses to 1 cup of granulated sugar. For dark brown sugar add 3-4 tablespoons to 1 cup of granulated sugar. I like to mix up a big batch in my food processor but you can also mix by hand if you prefer.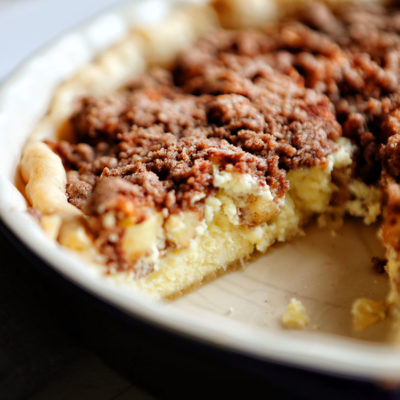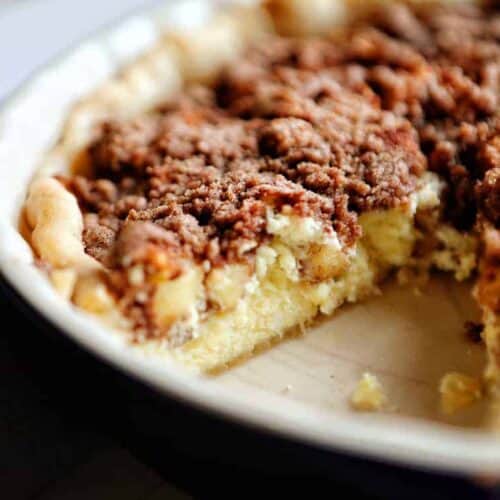 Apple Crisp Cheesecake
When you want a creamy cheesecake paired with a buttery rich apple crisp crumb! This dessert is a new family favorite!
Ingredients
Apple Mixture
2

Granny Smith apples,

peeled and diced into small cubes

2

teaspoons

McCormick Cinnamon, ground

2

teaspoons

all-purpose flour
Cheesecake Filling
2

(8 oz) packages of cream cheese

2

teaspoons

McCormick Pure Vanilla Extract

2

large eggs,

room temperature

1/2

cup

(100g) granulated sugar
Crumb Topping
1/2

cup

all purpose flour

1

teaspoon

McCormick Apple Pie Spice

1/2

cup

(1 stick or 113g) cold butter

2

teaspoons

brown sugar

1

prepared pie crust
Instructions
Place your prepared pie crust into a 7-inch pie pan. Place in oven for 10 minutes. Remove to cooling rack.
Apple Mixture
Peel and dice apple into small 1/4" cubes.

Add apple to a medium bowl an toss with cinnamon and flour. Set aside.
Cream Cheese Filling
In another bowl, beat together cream cheese, vanilla, eggs, and sugar. Set aside.
Crumb Topping
In a third bowl, combine flour, apple pie spice, cold butter and brown sugar. Combine until all ingredients are incorporated and butter chunks are roughly the size of a pea.
Pie
Once the pie crust has cooled, add the cream cheese mixture in an even layer. Place apple mixture on top. Finish with a final layer of crumb coating.
Video
Notes
To make this into a slab pie:
You will need 3 total pie crusts.
Place a pie crust on a lightly floured surface. Place another pie crust directly on top of that. Roll out the pie crusts until you have a large rectangle, one that fits a 10x15 sheet pan. Trim off any excess crust and repair any tears if needed. Use the remaining pie crust to create a dam in the center of the sheet pan. This will divide the pumpkin cheesecake and apple crisp cheesecake. Make sure the pie crust dough is pressed firmly into the pan and that no filling can leak through.
Bake for 10 minutes at 350°F. Remove from oven and set aside until slightly cooled.
Prepare the Apple Crisp Cheesecake. Pour into half of the pan.
Prepare the Pumpkin Cheesecake. (Click for Recipe) Pour into the other half of pan. 
Bake for 40-50 minutes.
Did you make this recipe?
Thank you for making my recipe! You took pictures, right? Well go ahead and post them on Instagram! Be sure to mention me @iambaker and use the hashtag #YouAreBaker.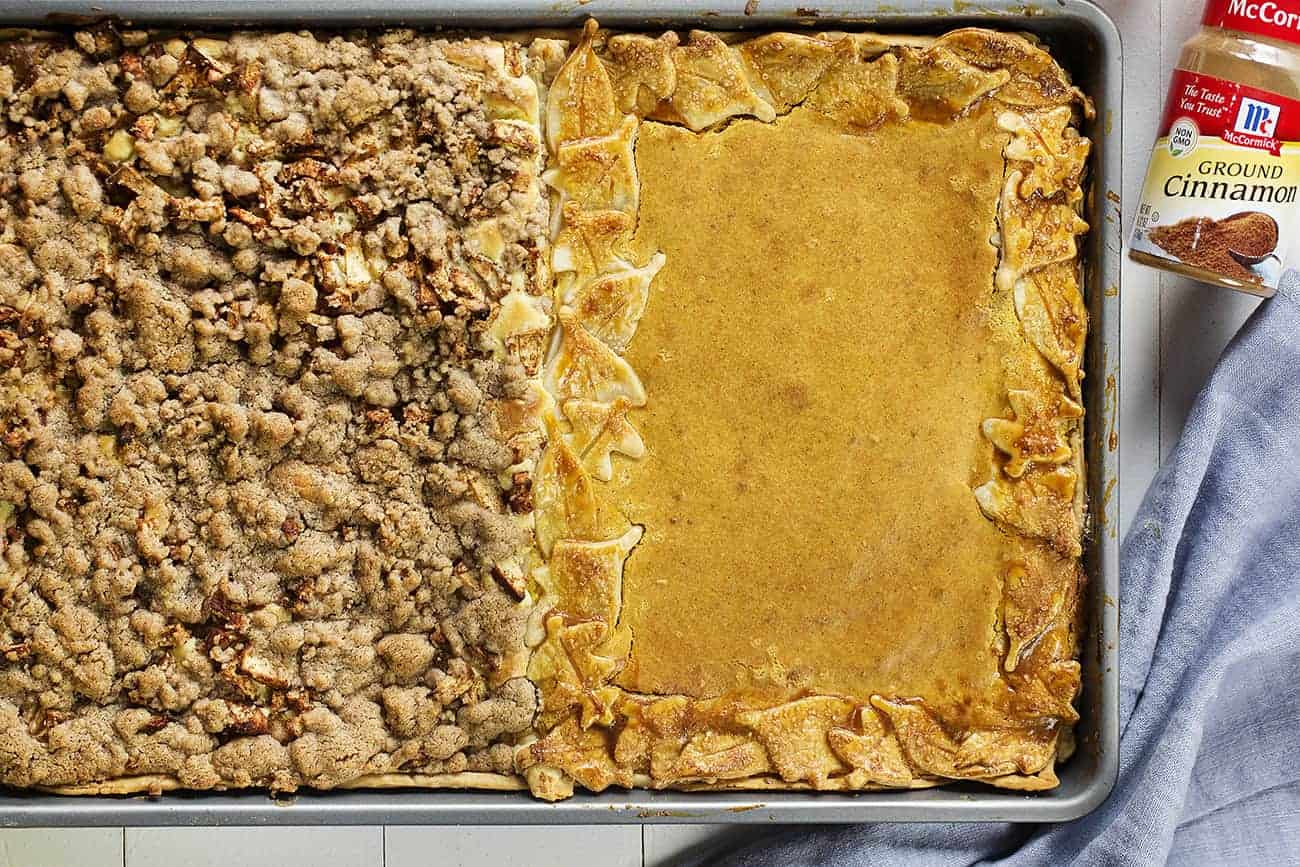 Ready for the fun twist I was telling you about? Remember how I had all that extra vanilla and was in the mood to bake? Well, I made this Apple Crisp Cheesecake as a slab pie AND added Pumpkin Cheesecake to the other side of the pan!
Why on earth would I attempt such a fabulous, wonderful, crowd-pleasing recipe? I wanted to show you just how versatile one ingredient can be. McCormick Pure Vanilla extract is the common ingredient in both recipes and while both recipes are perfection on their own they just happen to be even more magical when baked together in one pan!
To make an Apple Crisp Cheesecake and Pumpkin Cheesecake Slab Pie, just see the notes in the recipe. 🙂