This gravy is quite simple to do in that it is made the same way you make traditional turkey gravy. One extra step is added when making the turkey that sets this amazing gravy recipe apart!
I will show you in detail how to make a Bacon Turkey here, and just in case you like gravy over Skins-On Mashed Potatoes, I've got that recipe for you too!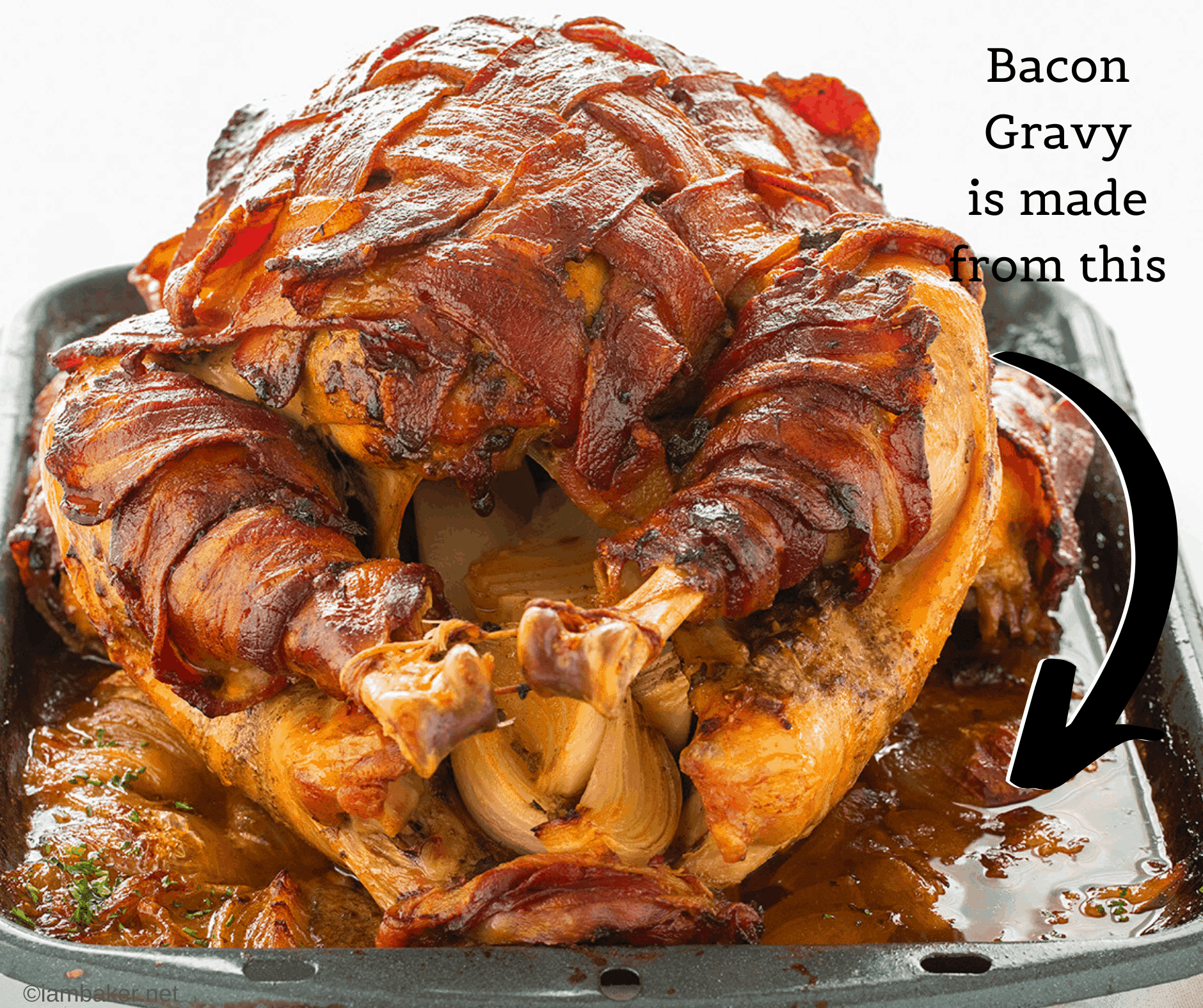 What is Bacon Turkey Gravy?
Simply put it is preparing a turkey with a bacon lattice over top and then roasting the turkey as you normally would. (Full recipe here) What happens while that turkey is roasting is a magical thing. Not only do all the beautiful turkey juices find their way to the bottom of the pan, but the bacon juices do too! The combination of bacon fat + turkey fat is one of the most amazing things that has ever happened to gravy. One friend tried this recipe at a Friendsgiving and proclaimed that it was the only way she would ever make turkey again!
How to Make Bacon Turkey Gravy
Once you have made the turkey with the bacon lattice on top, preparing the actual gravy is quite easy. You will use the juices from the pan in the same way you would prepare the traditional gravy.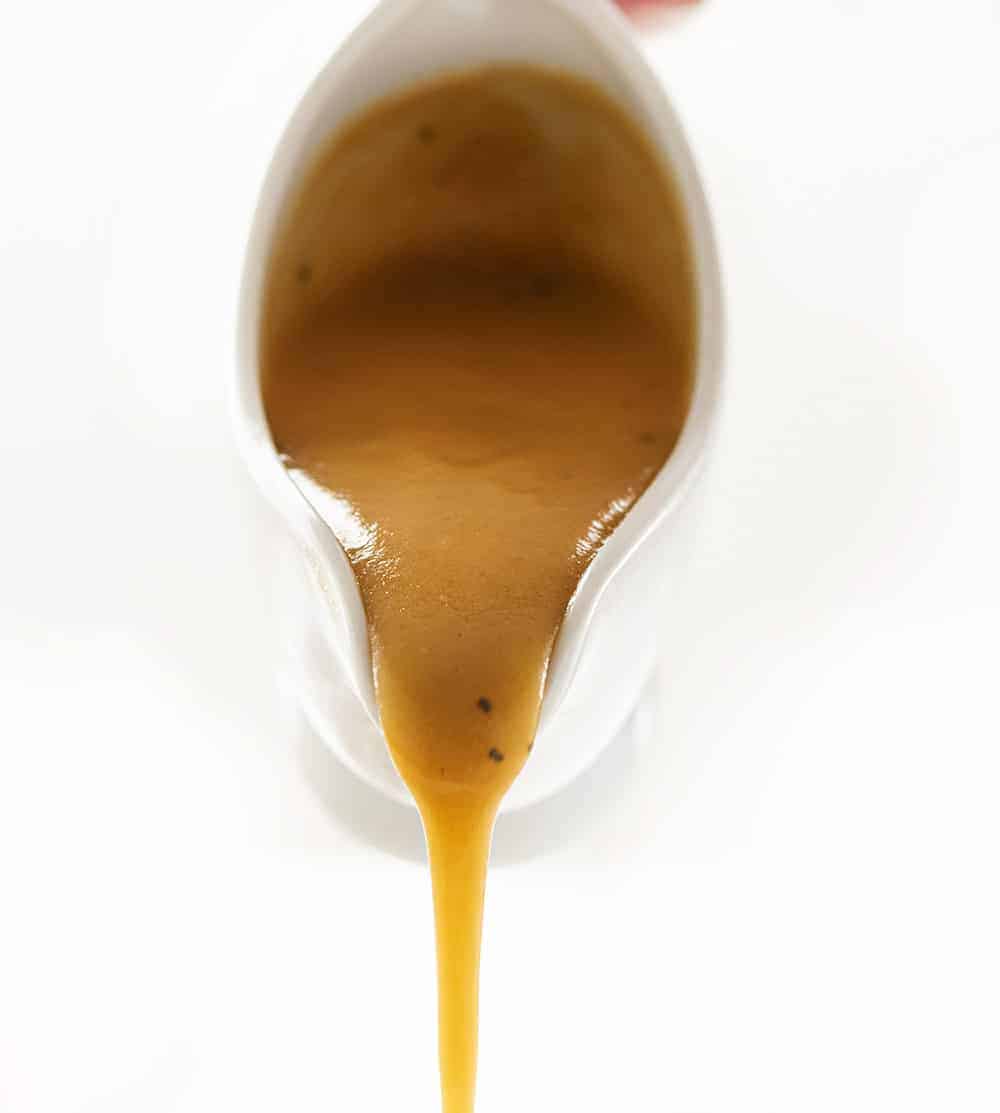 To Make the Gravy
While the turkey is resting, remove the juices from the bottom of the pan and set aside.
In a saucepan over medium heat, add the butter and melt.
To the butter add the flour and whisk well, creating a roux, or paste.
Gradually pour the bacon turkey drippings into the roux and whisk vigorously. Add in the salt and pepper, whisk again, and then simmer over medium-low to medium heat until the gravy is thickened.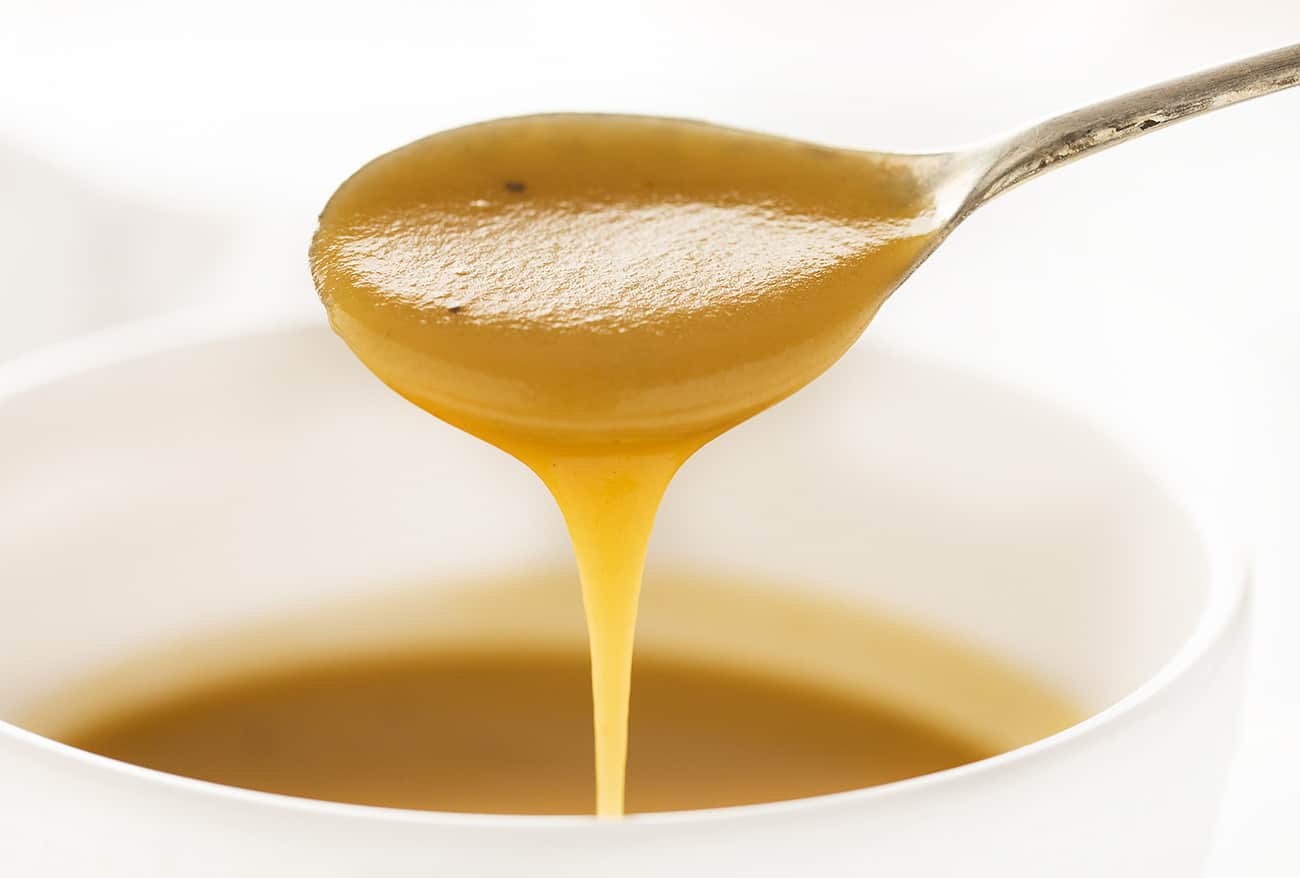 Quick Method for Bacon Turkey Gravy
➡️ One way to get this amazing flavor is to use bacon fat to baste the turkey!
We often save bacon fat after baking (I bake my bacon on a sheet pan lined with foil and when it is done remove the bacon and pour the drippings into a mason jar. Seal and store until ready to use!) so this is an easy option for us. If you want to baste your turkey with bacon fat you can prepare 1-2 pounds of bacon beforehand and just save the fat. Store until you are ready to make the turkey, then baste with the bacon fat every 30 minutes until the turkey is done. Easy!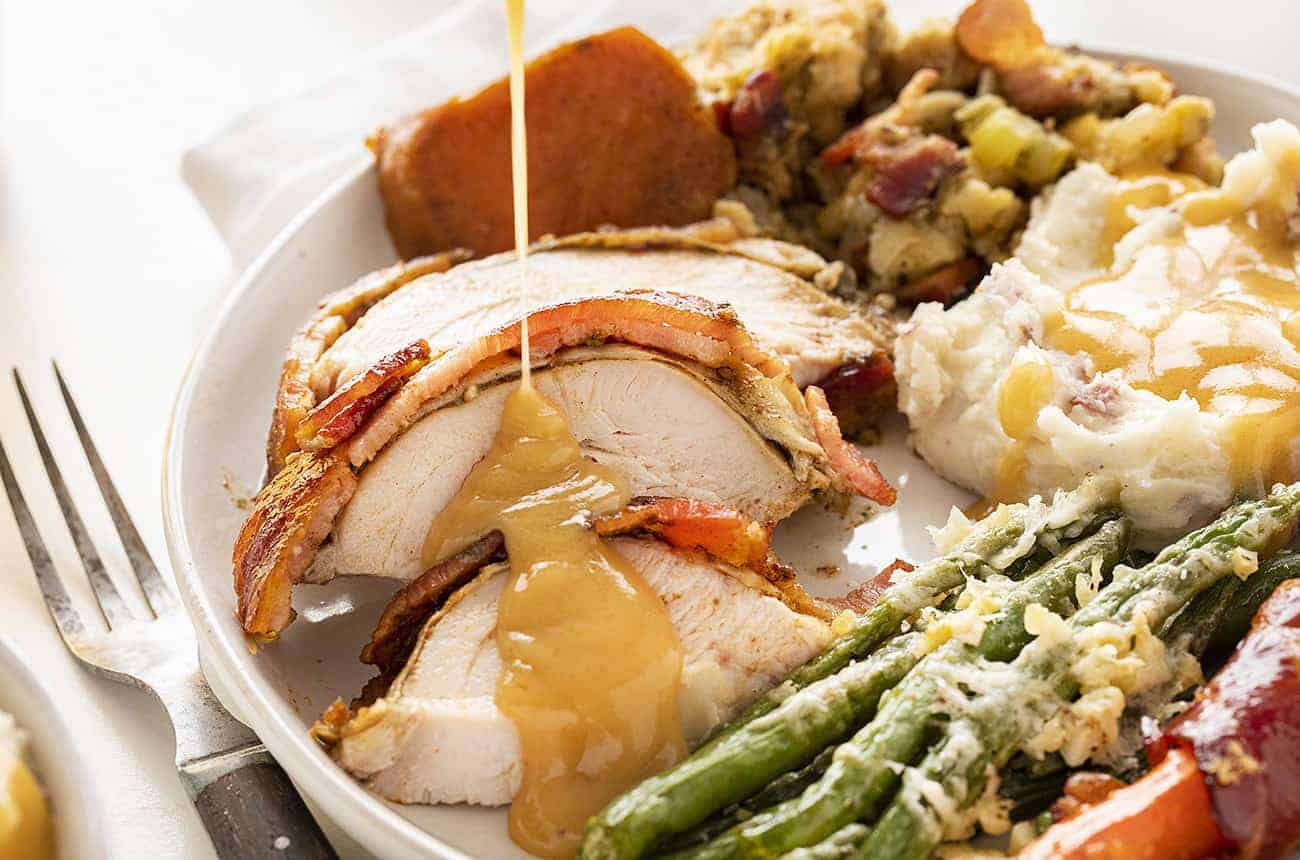 How to Thicken Gravy Without Flour (Gluten-Free Gravy)
Just in case you want to make a gluten-free gravy, here is an option. Cornstarch! When using cornstarch just remember this simple ratio: 1 tablespoon of cornstarch per 1 cup of liquid. We had approximately 2 cups of liquid from the bacon turkey so I used 2 tablespoons of cornstarch. Whisk it with the butter just as you normally would and voila, you have the perfect gluten-free bacon gravy!
This bacon turkey gravy goes amazing on turkey, mashed potatoes, and vegetables… I even like to dip my Easy Dinner Rolls into it. If you make this bacon gravy, folks will be begging you for the recipe!
How to Store Gravy
Transfer the gravy to a freezer-safe container. Seal the container tightly, but make sure there is enough space for the gravy to expand. Label the container with the date and place it in the freezer. You can also place it in the refrigerator for 3-4 days. Gravy can be stored in the freezer for up to four months.
To thaw, move the gravy into the refrigerator overnight. Serve the gravy as a sauce, a dip, or however the recipe calls for it.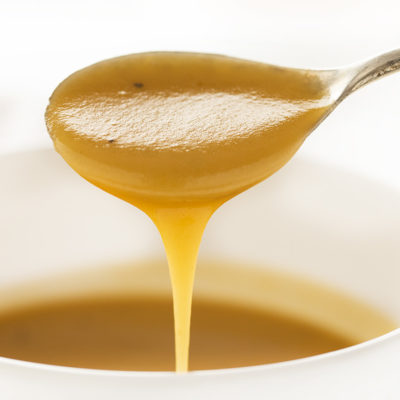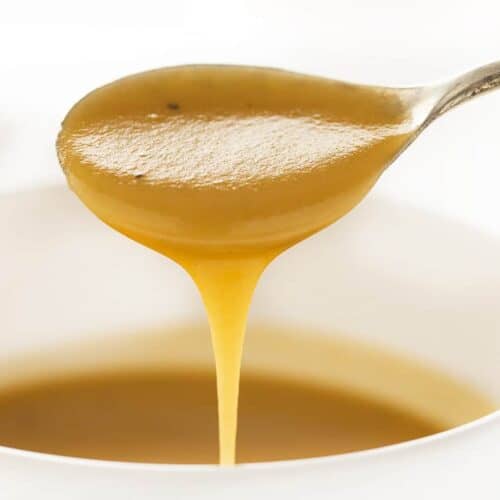 Bacon Gravy
Saving the drippings from a bacon covered turkey is a fantastic way to make gravy! You can always baste the turkey with bacon fat for a quicker option! 🙂
Ingredients
2

cups

bacon and turkey drippings,

fat strained out (add turkey stock if more is needed)

2

tablespoons

unsalted butter

3

tablespoons

flour

½

teaspoon

salt

½

teaspoon

pepper
Instructions
Melt butter in a medium saucepan over medium heat.

Whisk in flour to create a paste, cook 1 additional minute.

Gradually pour in bacon turkey drippings.

Whisk in salt and pepper.

Simmer over medium heat until gravy is thickened. Serve hot.
Notes
See above for the "QUICK" method.
Did you make this recipe?
Thank you for making my recipe! You took pictures, right? Well go ahead and post them on Instagram! Be sure to mention me @iambaker and use the hashtag #YouAreBaker.