Blueberry Lemon Crumb Muffins are moist and tender muffins loaded with fresh blueberries and lemon flavor, topped and baked with a crispy, buttery crumble. They are the perfect sweet snack, dessert, or breakfast! If you would rather enjoy the muffin without the lemon flavor, try my Double Blueberry Muffins!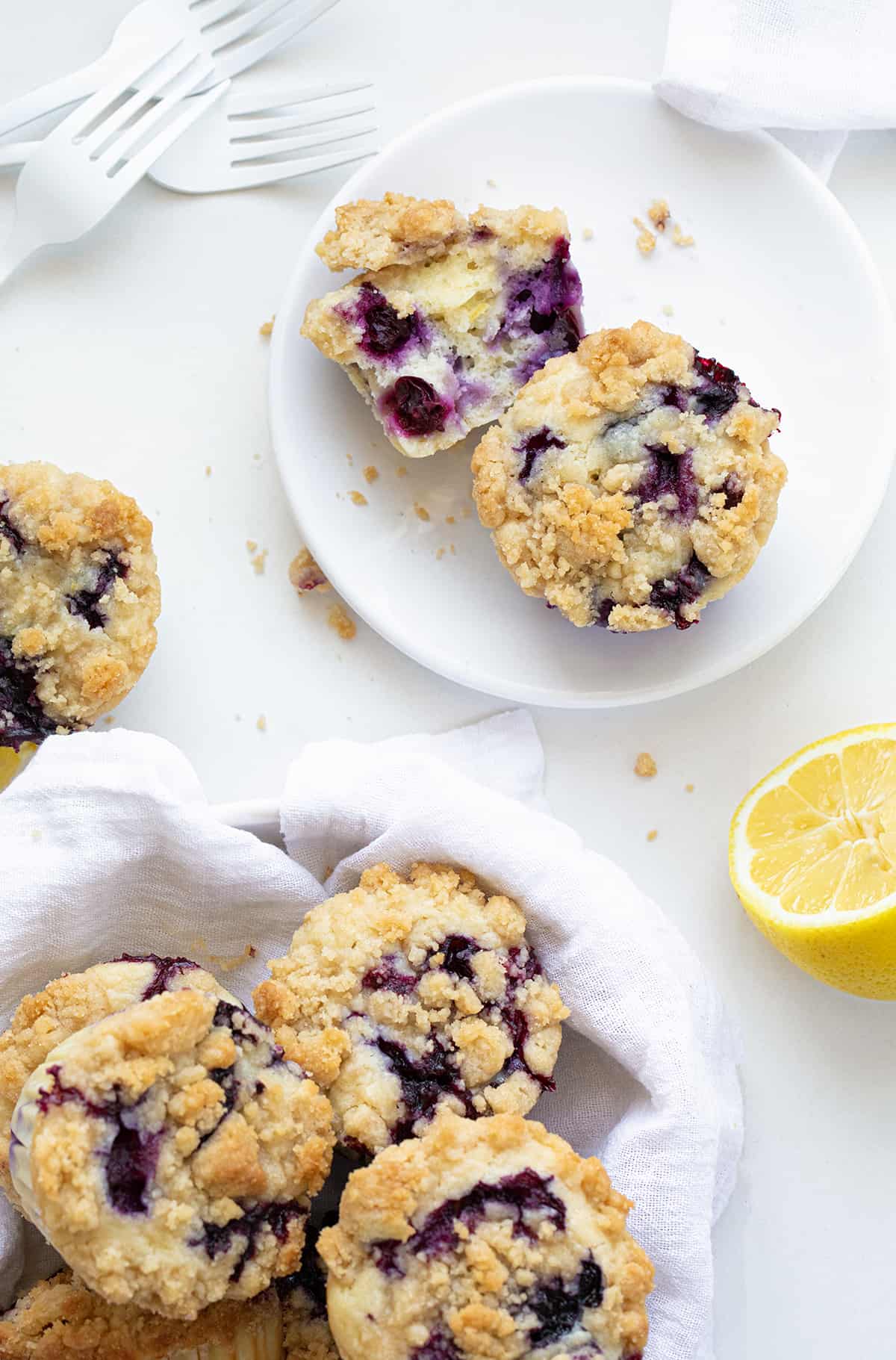 Ingredients & Substitutions
Room Temperature Ingredients: Room temperature ingredients (specifically butter, sour cream, egg, and milk) are important here to prevent lumps in this muffin batter.
Sour Cream: Adding sour cream to the muffin batter helped make the muffins tender and rich.
Lemon: You will need one lemon for this recipe. First, zest the lemon until you have 2 teaspoons. Then, juice the lemon for 2 tablespoons of freshly squeezed lemon juice.
Blueberries: Fresh blueberries are best in this recipe. However, you could also use frozen blueberries to fold into the muffin batter.
Crumble Topping: The crumble topping is easy to make, but really adds something amazing to these muffins.
Glaze (Optional): The simple confectioners' sugar glaze is made with just two ingredients, confectioners' sugar (also known as icing sugar or powdered sugar) and water. Add water as needed to get the glaze to your desired consistency. You could leave off the glaze if preferred, as I did in the images.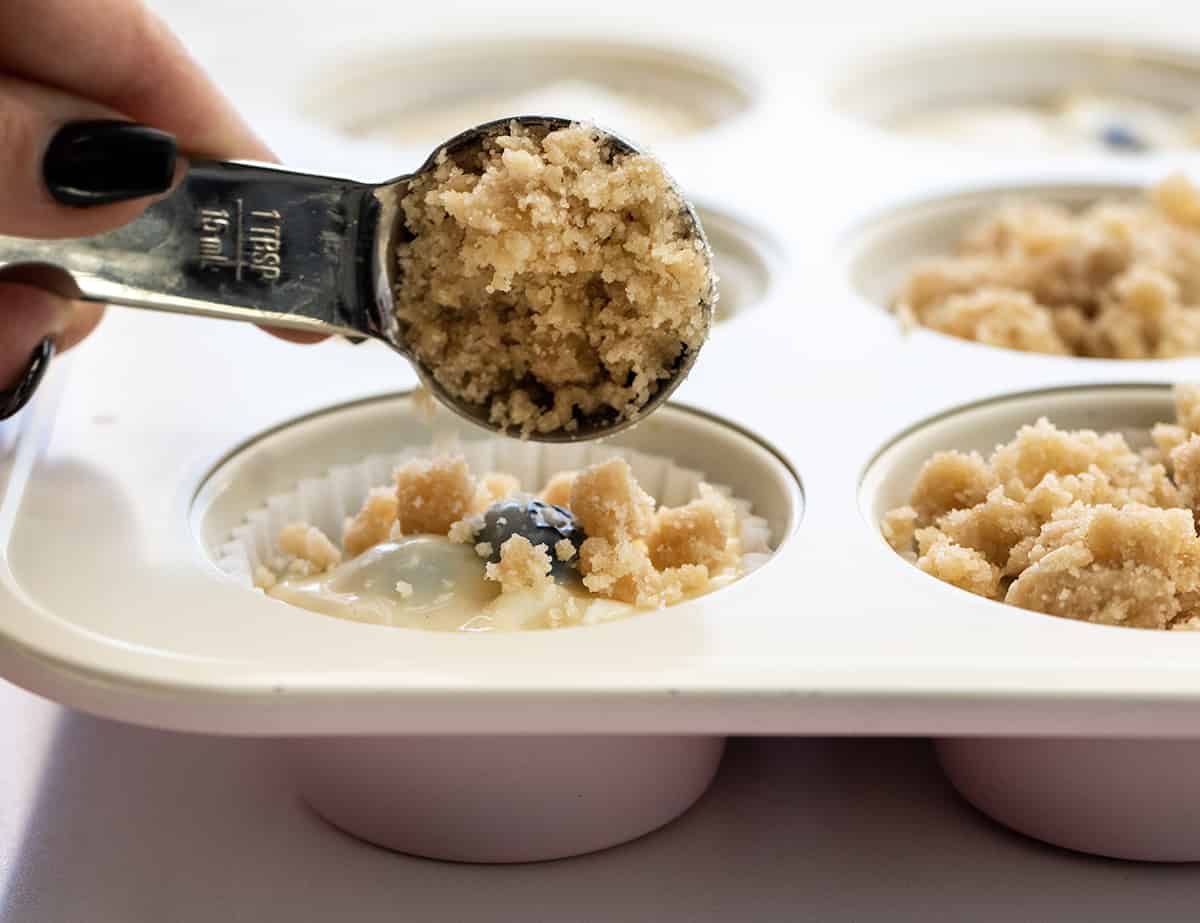 Can I Make This Into A Loaf?
Yes! If you would rather make these muffins into one loaf, just grab an 8 1/2 x 4 1/2-inch loaf pan to use. Follow the same instructions for the batter and crumble topping. But, bake for 65 minutes (rather than just 20 minutes for muffins). Drizzle the glaze over the top of the cooled loaf.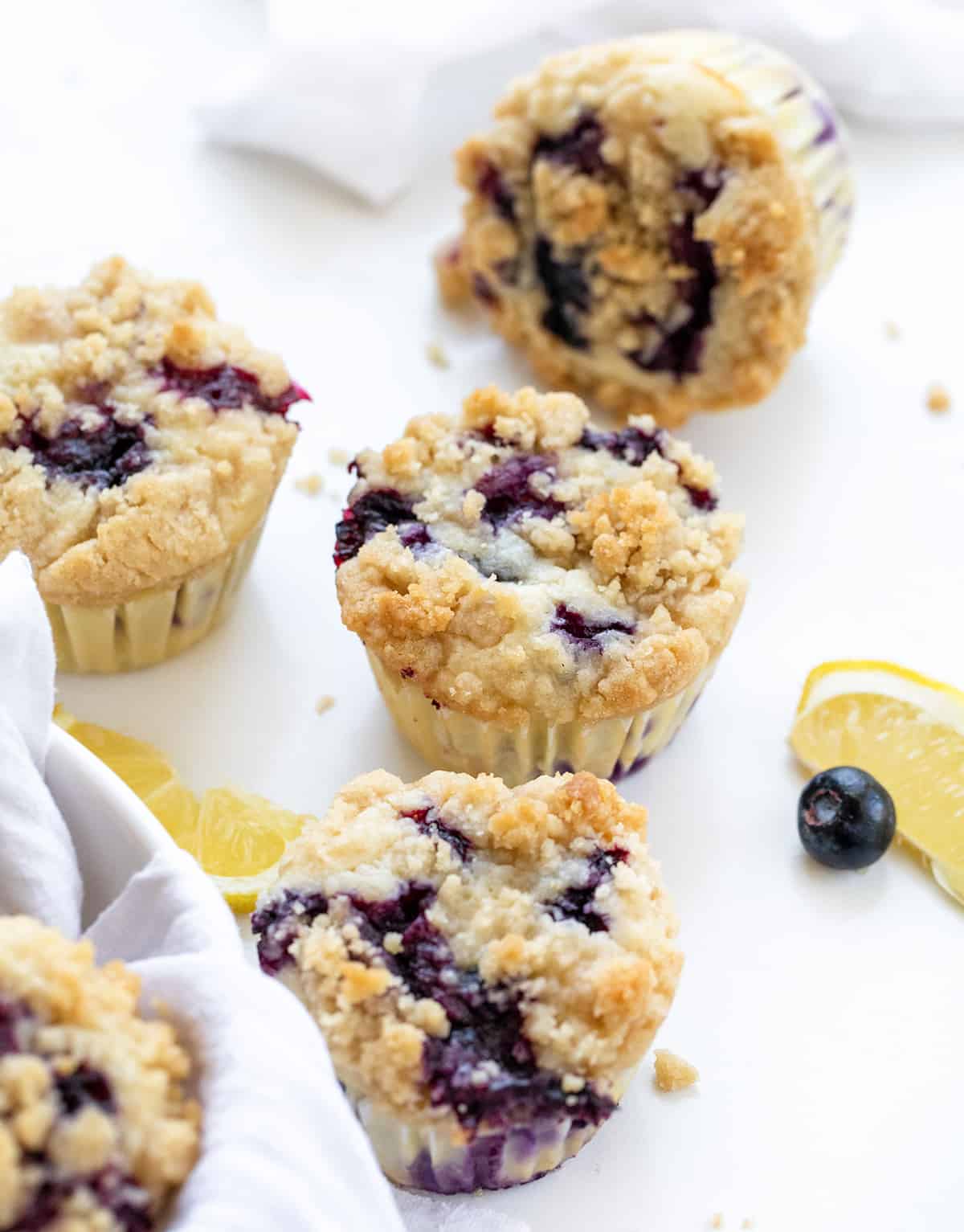 Can I Make Muffins Ahead Of Time?
Yes, you can make this blueberry lemon muffin batter ahead of time by combining all the ingredients, except for the blueberries, covering, and storing it in the refrigerator overnight. The next day, fold in the blueberries and proceed with baking the muffins. It's important to note that the batter should be used within 24 hours for best results, but can be stored up to 48 hours in the refrigerator. You can also get the crumble topping made in advance and stored in the refrigerator for up to a week.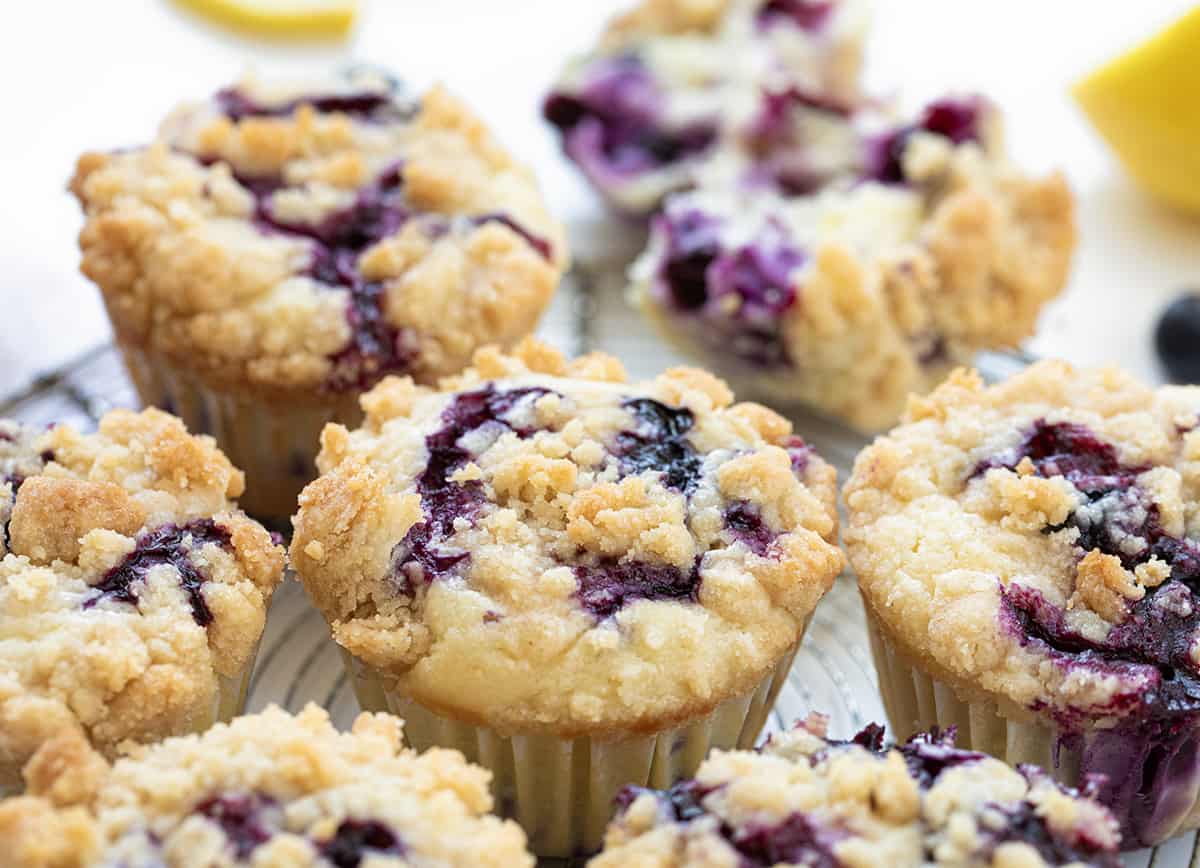 How To Store Blueberry Lemon Muffins
Room Temperature: Because they are best enjoyed at room temperature, this is usually the recommended way to store muffins. Use a larger sealable plastic bag or an airtight container to store the muffins in a single layer. Some folks recommend adding a piece of paper towel to the bottom so that it will soak up any condensation. If your muffins are properly cooled before storing, this may not be necessary. However, if I am using an airtight container, I will often add a piece of bread to the container, torn in half, and fit in between the muffins. The bread will soak up moisture as well. Best enjoyed within 2-3 days.
Refrigerator: (Refrigeration, in general, dries out baked goods faster so a typical muffin recipe shouldn't be refrigerated.) Place in a sealable plastic bag or airtight container and then place into the refrigerator. They should keep for up to 5 days. To reheat, remove from refrigerator and pop into the microwave for 10 seconds or just allow muffin to come to room temperature naturally, about 15 minutes.
Freezer: Place cooled muffins into a freezer-safe sealable plastic bag or a freezer-safe airtight container and pack as closely as possible without crushing. Remove as much air as possible. Label with date and recipe name. They will last up to 3 months in the freezer.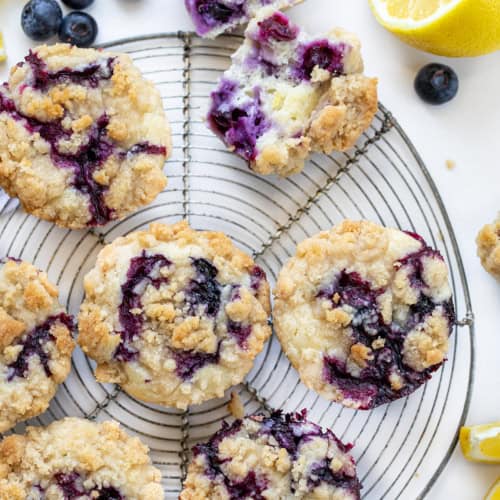 Blueberry Lemon Muffins
Blueberry Lemon Muffins are moist and tender muffins loaded with fresh blueberries and lemon flavor, topped and baked with a crispy, buttery crumble.
Ingredients
Blueberry Lemon Muffins
¾

cup

(150 g) granulated sugar

¼

cup

(½ stick, 57 g) butter,

room temperature

½

cup

(115 g) sour cream,

room temperature

1

large

egg,

room temperature

2

tablespoons

fresh lemon juice

2

teaspoons

lemon zest

1 ½

cups

(187.5 g) all-purpose flour

2

teaspoons

baking powder

½

teaspoon

kosher salt

½

cup

whole milk

2

cups

fresh blueberries
Crumble Topping
½

cup

(62.5 g) all-purpose flour

⅓

cup

(67 g) granulated sugar

3

tablespoons

light brown sugar

1

pinch

kosher salt

¼

cup

(½ stick / 57 g) unsalted butter,

melted, cooled slightly
Glaze (Optional and Not Pictured)
1

cup

(125 g) confectioners' sugar

2

tablespoons

water
Instructions
Blueberry Lemon Muffins
Preheat oven to 375°F. Line a 12-count muffin tin with liners.

To the bowl of a stand mixer with a paddle attachment, add the sugar, butter, sour cream, egg, lemon juice, and lemon zest. Beat until creamy. (You could also use a handheld mixer.)

In a separate bowl, whisk together flour, baking powder, and salt.

With the mixer on low, alternate between adding the flour mixture and the milk, beginning and ending with the flour mixture.

Gently fold in the blueberries.

Pour the batter into the lined muffin cups. Set aside as you make the crumble.
Crumble Topping
To make the crumble topping, mix together the flour, granulated sugar, brown sugar, salt, and melted butter in a small bowl.

Top the muffin batter with the crumble topping (about 1 tablespoon per muffin).

Bake for 18-20 minutes. The muffins are done when an inserted toothpick comes out clean with a few crumbs, but no wet batter. Let the cupcakes cool before drizzling the glaze.
Glaze (Optional and Not Pictured)
In a medium bowl, whisk together the confectioners' sugar and water. Add more water until the glaze reaches your desired consistency.

Drizzle the glaze over the cool muffins.
Did you make this recipe?
Thank you for making my recipe! You took pictures, right? Well go ahead and post them on Instagram! Be sure to mention me @iambaker and use the hashtag #YouAreBaker.
What the Test Kitchen had to say about this recipe: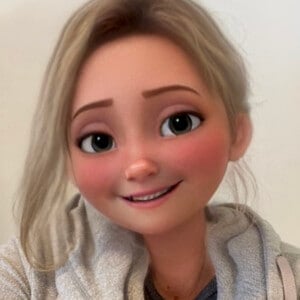 Autumn
We have quite a few blueberry muffin recipes, but this one stands out as my absolute favorite. The perfect balance of lemon and blueberry flavors makes each bite of these muffins irresistible!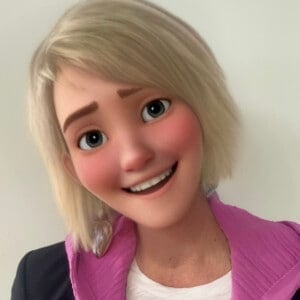 Elizabeth
I am usually just a 'top of the muffin' eater, but I seriously devoured the entire muffin! I loved the texture and all of the blueberries loaded in each muffin. And, even though I am not always a fan of blueberry lemon treats, this one was amazing!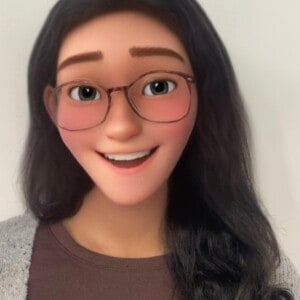 Bella
This muffin is perfectly moist! Exactly how I like my muffins! After each bite, I enjoy biting into a fresh blueberry. Although I am not a huge fan of crumbles on muffins, they work perfectly in this recipe!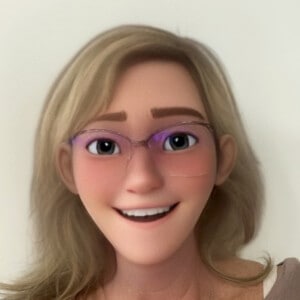 Christine
This recipe is loaded with fresh lemon and plump blueberries. The muffins are tender and the topping has the perfect buttery crunch!!!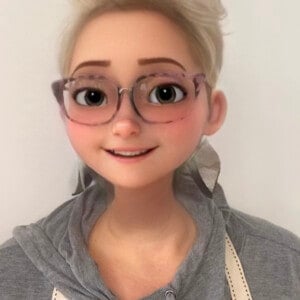 Selena
Blueberry overload!! If you love blueberries, and moist muffins, this is it! The hint of lemon and crunchy crumble on top is just perfection.