Baking with the kids is one of my greatest joys and I love when we can try out different recipes together! This Brown Sugar Chocolate Chip Cookie is a slight twist on a classic, but one that is definitely worth trying! This recipe is a great addition to any baker's recipe box. Packed with chocolate and chewy as can be, these cookies are easy, delicious, and a great way to spend time with family. As temperatures plummet into dangerous lows here in Minnesota, we are happy to be spending time together inside near a warm oven!
If you want more Cookie Recipes, be sure to see my 50 favorites!
Chocolate Chip Cookies with Brown Sugar
This cookie recipe makes regular chocolate chip cookies even softer, richer, and more interesting!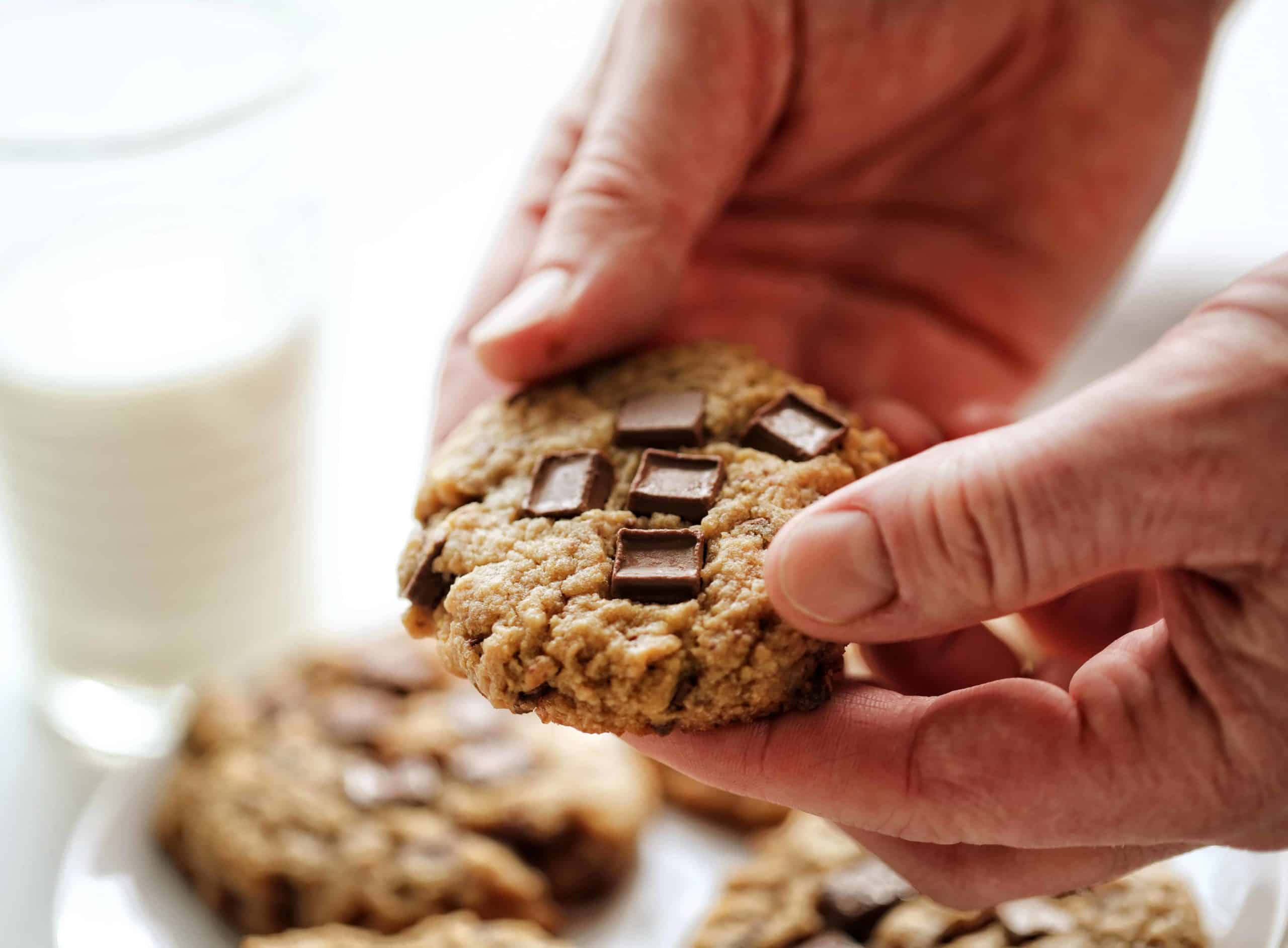 How to Make Brown Sugar Chocolate Chip Cookies
Melt butter in the microwave. Pour it over the brown sugar and use a fork or whisk to fully combine. You could also do this in a saucepan but make sure the sugar does not get too hot. (medium-low works well)
Add in other wet ingredients. I used a large egg and good quality vanilla extract. Just whisk until incorporated.
Add in the dry ingredients. I like to sift my flour right into the bowl, but you could sift together all the dry ingredients if you don't mind messing up another bowl.
FUN TIP: Chop your chocolate! This is not essential, but having the small pieces and chocolate shavings throughout the cookie really enhances the flavor. Add the chocolate and use a spatula to stir them into the dough.
Use a 2-tablespoon scoop and scoop cookies onto baking sheet.
Add more chocolate pieces, and bake!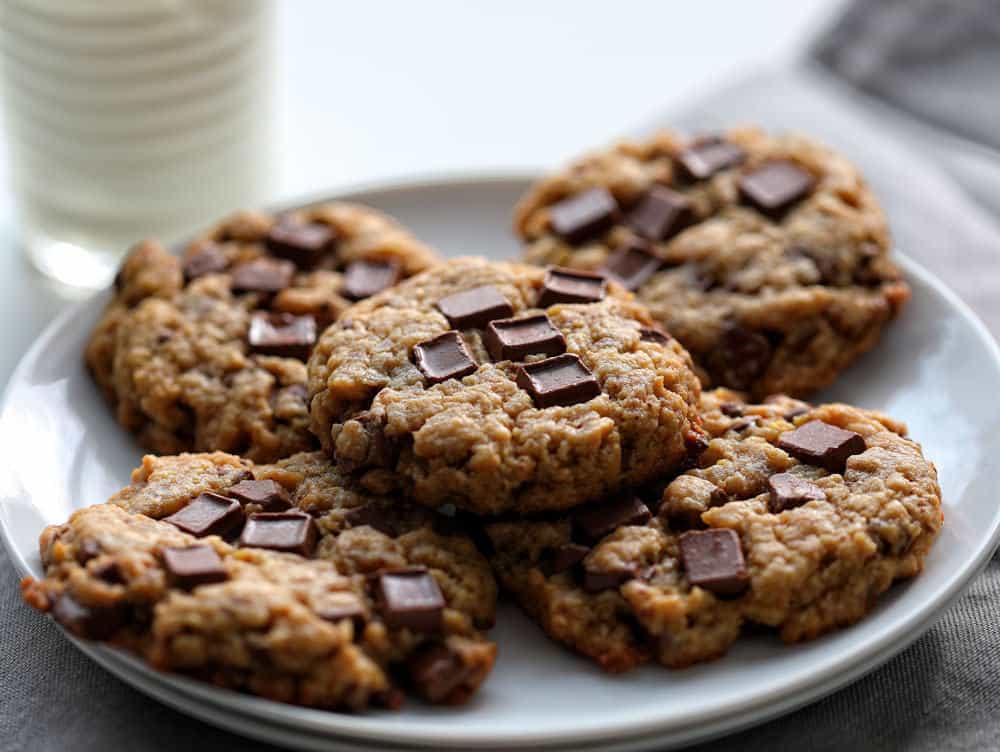 Brown Sugar vs. Granulated Sugar
Why are these cookies packed with brown sugar instead of white? Simple… I wanted them as chewy as possible!
What exactly is brown sugar? Light brown sugar has molasses added to it which allows recipes specifically developed for brown sugar to achieve rich and complex flavors. It is a dense sugar and pacts easily, which means fewer air pockets during creaming. That means extra chewy!
In recipes that involve baking soda, (as this one does) the role of brown sugar is to react with sodium bicarbonate and produce carbon dioxide. This makes cookies thick and soft. White sugar can't participate in that reaction, so white sugar cookies are comparatively thin, dense, and crisp (chewy if kept from browning).
How to Measure Brown Sugar
Since brown sugar has a unique moist texture, it needs to be packed into a dry measuring cup. Firmly press brown sugar into the cup. Level with the rim of the cup with the back of a knife. After you dump the brown sugar out, it should hold the shape of the cup.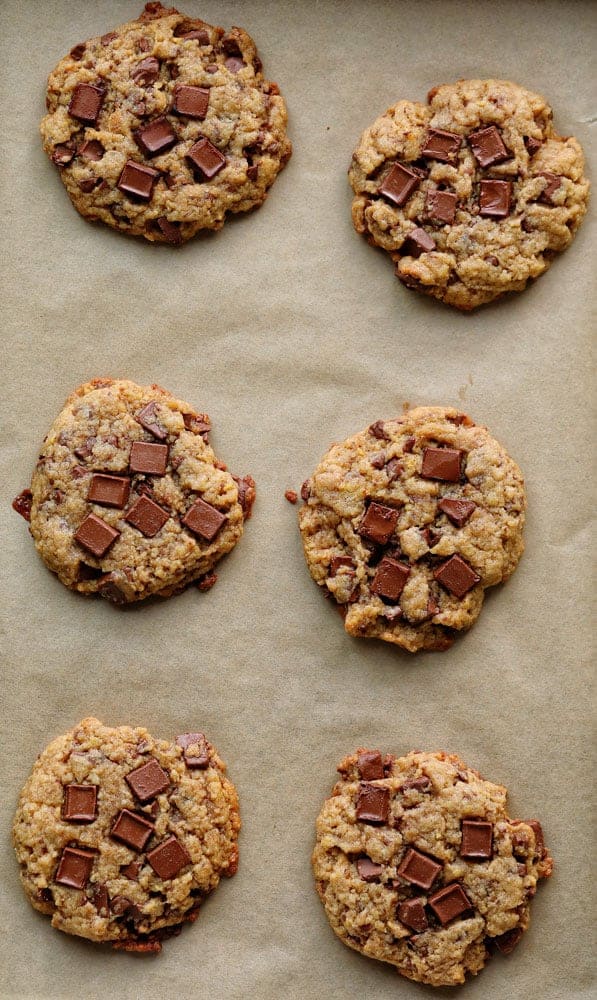 What Kind of Chocolate Chips Should be Used?
When testing this recipe I only used two kinds of chocolate; milk and semi-sweet. Because the dough itself is rich, I preferred semi-sweet chocolate for more contrast. However, I was quickly outvoted (6-1!!) and ended up using milk chocolate chunks. You can use whatever you prefer.
I bought the 'chunk" version of chocolate chips and then coarsely chopped them. Please don't skip this step when you are making yours! I happen to love the shavings and small bits that reach every nook and cranny of the cookie not to mention how to looks, and I think you will too!
Right before baking, I added more chocolate chunks to the top of the cookie. This is because I love the added chocolate and because I love that the cookie is easily identifiable.
For this exact cookie, I used Baker's Premium Baking Chunks.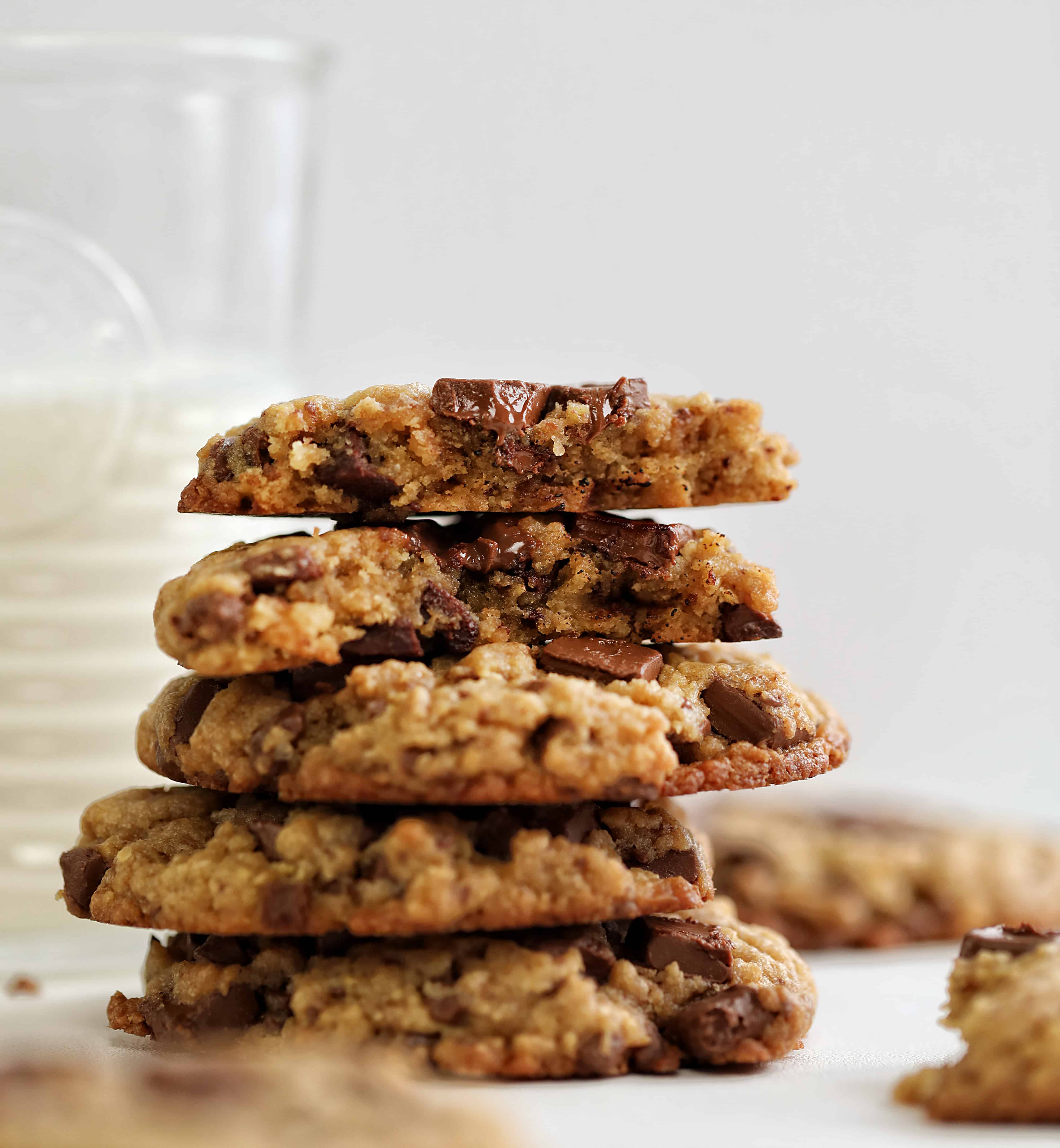 Can This Recipe be Doubled?
Yes, you sure can! This recipe only yields about 12 cookies, you may want to double it if feeding a crowd. (My family of 7 easily polished off these cookies in one day!) However, if you make the cookies smaller (about 1 tablespoon of dough per cookie) you can get at least 24 cookies out of it.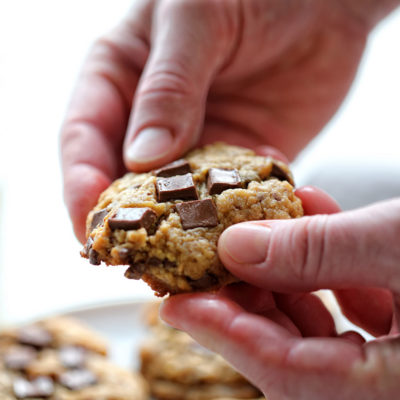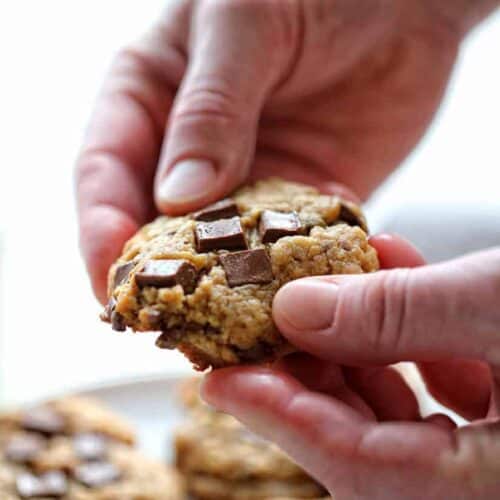 Brown Sugar Chocolate Chip Cookies
A fabulous addition to your recipe box!
Ingredients
½

cup

(113g) unsalted butter,

room temperature

¾

cup

(150g) brown sugar,

packed

1

large egg,

room temperature

2

teaspoons

vanilla extract

1½

cups

(186g) all-purpose flour,

sifted

½

teaspoon

baking soda

1

teaspoon

corn starch

pinch

kosher salt

5

ounces

milk chocolate chunks,

plus extra for the top of the cookies
Instructions
Preheat oven to 375°F.

In a microwave-safe bowl, melt butter.

In a large bowl, add brown sugar. Pour butter over brown sugar and mix to combine.

Add in egg and vanilla and whisk until fully incorporated.

Add flour, baking soda, corn starch, and salt to brown sugar mixture. Mix by hand until combined. The batter will be coarse and appear dry.

Coarsely chop the chocolate and add to the batter. Reserve a few pieces of chocolate to add to the top of the cookies.

Using a cookie scoop that holds about 2 tablespoons of batter, scoop out the dough and place on a cookie sheet lined with parchment paper.

Place a few (3-5) extra chunks on chocolate on top of each cookie.

Using a clean kitchen glass, press down each cookie until it is about 1/2 to 3/4 inch thick. This step is optional, but if you don't press the cookies down they may need to bake longer as they do not flatten on their own.

Bake for 7-9 minutes or until the edges start to turn golden brown.

Remove from oven and let rest for about 5 minutes. Move to a cooling rack.
Did you make this recipe?
Thank you for making my recipe! You took pictures, right? Well go ahead and post them on Instagram! Be sure to mention me @iambaker and use the hashtag #YouAreBaker.