After I got home from church I opened my fridge to try and figure out what we would have for dinner that night. I happened to have a few pounds of ground beef thawed. It also happened to be 7 degrees when we left for church this morning. Seven. I was chilly!
Which leads me to a nice big bowl of homemade chili.
Chilly. Chili. Get it?
Anywho, I dont want to bore you with my chili recipe. Its nothing too special. However, I did inquire about your favorite chili recipes and got a lot of amazing and ingenious tips. And yes, I totally added cocoa this time. Loved it!
But the star of my show was the cornbread. I cant help. I am a carb girl ok?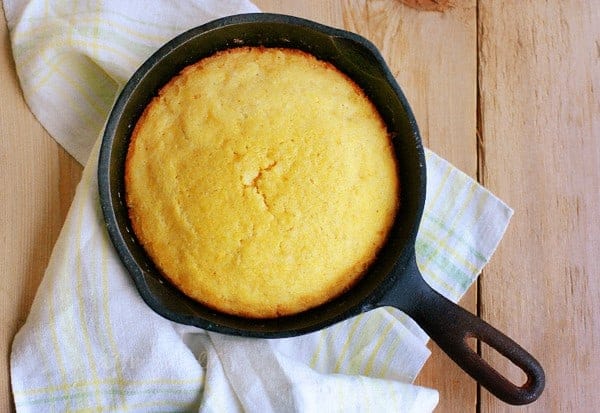 Tips for Success:
I used corn that we had left over from the night before. It worked very well. I heard frozen works great because canned corn tends to have lots of extra moisture and can prevent your bread from achieving the perfect crumb.
Why soak the cornmeal? Not only does it help in digestion, but it also helps ensure a moist cornbread. If you omit the soaking step, your cornbread might have a more gritty consistency. And we all know that I basically want everything to have a cake-like consistency right?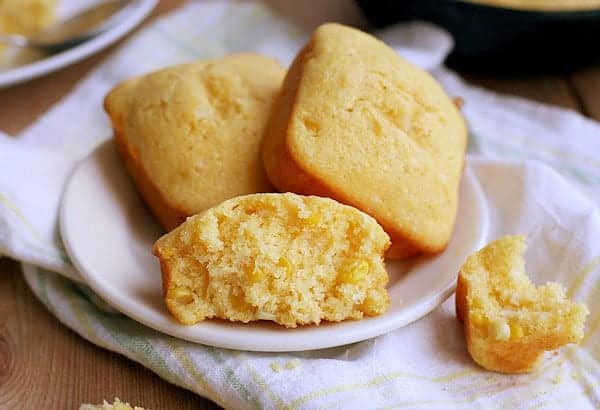 See those real pieces of corn in there? They are divine. The whole recipe is divine. You will never ever ever regret making this sweet cornbread. In fact, you might find that people suddenly love you more and offer to do things for you in exchange for some of your famous cornbread.
It could happen.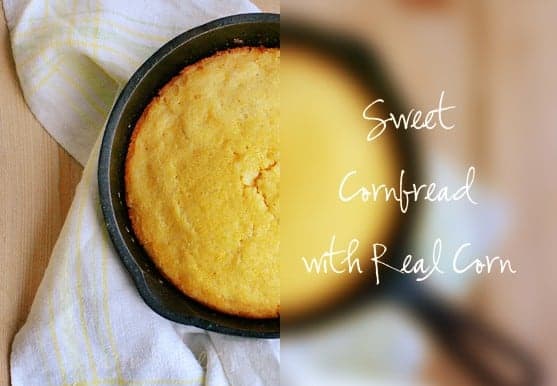 Just make it. Then immediately text me and say, "You were right. This is amazing."
And I will text back, "Who is this? How did you get my number? And you are welcome. Lets be friends."
I'm easy like that.
Want more great chili? Try Grandma's Homemade Chili over on iamhomesteader!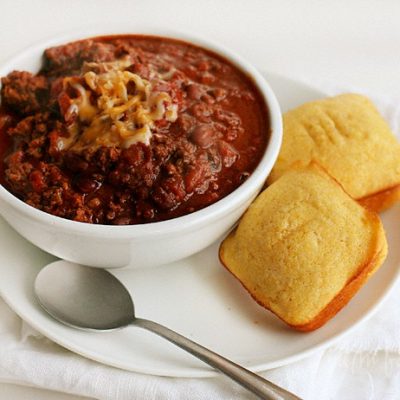 Sweet Cornbread with Real Corn
Ingredients
1

c

yellow cornmeal

1

c

milk

1

c

all-purpose flour

2/3

c

white sugar

1

tsp.

salt

2

tsp.

baking powder

1

egg

1/2

c

frozen corn

I used leftovers

1/3

c

melted butter
Instructions
Heat oven to 400 degrees and prepare chosen pan.

In a medium bowl combine yellow cornmeal and milk. Let sit for about 10 minutes.

In a large bowl combine flour, sugar, salt and baking powder. To that add egg, melted butter, and soaked cornmeal and mix well.

Fold in corn.

Pour batter into prepared pan.

If making muffins bake for 18-20 minutes.

If making in 8 or 9in cake pan bake for 20-25 minutes.

If baking in square muffin pan bake for about 12-14 minutes.

If using pan not listed, but sure to check cornbread at about 10 minutes and determine how much more baking is needed at that time.
Did you make this recipe?
Thank you for making my recipe! You took pictures, right? Well go ahead and post them on Instagram! Be sure to mention me @iambaker and use the hashtag #YouAreBaker.